As I stared at this table, and it stared back at me, I began to hope that somehow my glare of death would cause the table's stain, made of steel I'm sure, to magically fade away. After 7 hours of attempting to chemically strip away the stain atop our lovely table, I'd had enough. I could no longer feel my fingers, or legs for that matter. I knew staining furniture was no task for the weak, but I was not prepared for this.
Why had we chosen to refinish again? Why didn't we just opt for a new piece?
Well I was knee deep in it now, and it was too late to look back. These thoughts entered my mind as I considered why I'd taken on such a hefty project for my sister's dining room. Weeks before, we'd purchased a table and six chairs at our local Habitat for Humanity Restore, giddy about the amazing transformation that was to follow. A transformation I looked forward to with pride.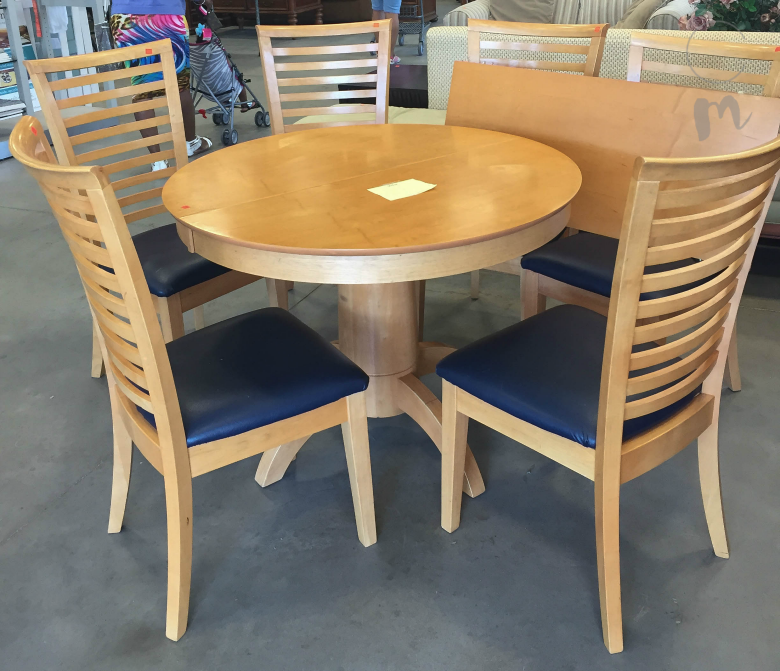 Following a request to design my sister's dining room, which I was thrilled to accept, I recommended we refinish a table in order to create a custom piece. This route would save money and allow for a more personalized design. I of course would be leading this project, so I was eager to show my chops.
I'd done my research, and purchased all the necessary supplies. The project was going as planned, until we hit a bump. A big bump. Why is there always a bump? The original stain removed easily from all areas of the table, except the table top. After four stripping cycles, using two different stain removers, the tabletop remained near its original condition. No matter how messy it got, the stain wouldn't budge.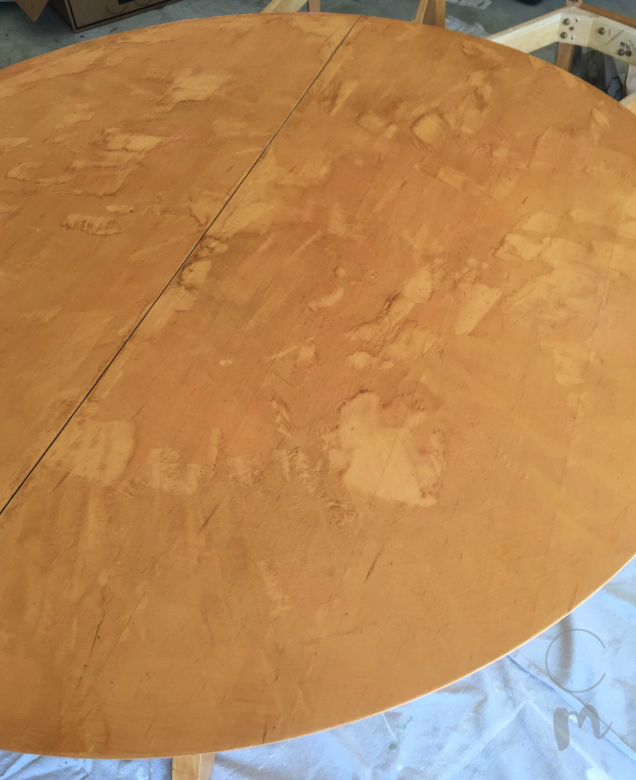 My level of frustration was at its peak, and I began to think I'd failed. I then considered my sister's disappointment if this project resulted in an abandoned table, and furthermore, wasted money.
Luckily, this was not the result. The project continued after further research, and after making a few adjustments, was completed with success. In that journey I learned a lot about stripping and staining furniture, and thought I'd share with you the 5 Things I Learned Staining Furniture, in order to make your next refinishing project a success.
1. Do Your Research
Just when you think your research is done, you will have to do more. Hiccups and "bumps" will come up throughout any DIY project, which may cause you to research that hiccup and come back to your project with alternate solutions or modifications. Staining furniture is no exception. After I discovered one stain remover did not work, I researched a chemically stronger stain remover and applied that as well.
I also researched various methods to applying stain remover. In my case, no stain remover worked, but you will need to explore different products and methods that are best to remove not only the wood stain, but the finish atop the stain, which can vary from polyurethane, to shellac or even lacquer.
2. Check Your Wood
By this, I mean that you should check if your piece is actually made from real wood. Real wood has a few key indicators. If a piece is made from real wood it is much heavier than laminate or a piece made out of particle board. Also, drawers on solid wood furniture most likely have dovetail construction. That's the tongue and groove structure attaching the drawer front to the remaining piece.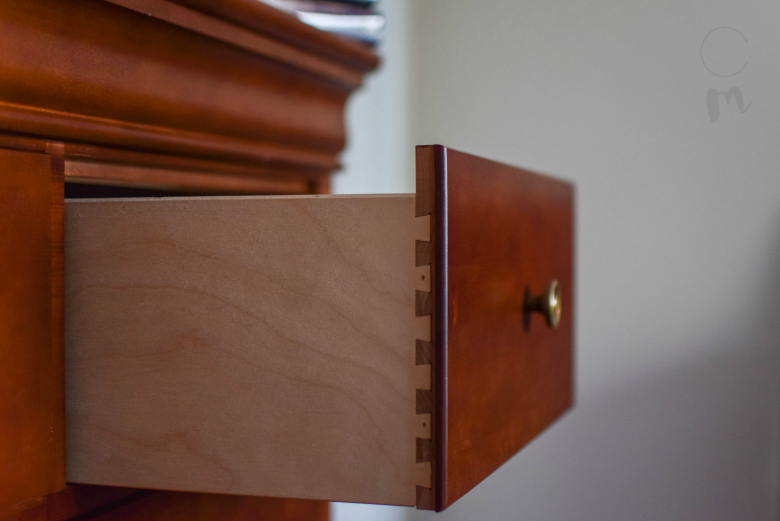 On a solid wood piece, you can see, and sometimes feel the grain. Had I inspected the table top with this key in mind, instead of the legs (which are solid wood), I would have discovered the tabletop was not real wood.
3. Get the Right Tools
Stain stripping requires a little elbow grease here and there. The less physical energy you must exert, the longer you will be able to work on the task, and the quicker the project will be completed overall. In my initial research, I'd read about others scrubbing stain and remover away in hard to reach areas with a simple brillo pad.
Yes, this is cheap, but it will exert a lot of energy, due to it's tame roughness so to speak. Spend a few dollars more on a steel brush, strong enough to scrub away any leftover stain remover. You will thank yourself.
I'd also recommend purchasing a heavy duty scraper in lieu of the budget friendly version found in the floor bin of any hardware store.
4. Have a Plan B
If stripping and staining furniture do not turn out to be your schtick, have another option or modification up your sleeve. In my case, I opted for a painted tabletop in grey, while keeping the table legs in their newly stained condition. To my surprise, this worked out perfectly and I'm actually happier with a two-toned table, than our originally planned design.
If the legs of your table are difficult to strip and stain consider painting the legs, and refinishing the table top. You will find many more expensive tables with this look as well.
5. Get the Correct Sealant
It will be tempting to walk into your nearest Home Depot and Lowes to make a quick purchase of polyurethane or furniture wax. Don't go for convenience here. HD and Lowes only carry a few options in this area. If you're staining furniture, a simple polyurethane sealant will do just fine. However if you decide to paint your furniture, a good furniture wax will be a better option.
Polyurethane finish on paint yellows during the drying process and shows streaks, preventing a smooth finish. For this project, I went with a polyurethane finish on the table legs, and Briwax Original Furniture Wax in clear for the table top. Fortunately, Briwax was  found at my local Ace Hardware.
While this project was saved by a little patience and further research, it easily could have gone the other way. Had I known that the tabletop was not wood, we may have opted for a different piece. However, I am proud and happy with the results, and have learned so much during this process!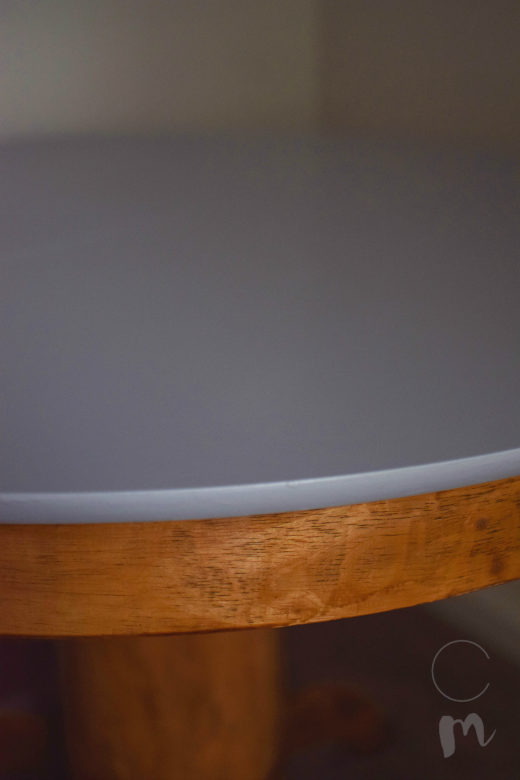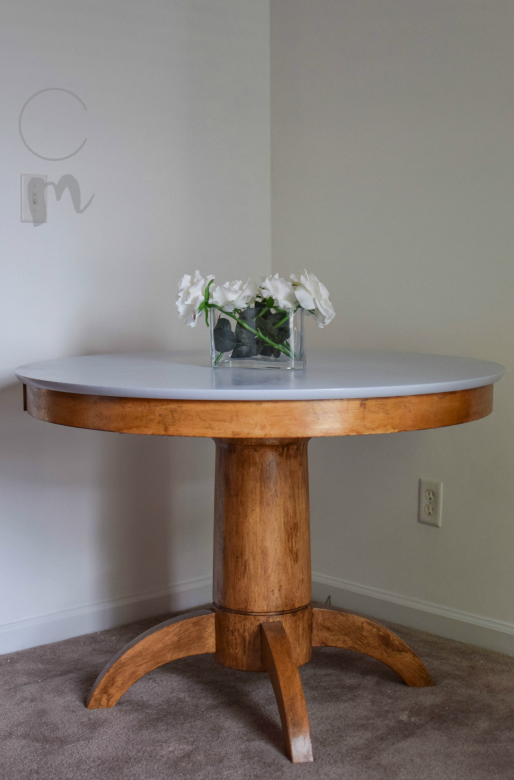 I'm also glad to share my experience with you in hopes that you have learned from my hiccups and "bumps." Just remember, once you do your research, check your wood, and purchase the correct tools, it's easy sailing from there. Happy staining!