I am so excited. Today I get to share a beautifully bold stencil wall tutorial with you. But first, a story. Some time ago I decided to go after the DIY badge of honor and tackle a project that, at first glance, appeared to be an extremely easy task.
Have I mentioned my champagne taste? Well, the further I researched my design, the more bells and whistles I added. Shortly after beginning, I made a little discovery (cue the scratched record sound effect) – this would take much more time and effort than I anticipated.
I didn't stop though. I kept plugging on until I finally completed that project. Once I was done, and took a step back to view my work, and experienced such a great amount of reward. I couldn't believe I'd created this beautiful, bold, customized piece like none other in the world. Who cared how much time it took?! I was happy and proud.
That project was my DIY tufted headboard.
I'm sure you've guessed this story is the introduction to another detailed and ambitious project. Well, almost. My sister asked me to design her dining room, 10ft X 11ft in size, and I was happy to accept the assignment.
Upon considering a daring design, I decided to go with an accent wall featuring an adventurous pattern and fun color. What better way to achieve this look than with a stencil wall? It's budget friendly and much more custom than wallpaper. Though the process will not take nearly as much effort as a custom oversized tufted headboard, it will take time. However, the steps are easy and again, the reward is great.
Let's get into the nitty gritty of learning how to stencil a wall shall we?
What You Need
Here's what you will need for this project:
---
"Tribal Batik" wall stencil from Royal Design Studio Stencils
Spray adhesive
Painter's tape
Acrylic paint
Small foam roller
Paper plate
Paper towels
Large piece of cardboard
---
Prepare Your Stencil Wall
Just as simple as it sounds! Choose your wall color, the stencil background, and get to painting.
The stencil I chose provides a bold pattern, but I thought "how about incorporating a fun color too?" I went with "Gold Seal" by Valspar.
Next, measure and mark the middle of the wall.
Practice Stenciling
Do not underestimate the power of practice! Stenciling can be easy, AFTER you determine which stenciling process works best for you. Luckily, quite a few stenciling techniques are at your disposal. The two most popular techniques are the dry brush and stippling methods.
I opted to use a foam roller for the sake of time. Don't worry, no quality was sacrificed in the process. Each process will give you a different look. However, using a foam roller allowed me to achieve a more even layer of paint throughout, while moving faster through the process. I practiced on a piece of foam board, taking note of the amount of pressure I was able to apply while rolling, without causing paint to leak in between the stencil openings.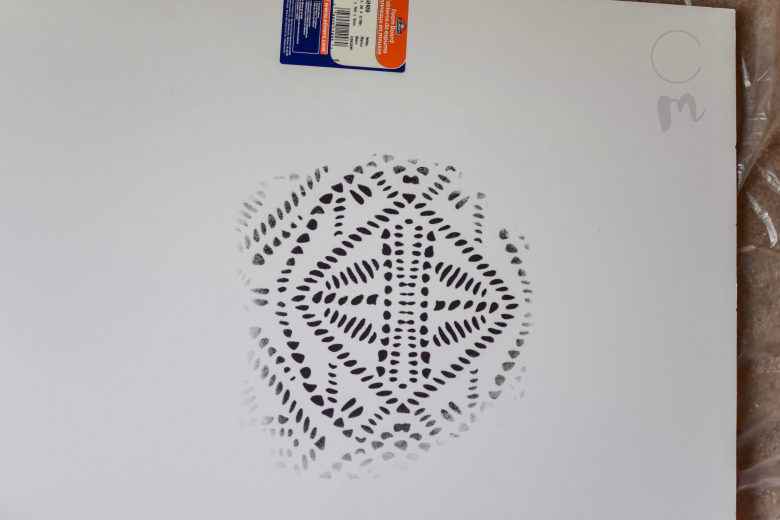 After a little practice, I determined this option was the best way to go.
Prepare The Stencil
Now, measure and mark the middle of your stencil. Next, lay the stencil face down on a large piece of cardboard and spray on an even layer of adhesive, allowing two minutes of dry time before applying to the wall.
I must note, spray adhesive was my saving grace in this project. Assuring your stencil lays completely flat against the wall allowing no gaps to appear as you roll through the stencil is key.
Now, line up the middle of the stencil with the middle of the wall, then apply pressure to the stencil while securing to the wall. Next, apply painter's tape in each corner for extra security.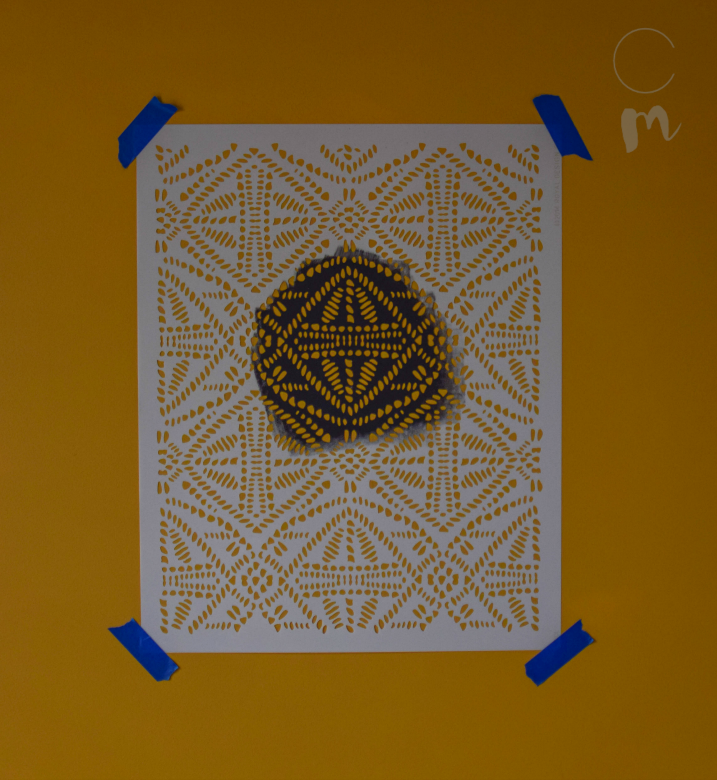 Prepare Your Paint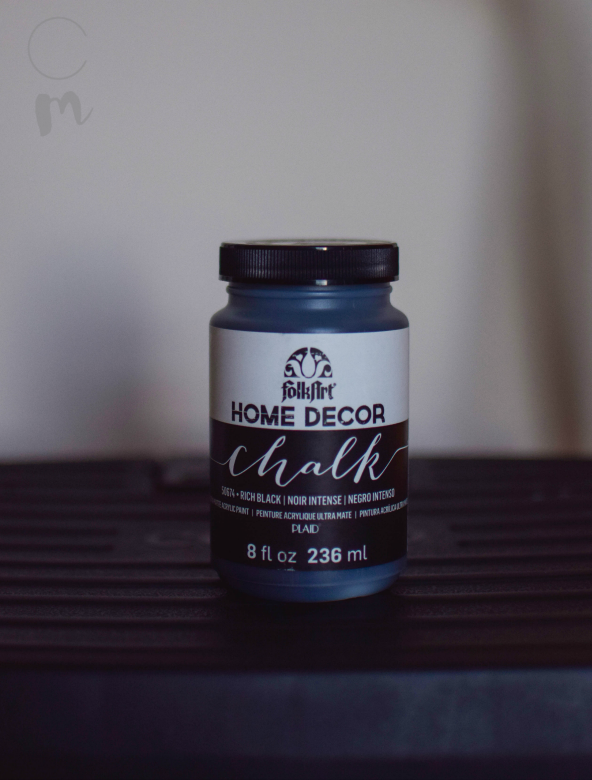 Apply some paint to your paper plate and keep a small stack of paper towels nearby. It will allow you to move through your stenciling system more swiftly. Lightly roll your foam roller in the paint, and offload your roller onto the paper towels, eliminating any excess paint.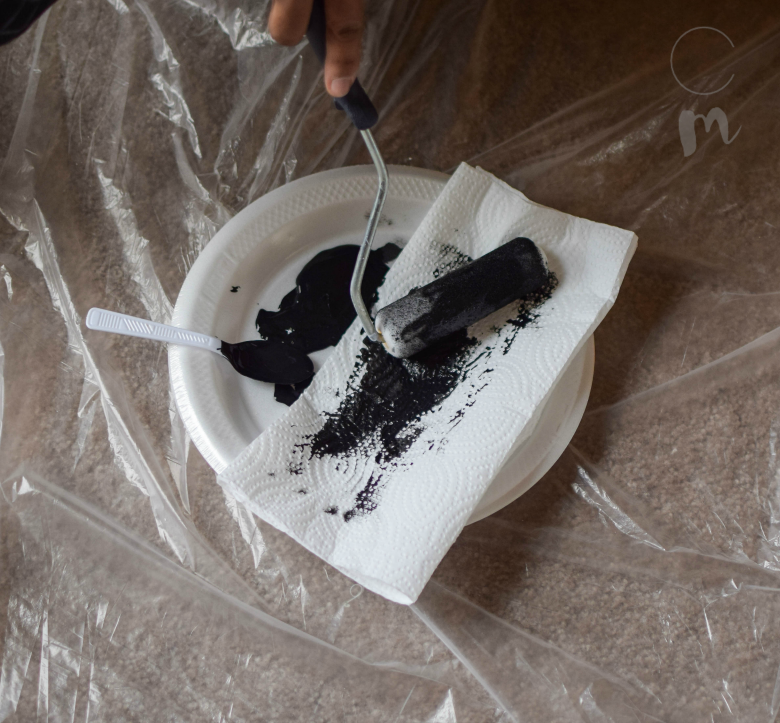 If you opt for an acrylic chalk paint the paint may glide on much thicker. In which case, I only rolled a small area of the roller into the paint and spread the excess on to the roller with a spoon. I then offloaded any additional excess paint onto my paper towels.
Stencil Your Wall
Next, begin applying paint to your stencil, by rolling down the stencil with the foam roller, being careful to apply light pressure with a slow steady hand. Depending on your desired look and paint color, two coats may need to be applied. Luckily acrylic chalk paint dries quickly and  a second paint coat can be applied immediately.
After completing the first stencil design, line up the stencil, left or right of the first design, using the registration marks provided.  Repeat these steps throughout the wall, saving the corners for last.
Stencil Your Edges
For the edges, line up your stencil using the registration marks available, as the stencil design closest to the edges will not be complete. Let the remaining stencil not adhered to a wall bend into the adjoining wall. The stencil area closest to the edges will not stick to the wall on its own, therefore you must push this area into the wall with one hand, while applying paint with the other. Patience is key here.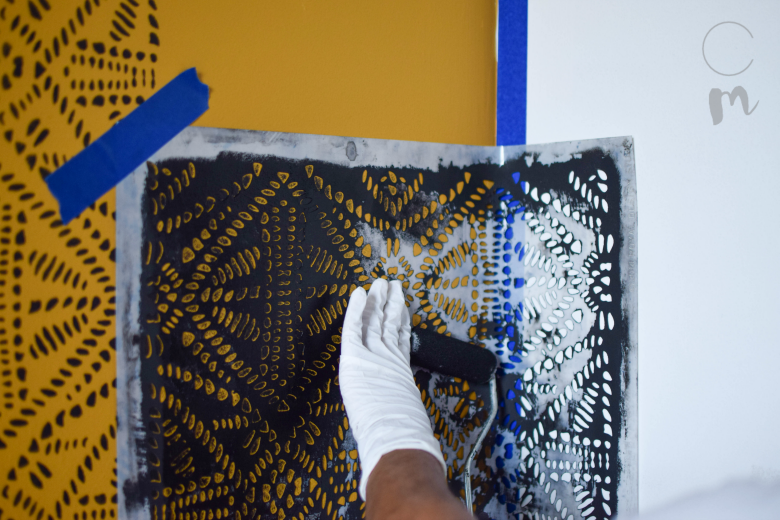 For areas closest to the ceiling, you may need to secure the remaining stencil (hanging) to the ceiling with a tack to make it easier.
After your edges are complete, you're done! Stand back and enjoy your work.
Helpful Tips
Here are a few helpful tips to carry you throughout this project:
Test the stencil design on each paint color you are considering before diving in
Use a stencil level. You will thank yourself
In between each system, more adhesive and painter's tape will need to be applied as they both lose their "stickiness" along the way.
Clean your stencil as necessary. Throughout the process, paint will begin to dry up on the stencil, making it a bit more difficult for paint to reach the wall as your roll through. Soak the stencil flat in a soapy solution for two minutes and scrub off.
Only roll down the stencil, NOT UP. If you roll up, paint may leak into the cracks.
This will take time. Therefore, mentally prepare for this
As you can see, the steps are easy: prepare your wall, prepare your materials, and stencil. On the second day of stenciling however, you may lack energy and focus, and be tempted to rush through. Don't. Just keep pushing yourself. Once your wall begins to take shape, and its beauty is slowly revealed, you'll no doubt gain motivation to push through.
After completing these steps, you will officially know how to stencil a wall and can act as the expert stencil consultant for your friends. Before you know it, you'll be stenciling furniture and decor with ease! What stenciling project are you getting ready to tackle?