Renters unite! We too can have floating bathroom cubby shelves. Forget finding studs, and screwing huge holes in the wall, often frowned upon by your landlord. We can be responsible renters and still rock our interior style, without compromising the depth of our creative integrity.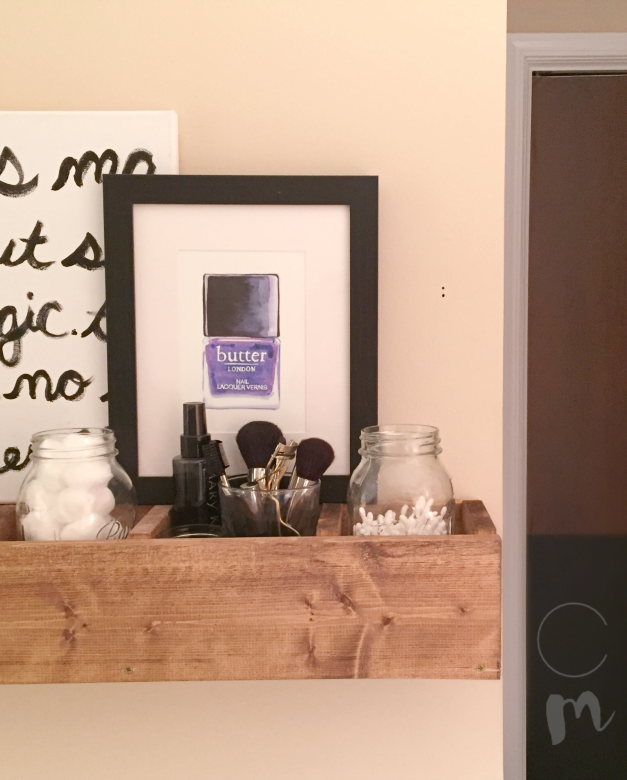 As you can see, I'm a fan of design without limitations, which leads me to create super awesome pieces like this, and I don't like to be restricted in my creativity. After all, no one should be stopped from making their living space a home. Which is why I've always felt that when it comes to shelves, I shouldn't have to clutter my space with bulky stand alone shelving, in fear of putting anything on the walls. I have always loved the look of floating shelves and wall storage, freeing up space below, especially these awesome floating bathroom cubby shelves!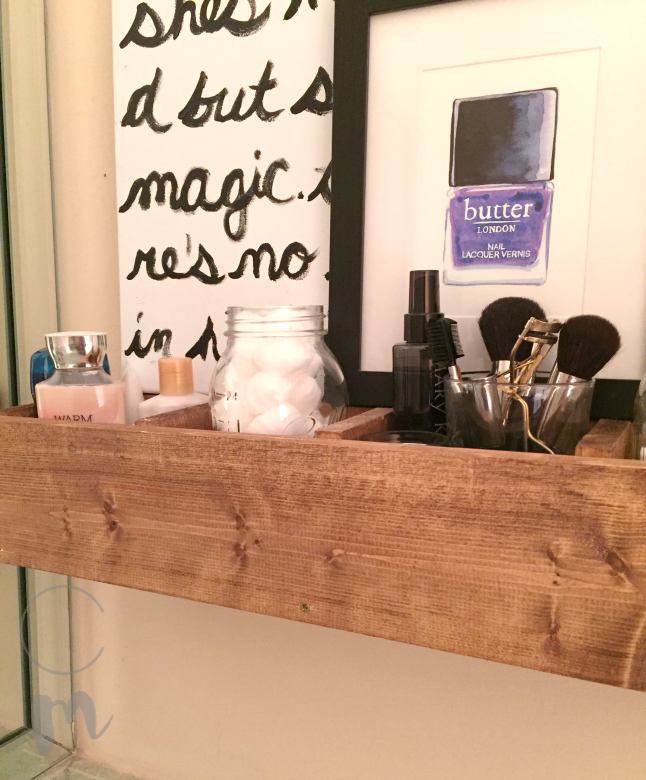 They offer even more storage than a typical floating shelf, therefore this was perfect for my bathroom. A place where hair products and beauty tools tend to overflow.
I was determined to have this, despite my renter status. I figured, if I can put nails in the wall to hang a picture, I could hang a shelf. And so can you.
---
Here's what you need: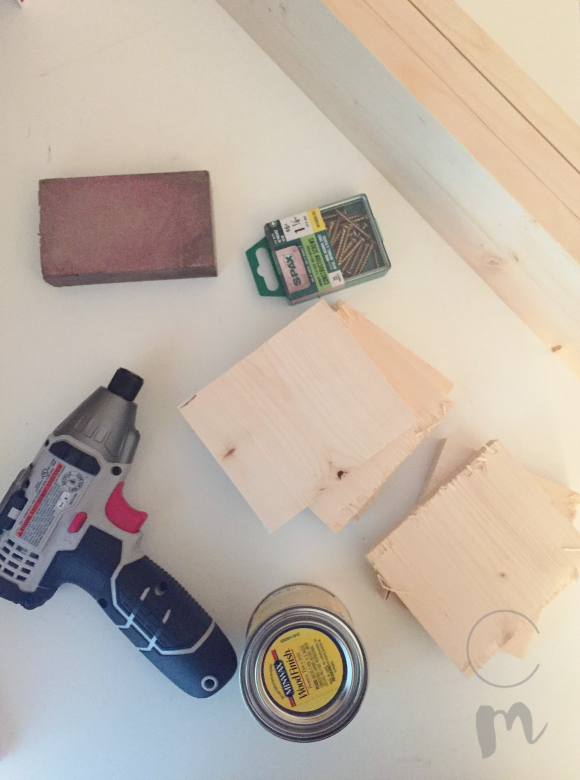 1×5 common board cut into: t

hree – 23in. pieces, and fi

ive 3.75in pieces

Small Minwax stain in Early American 230
Spax #6 x 1 ¼ construction Screws
2 Sawtooth picture hangers
Electric drill
Sanding block in 120-150 grit
Staining cloth
Luckily I had most of the items needed in my own materials. You may too! The only items purchased were the common board and construction screws totaling $9. Let's get started below.
---
Prepare Cubby Materials
First, sand all pieces of your shelf. Do this outside to eliminate sawdust in the nooks and crannies of your home, and any fumes from the stain from settling in your home. My patio was was the perfect spot. Make sure to sand the edges as well, which will be kind of rough.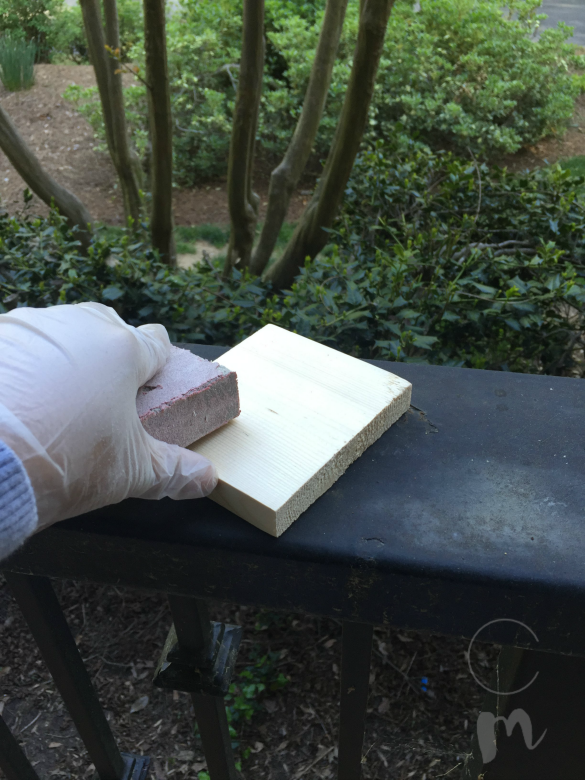 Wipe each piece clean with a damp cloth. Next, prepare to stain.
Not sure what to do with all those coupon advertisements showing up in your mailbox?? What better way to use them than to protect your project space. Make sure you lay down some form of protectant before you stain your pieces. After all, we're staining wood, not the floor.
Stain Cubby Materials
Now stain. Using a soft cloth, dip a small amount of the cloth into the stain, and rub onto each piece of wood. It doesn't take much. Below you will see the results following one coat.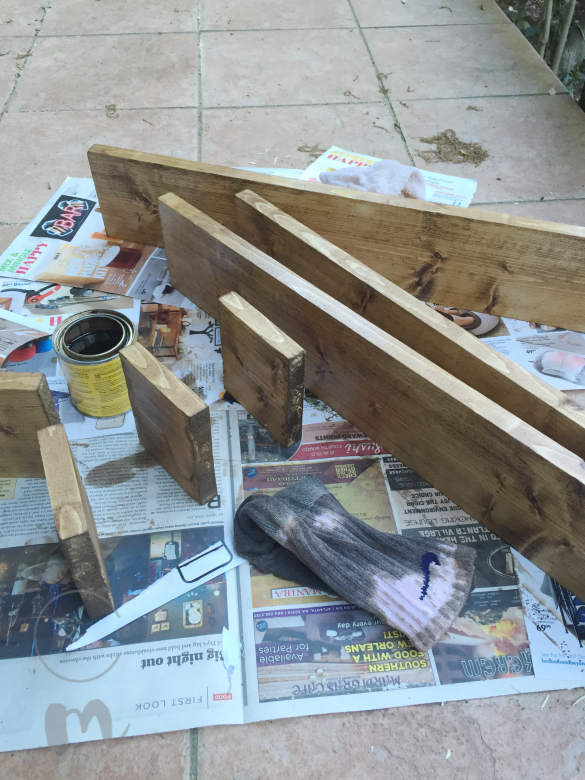 As you can see, an old sock served as my "soft cloth," and no…I am not ashamed. It worked perfectly.
Leave your pieces out to dry for at least 3 hrs. Next, wipe off any excess stain with a clean damp cloth. If you prefer a darker stain, apply a second coat and repeat the drying process.
Now, you may take your pieces back inside.
Assemble Cubby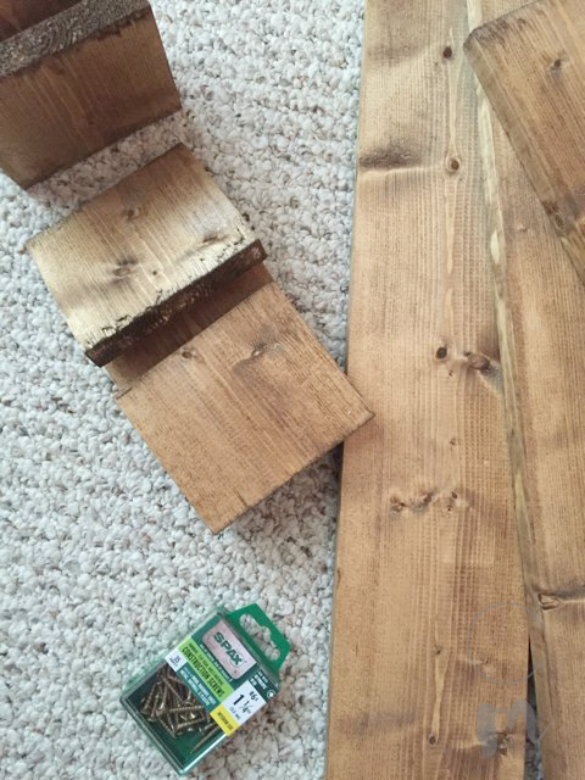 Lay one 23in. piece flat, and stand another piece upright like so: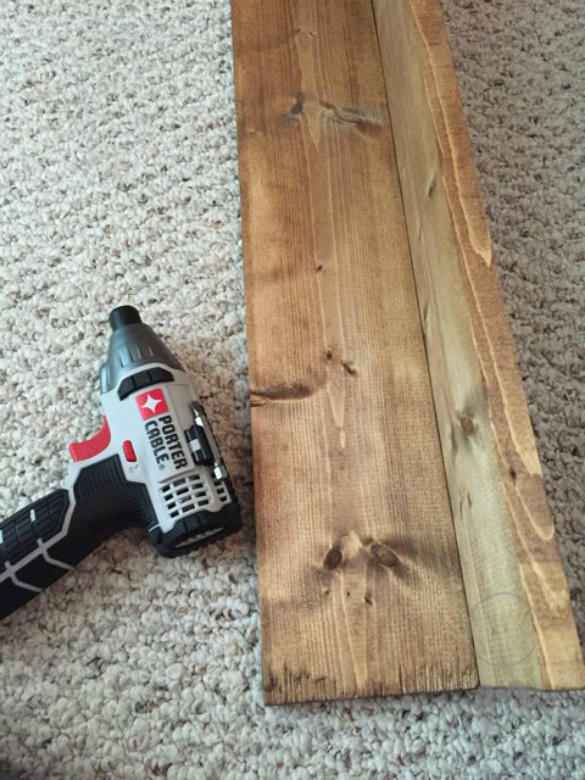 Next, flip it over to your left, so that the edge of one piece is resting on the edge of the second piece. I placed a few of the smaller pieces underneath for stability, like so: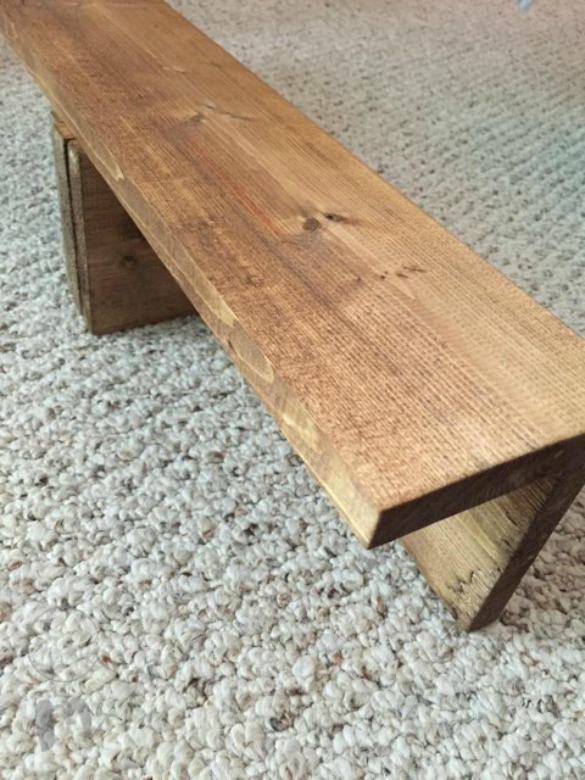 Now drill 3 screws along the edge.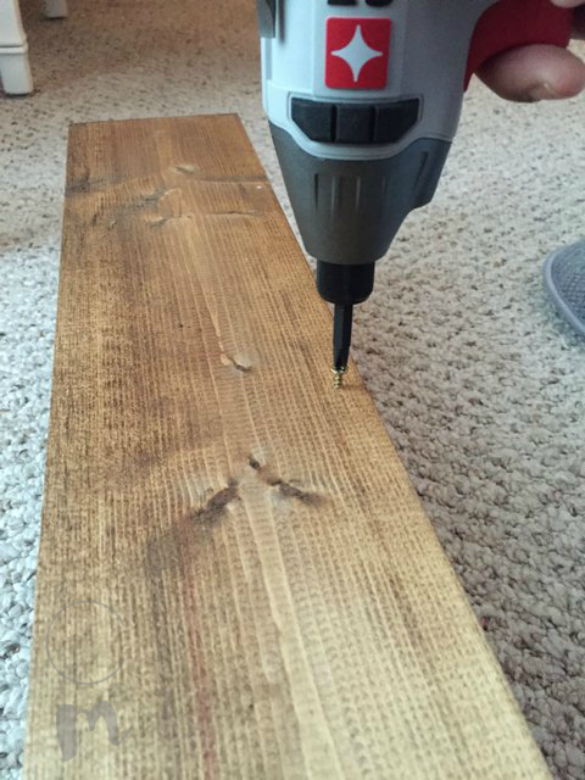 Now place the third 23in piece on the opposite side and drill 3 screws along the edge as before. You've now drilled in the base and long edge pieces. Now we're ready to drill in two short edge pieces. Keeping the shelf in an upside-down position, place two 3.75in pieces on each end of your soon to be cubby.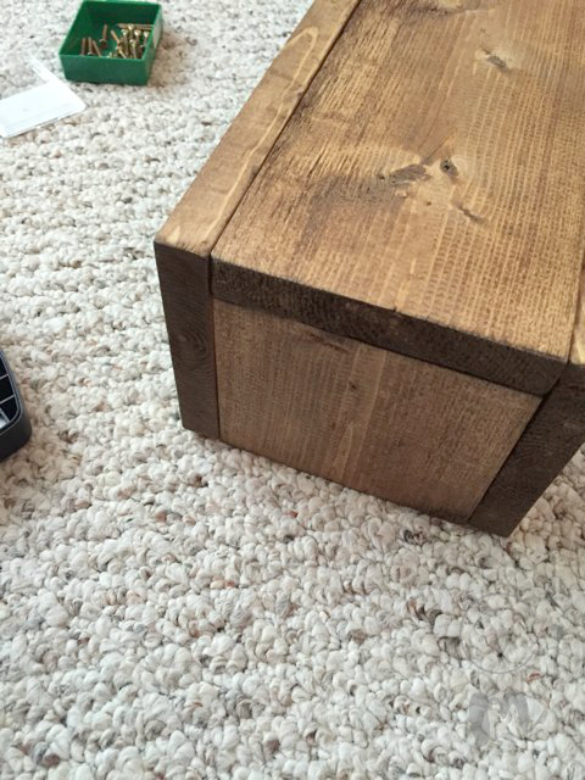 Drill two screws on the edges of each piece. Like so: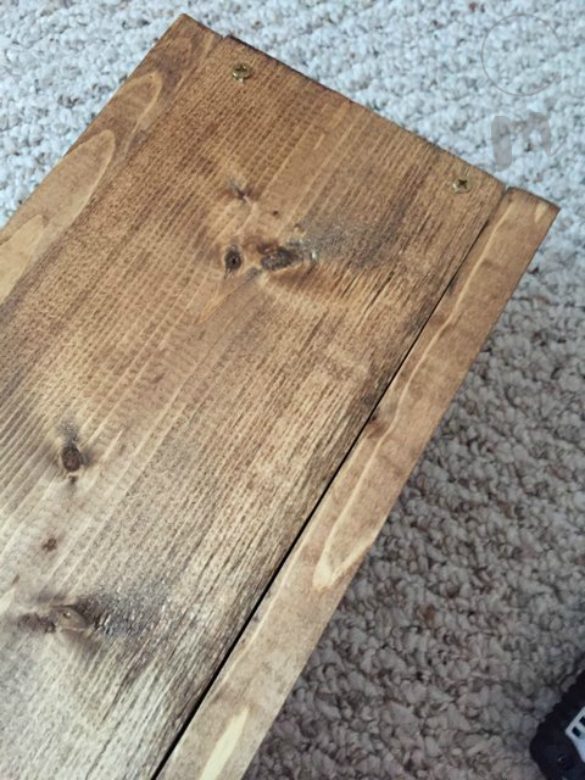 Now flip the entire piece right side up, and place your final 3 pieces inside. I wanted even cubby space so I placed each remaining piece like so: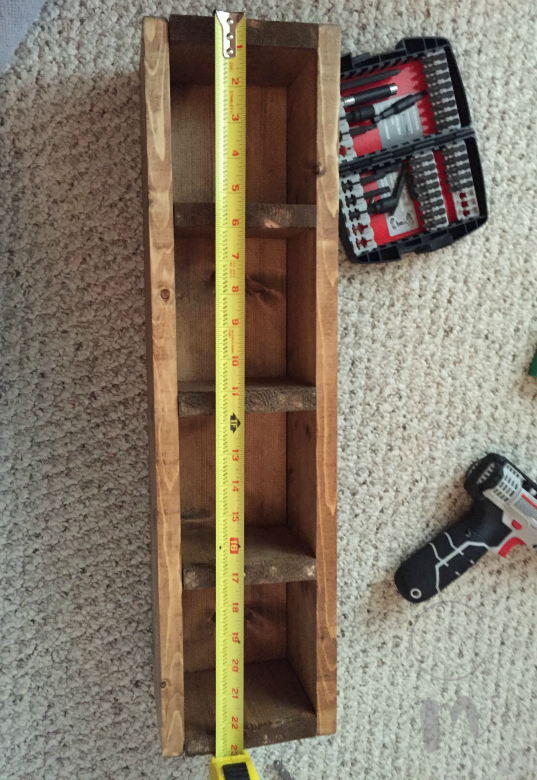 Mark the placing of each final piece on the bottom outer side of the shelf. Flip the shelf upside down, and one by one drill two screws into the bottom of each piece, from the outside of the shelf. Below you will see the pencil marking which guides where your screws will be placed: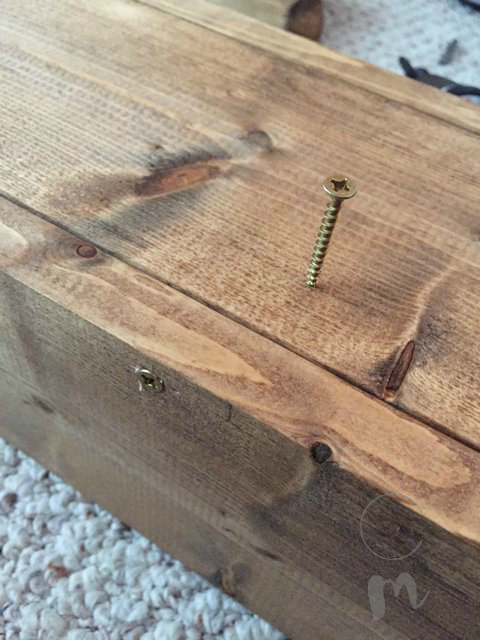 Do this for each piece. Locate which side of the shelf you would like to serve as the back of the shelf, and drill two screws into each 3.75in piece for added security.
Now place your sawtooth picture hangers on the back.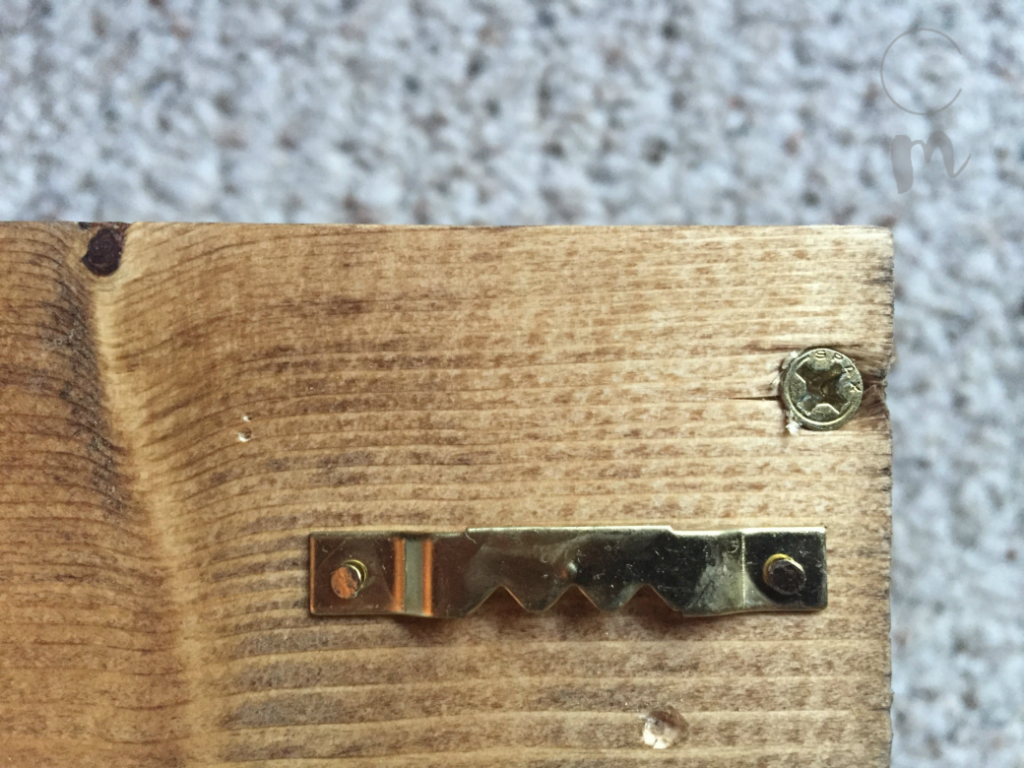 All that's left to do is hang!
Hang Floating Bathroom Cubby
I used two medium sized nails and my shelf is pretty sturdy. The trick to this is placing the nails where the studs in your wall are located.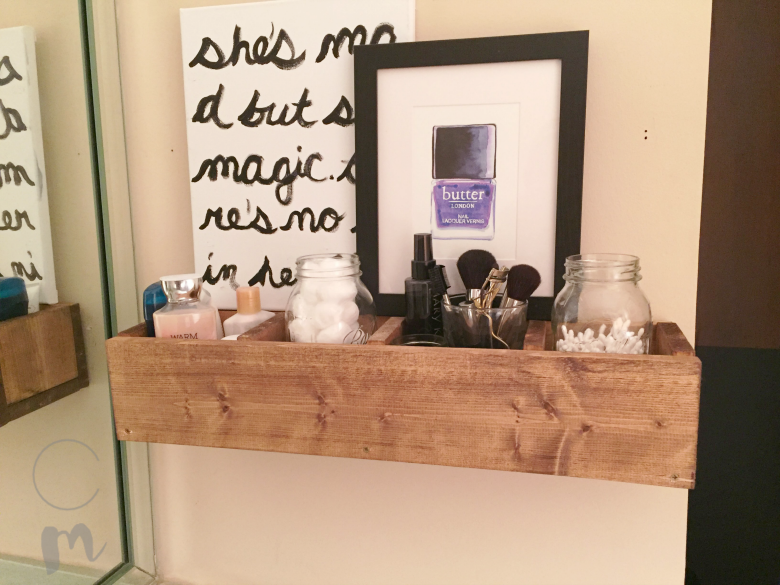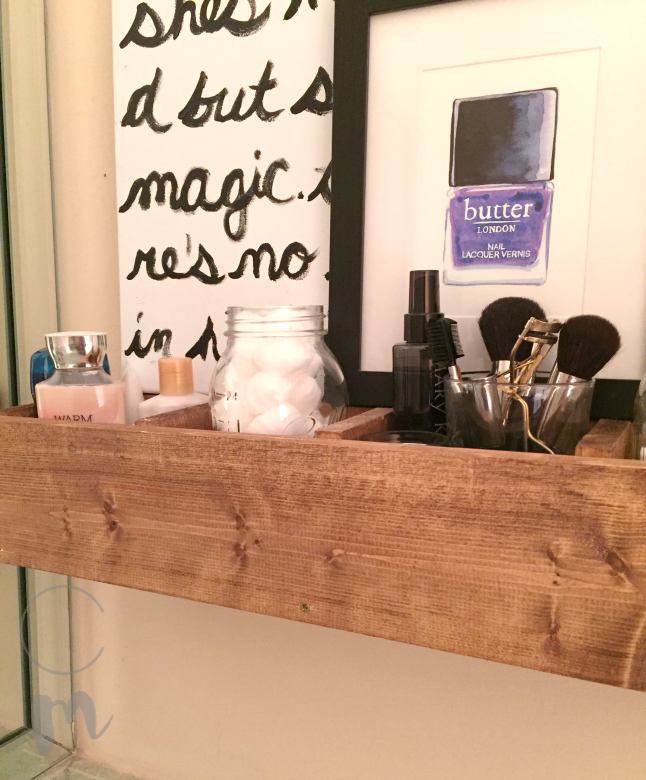 Who knew it could be so easy? Enjoy!