Who doesn't love a simple DIY? I see no raised hands over here. I'm super excited to bring you this week's project – a chic DIY marble perfume tray with gold detailing. And guess what? This transformation owes its thanks to the magic of marble contact paper and gold leaf sheets. Talk about budget friendly!
First, let me preface this project with a little backstory. Have you ever purchased an item pre-DIY revelation? You spot an item thinking "This is the perfect DIY-ready piece, and I'm going to make a masterpiece with it!" Fast forward a year later and you're still looking at that piece, waiting for a DIY revelation to uncover exactly what transformation should be made.
Well this order of events is not far from my own series of DIY trials. Some time ago I made the decision to purchase a simple acrylic vanity tray from The Container Store following a previous move. I was in need of a creative perfume display option, and this tray, in its bare glory, seemed the perfect candidate. It just screamed "make me over!"
However, it didn't tell me what kind of makeover it wanted. It literally gave me no direction. AT ALL. Therefore time went on, while other projects manifested themselves, and my tray lay in wait. Though now I am happy to say, the wait is over.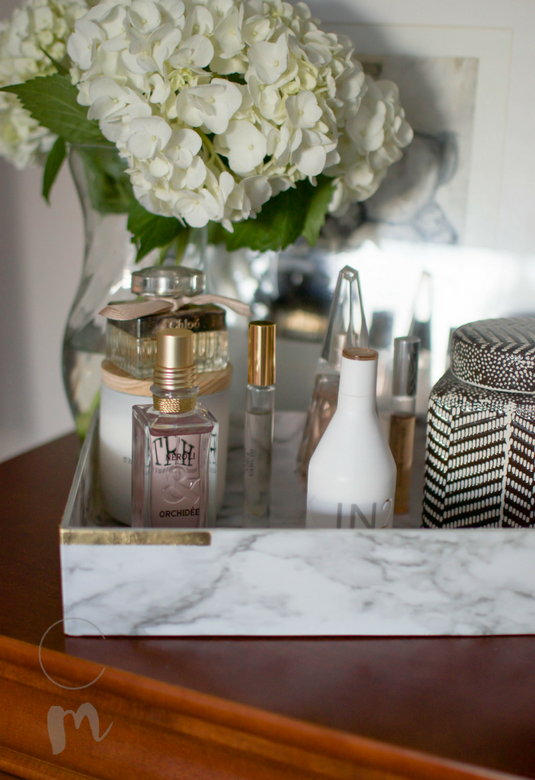 Marble has always been a chic option I've been fond of that pairs well with both sleek designs as well as distressed pieces. Contact paper also provides the option to temporarily provide a new look to any piece with no fuss. So what better way to give this tray a new look than by using marble contact paper?
I wanted a slight dazzle without going overboard. Therefore the simple gold detailing still gives a touch of glam while embracing the overall sleek look. Let's take a look at how to create this DIY marble perfume tray.
Here's what you need:
---
Square tray of your choice
Marble contact paper
Martha Stewart gilding sheets in gold
Scissors
Ruler
Water based spray adhesive
Painter's tape
Matte spray finish (optional)
---
Prepare Your Tray
First Clean your tray so that it is free from any debris and dust. A dusty tray Will keep the contact paper from adhering correctly and may cause air bubbles to form. Next measure the length and width of the inner and outer edges of your tray. Do the same for your tray base.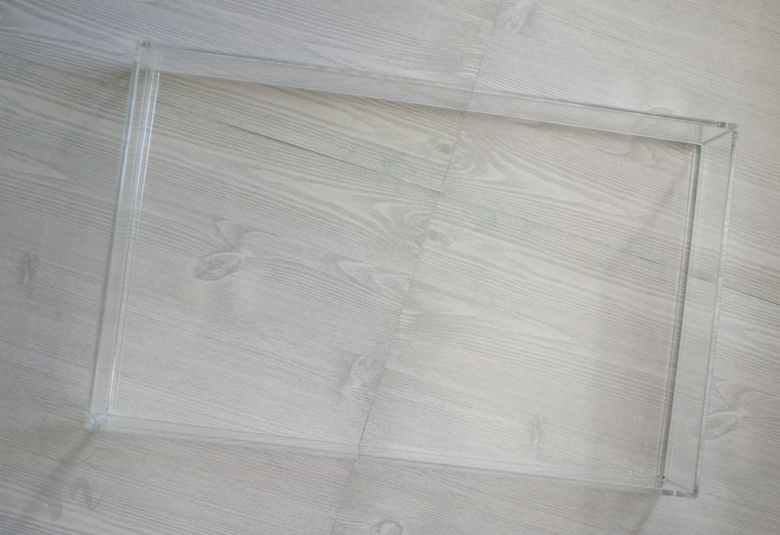 Prepare Your Contact Paper
Next using the backside of your contact paper draw out the measurements above Using the measurement grid as a guide The outer and inner edges of my tray measured  therefore two long strips of contact paper were cut in this size and used for both the inner and outer edges of the tray.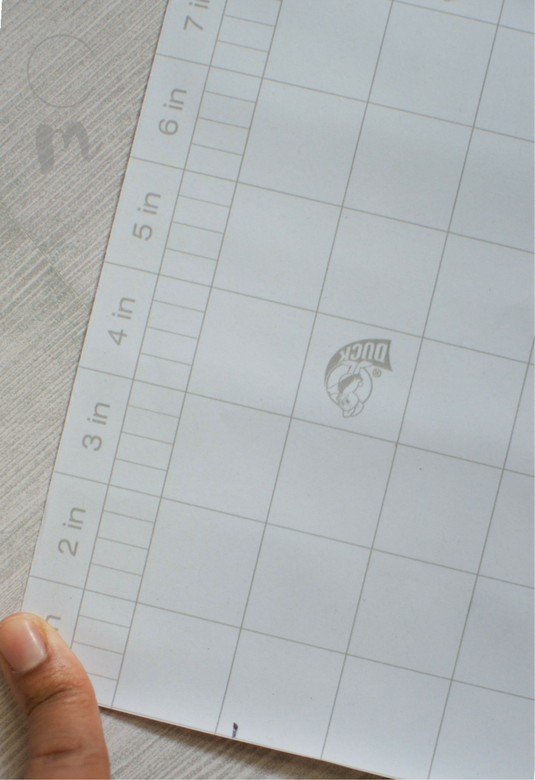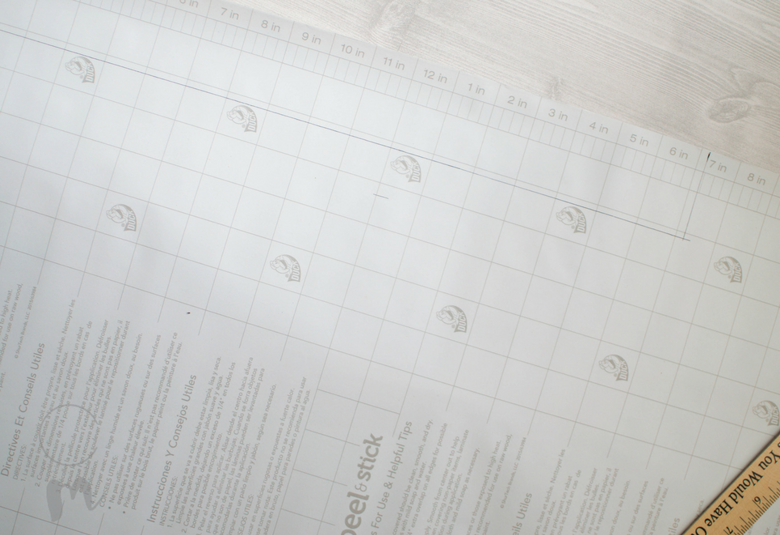 Apply Contact Paper
Next begin applying the contact paper to the inner edge. As a general tip when applying contact paper go slow. Peel off the backing WHILE applying the paper. See below. This will allow you to focus on lining up the edge of the paper with that of the tray.  Repeat this step for all remaining areas.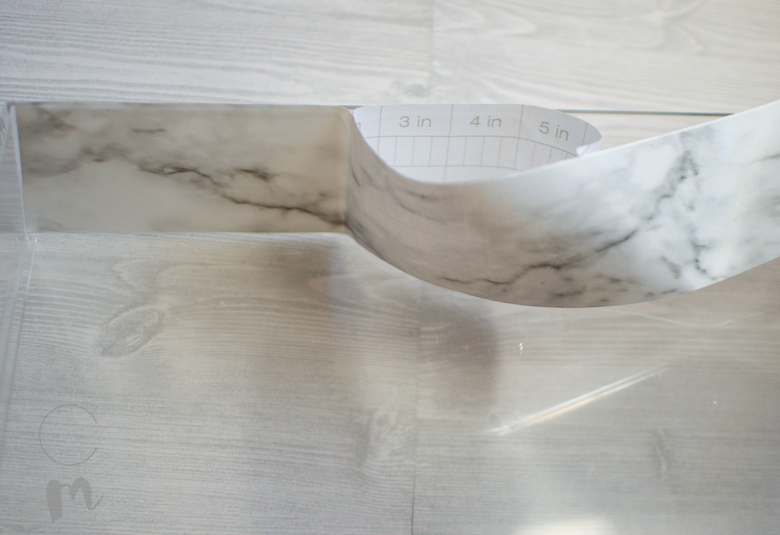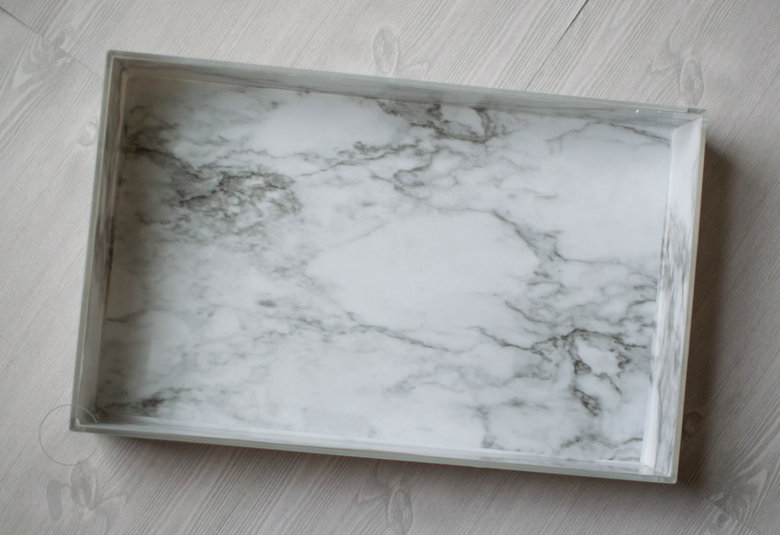 Next using your painters tape tape off the area on which you'd like your gold leaf to appear. I chose the corners for a faux hardware look. However you are free to go as big or as understated as you'd like! Gold trim surrounding the top edge or gold caps framing each corner of the tray base are also fun options.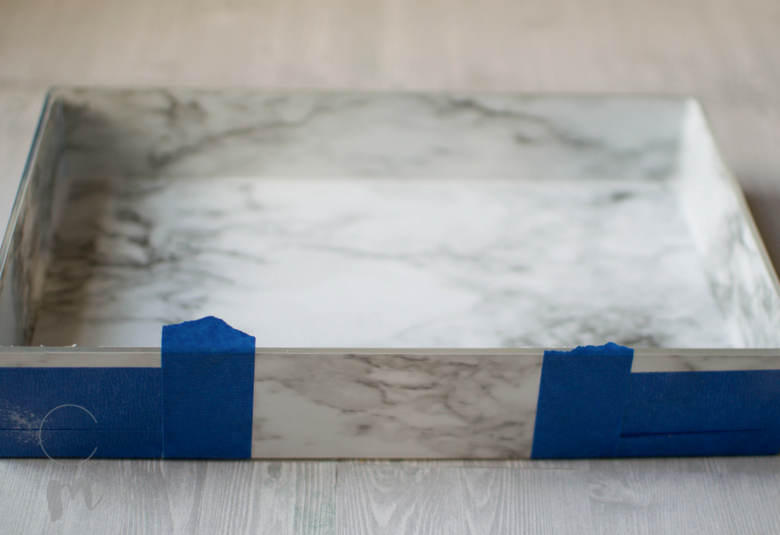 Apply Gold Leaf
Next spray each designated area with water-based adhesive and let dry slightly to a tacky finish. With the orange backing facing you, then apply one gold leaf sheet to each area, applying slight pressure to the sheet backing to assure the gold is applied. Let dry for one hour.
Then remove the orange protectant layer from each gold sheet. They should remove quite easily. Brush the unused gold away from the area. At this point, feel free to repeat the step above and apply a second coat.
I wanted more of a gold "pop" so a second layer was necessary. I also wanted to ensure the gold wouldn't easily scratch off with any scratch or bump in the future. After removing the final sheet, lightly spray the gold area with matte finish for extra protection. Let dry.
Remove the painter's tape slowly, and brush away any gold residue.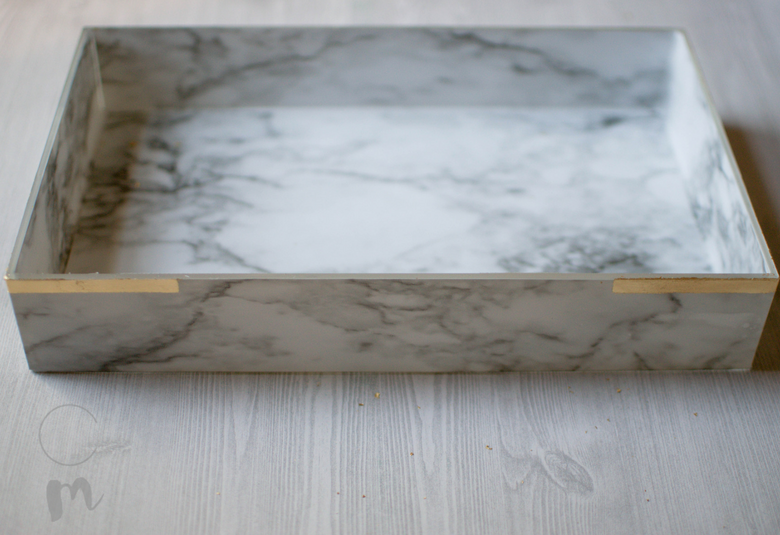 Then, you're ready to style! Perfume, small books, flowers, and prints – the possibilities are endless.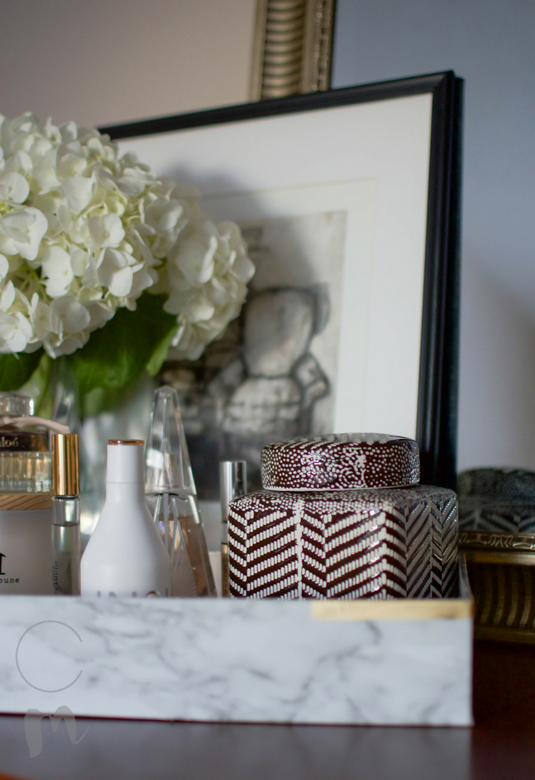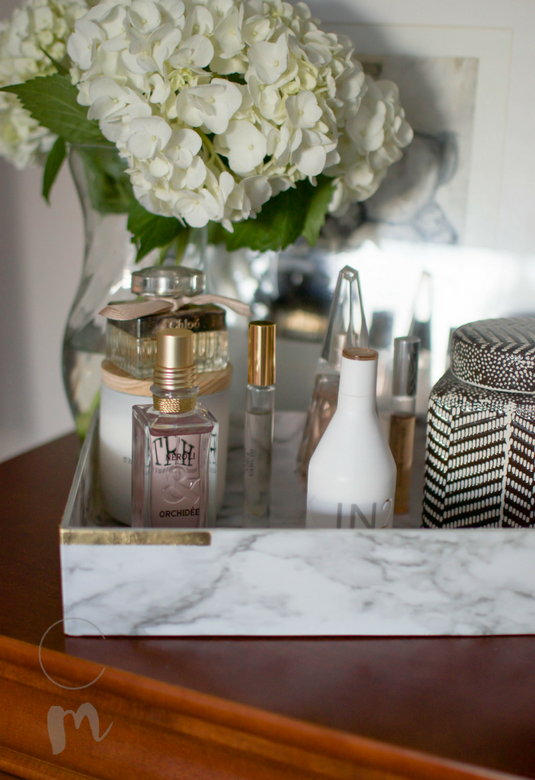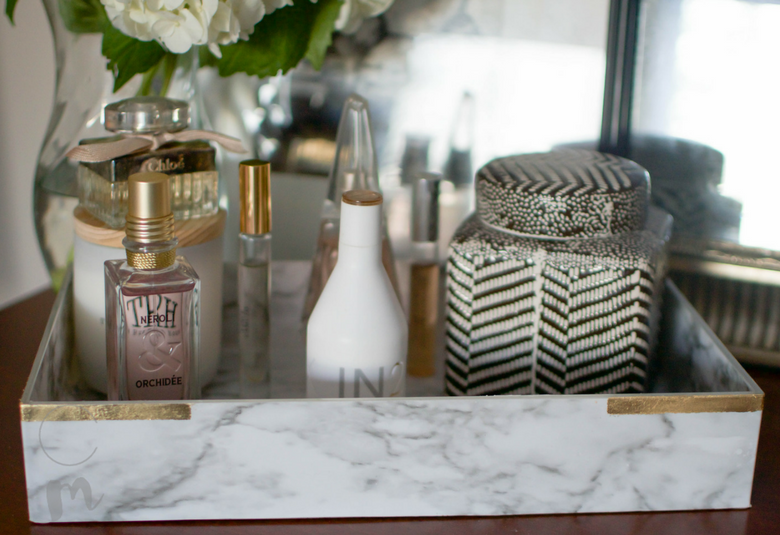 Now you've got a sleek DIY marble perfume tray, and maybe some remaining gold leaf sheets for your next DIY revelation. Just about any tray can be transformed with contact paper. So use this as an excuse to go thrifting, and snag a good tray find. Then let the transformation commence!