If you are a renter, or have ever been a renter, you know how difficult it can be to make a space your own. Especially while confined to numerous rental restrictions. While we drool over the classic look of subway tile, we know a bathroom demolition just isn't in the cards. Well if you are like me and love the look of classic, but permanent home design, you will love this week's DIY temporary flooring tutorial.
Over the last few years, along with my love for the character of older homes, I have also developed a love for herringbone wood floors. Not only are they classic, but they add a touch of chic to any room. As soon as I see a herringbone wood floor, I immediately begin drumming up a pool of design ideas. From the window treatment, to the striking velvet sofa that will sit atop such a beautiful floor. Needless to say, my creativity is sparked almost instantly.
When considering DIY temporary flooring for my bathroom, I wanted something classic and creative that would easily transition through any design. Also, due to the lack of windows in this space, I needed something that would brighten the mood. The more I wished I could have permanent herringbone wood floors, the more desirable this dream design became.
The only thing holding me back? That dreaded word, temporary. When I considered temporary designs, "classic" was not a word that came to mind. And I hadn't the slightest idea of how to make it translate into my temporary space.
Luckily, I could not let go of the herringbone beauty I had my heart set on. Days later, while shopping at Floor and Decor, I came across a light cherry wood vinyl plank that increased my confidence to tackle a project like this. Its near real design got my wheels turning on how to make this happen.
After completing a measure and cut process in my mind, I made my purchase, went home, and got to work. Thus, I bring to you my DIY Temporary Flooring: A Herringbone Wood Tutorial.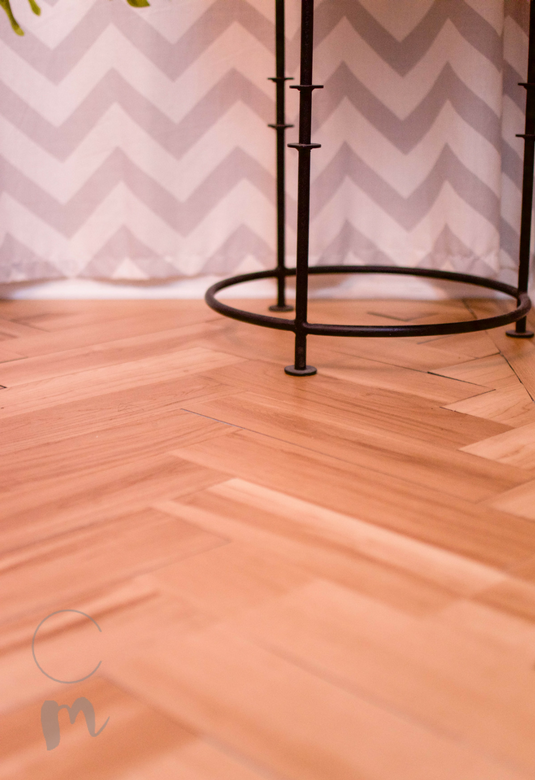 Let's jump in.
Here's what you'll need:
---
2 boxes of Casa Moderna Luxury Vinyl Plank in Light Cherry
Box cutter
Long-Nose pliers
Ruler
Wax paper
Pencil
Marker
---
The vinyl plank used here was purchased at my local Floor and Decor (this is not a sponsored post), but can also be purchased online. What I loved about this tile compared to all the others is its near real look. In addition to this, it was super easy to cut. Each plank set is pre-marked down the center to guide you through an even cut, in order to separate each piece.
After tracing a measurement with my box cutter and bending the sides away from my body, each piece snapped away from the other. If you have a quality box cutter, this step should be easy for you as well. Now let's get started.
Lay Tile Border
This herringbone floor design includes a one block border, which for me adds a nice contrast to the lines of the space. You can certainly do without this if you prefer. If you choose to keep it, then begin by using your box cutter to cut your tile to the appropriate length for the border of your space.
To make it easier on myself, because I knew this project would take some patience, I made little to no change to the original tile width. I recommend this, as it will definitely save you time in the process of measuring and cutting. Now, lay each piece against the borders of your space.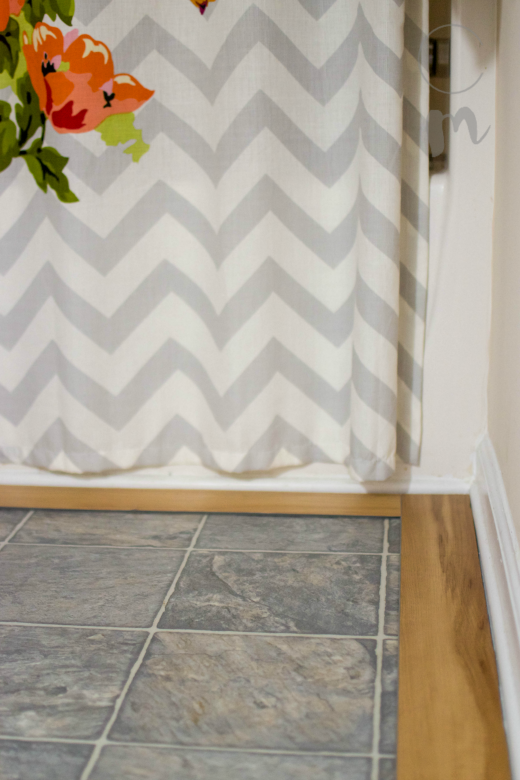 You will notice the vertical edge of each plank has a lip or groove meant for snapping on to an adjoining plank.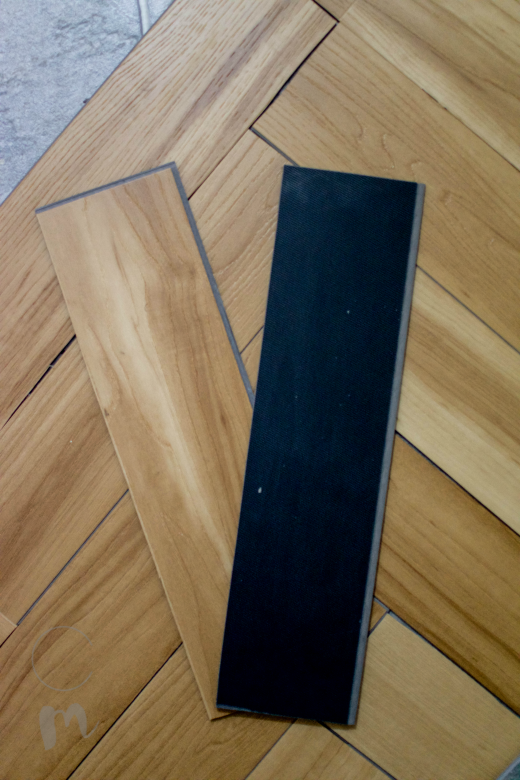 When laying your tile border, be sure to use identical pieces along the wall such as all planks with the visible groove or all planks with no visible groove. This will help your measurement process down the road. If using the visible groove planks, be sure to face the grooves against the wall.
Cut Tile
After splitting a few planks into single pieces, cut a single piece into 13.5 inch pieces lengthwise. Start with 8 pieces. Forgive my overuse of the word "pieces" here;-)
Lay Tile
Begin making your herringbone pattern in an area where full pieces will be visible. Then begin "stacking" the herringbone pattern throughout the space. Some of your pieces will have the ability to interlock with its adjacent partner. If not, the visible grooves may get in the way, affecting the overall measurement of the design. This is where your long-nose pliers will come in handy. Simply slice the groove lengthwise along the edge of the plank, then tear it away with the pliers.
Stack as many full-length herringbone patterns as you can throughout, leaving the unfinished edges for the end.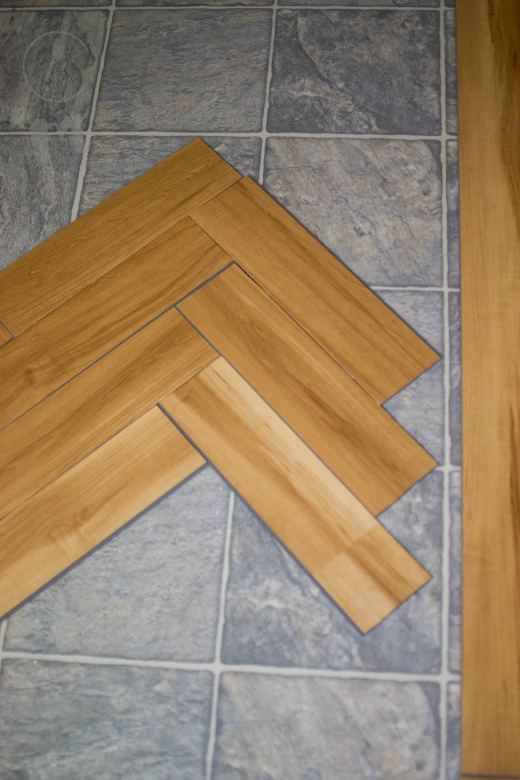 Along the edges, where pre-cut plank pieces are unable to continue, simply measure and mark the unneeded area using the border as a guide, cut, then split. Long-nose pliers will come in handy during this splitting process as well.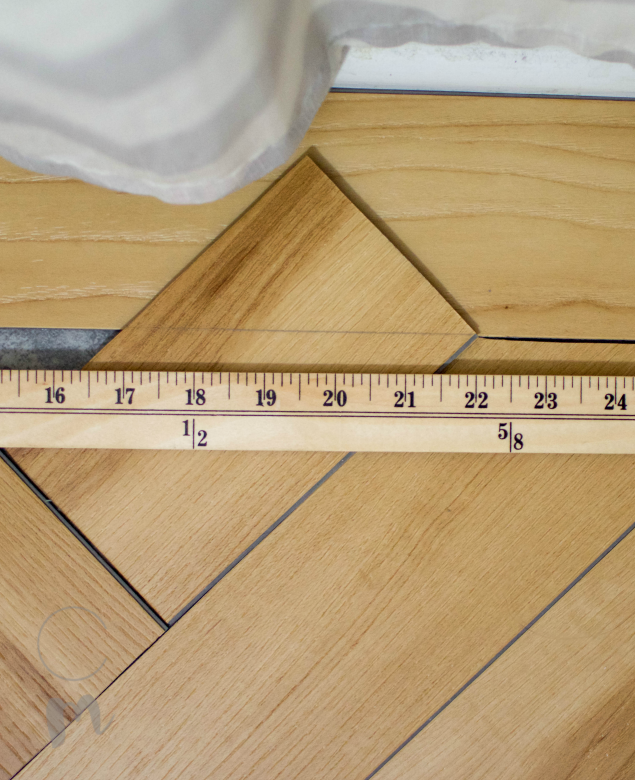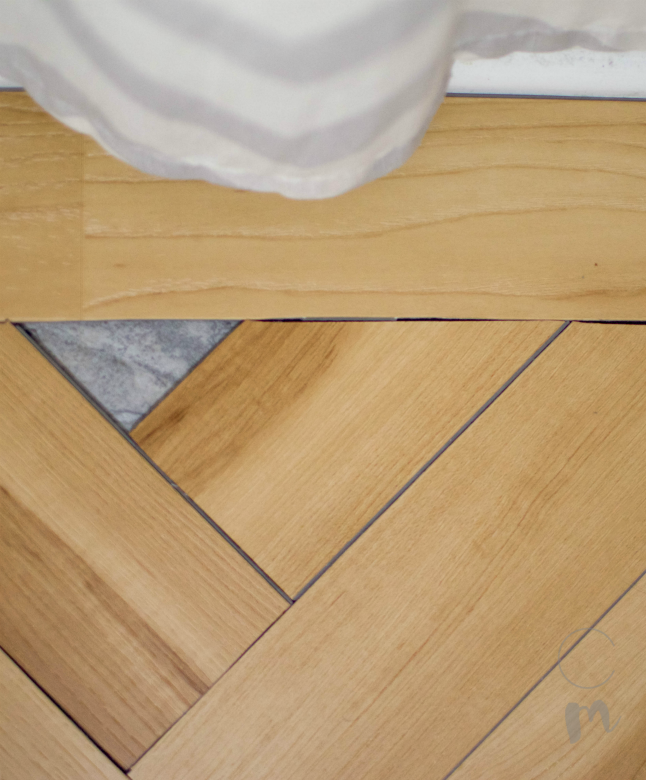 Tie Up Loose Ends
After the design edges are complete, you will most likely have a few small openings in the shape of a triangle throughout. This is where your wax paper will come in handy. First, place a piece of wax paper on top of the triangular opening, then trace the shape.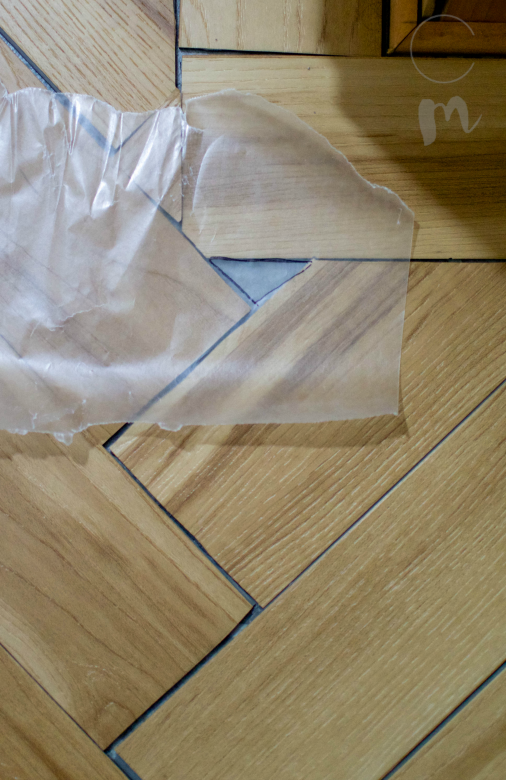 Next, cut the shape and retrace the wax paper outline onto a scrap piece of vinyl plank. I recommend using the corners of scrap vinyl to complete this portion. Corners will easily split away from the remaining scrap piece with your long-nose pliers. Finally, cut and split.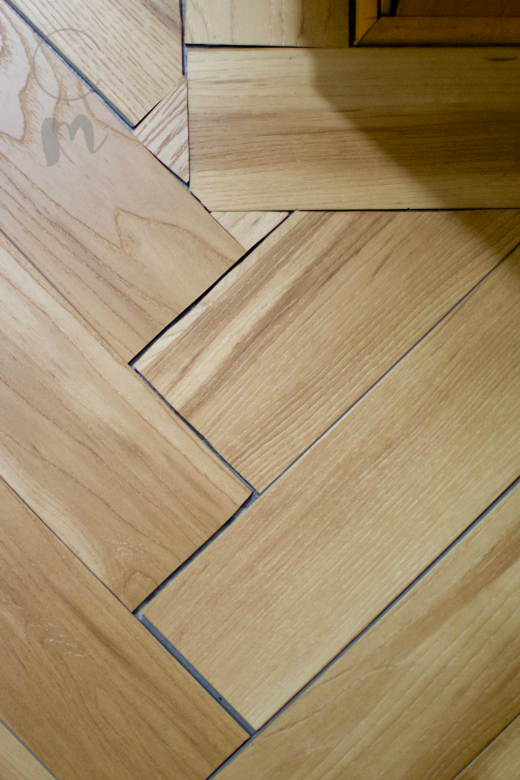 You will most likely have to cut awkard angles surrounding the toilet. If you choose to move the toilet for this project, cutting plank to surround the toilet will be unnecessary. I completed this project on my own, therefore moving this was not an option.
If you are in the same boat. Simply cut a piece of wax paper in the shape of one plank piece (13.5in long) and place in the opening where needed around the toilet. Fold the wax paper into the crease of the base of the toilet and mark the crease line with a marker. When you pull away the wax paper, you will see the shape of the plank piece needed to surround that area of your commode.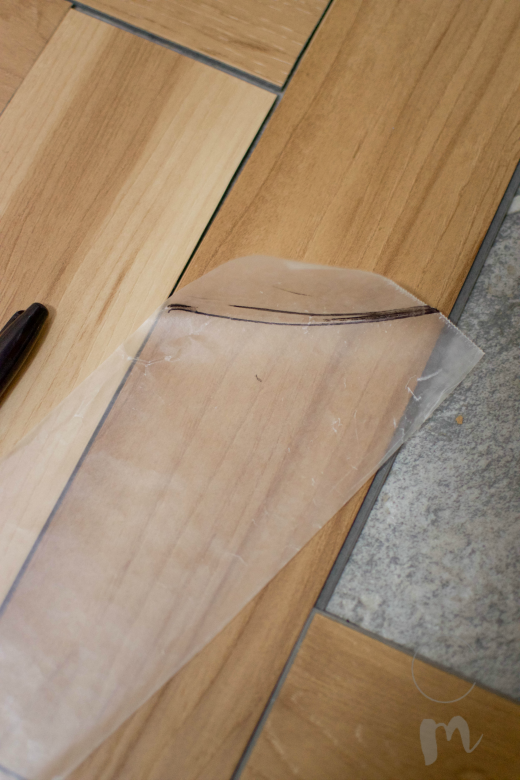 Follow the steps above as you did for the triangular openings: cut, trace, cut, and split.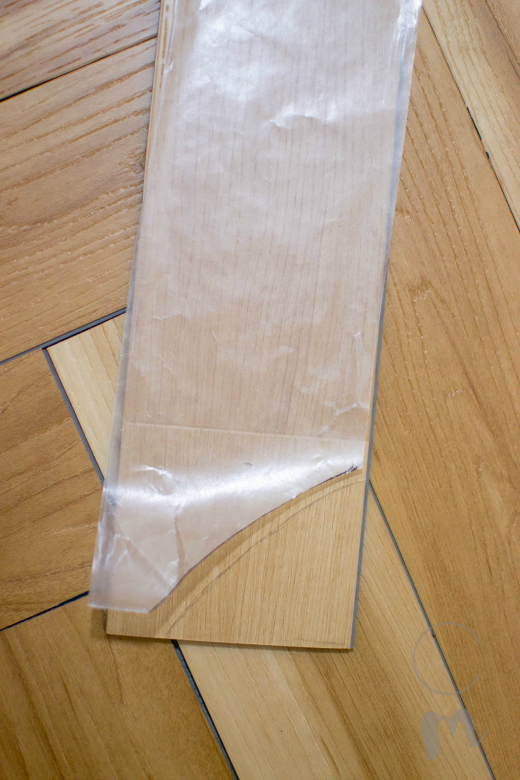 Complete these steps for any other awkward angles of your space. If you notice any plank pieces that can use a better cut, adjust as necessary, but don't waste too much time on this. Every cut may not be perfect, but there there is beauty in the imperfect!
Finally, stand back in awe of your beautiful floor and make a toast to all of your hard work.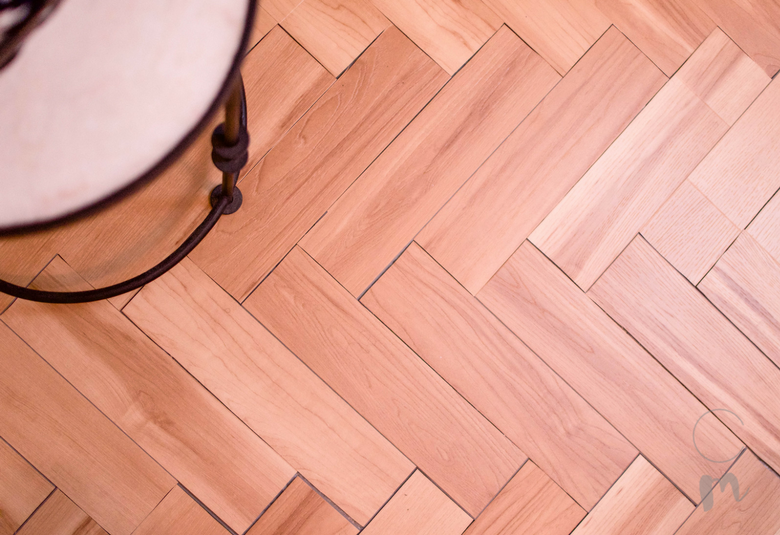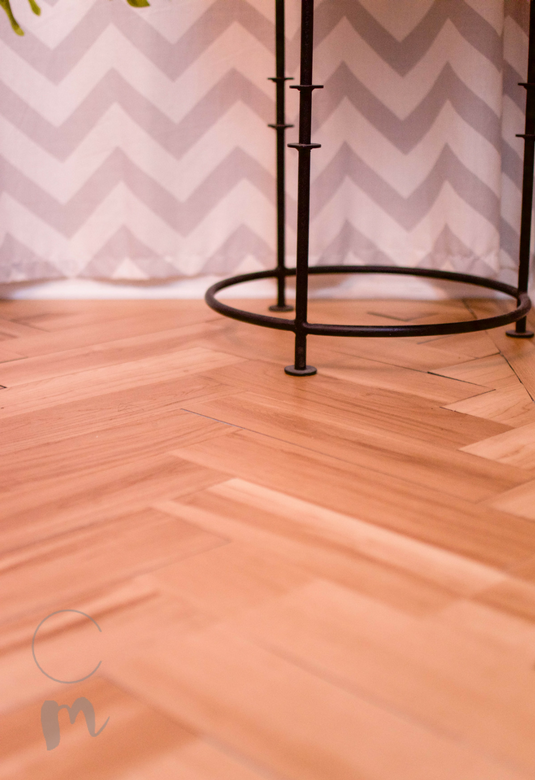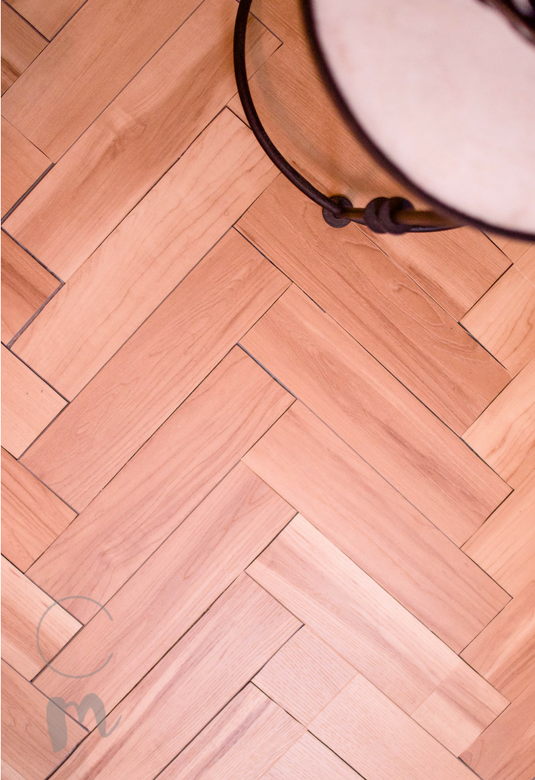 This project is easy to install, but definitely takes a dose of patience to complete. Once the border is placed, and plank length is determined, all that's left to do is cut and measure, cut and measure, cut and measure. Get the gist?
I am so happy with the results, and am glad I took the leap to experiment with something new. You should too! And of course if you have any questions, or just need a cheerleader along the way, drop a note in the comments below and we'll work on it together:-)