We've all been there – entered our space and realized our interior style had not caught up with the progression of our lives. That pink rug, undersized furniture, and lack of art all seem reminiscent of your former days as the life of the campus party. How is it that along with our other life transitions and milestones experienced, our style can remain the same? And even when you've tried to conduct an interior intervention, the attempt is just a disappointment. If you still struggle with this, then it's time for an interior style upgrade.
First and foremost, don't beat yourself up about it. Many of the designs you've seen are put together by professional that have obtained a degree in interior design, or studied under an individual that has. If you've admired the designs of your peers that all seem to be ahead in their interior journey, don't worry. They've had the same experience, but have done something about it.
So don't fret. It's your turn. With a few observations and steps, your home can be transformed to a space just as fun and sophisticated as you. Let's take a look at how to give yourself an interior style upgrade.
Explore Your Appetite for Color
Your color palette is allowed to include more than two colors and shades. Yes blue and white are safe and they match, but don't be afraid to mix in shades of blush, wood, and grey. If your eye is led to a bold color, pairing it with black or white is of course a safe choice, but consider  a second bold shade along with a few muted or neutral tones.
Take a look at color wheels, to determine which bold hues complement the other. For example, blue and yellow or pink and green are complementary colors. Explore and let yourself be drawn to new hues.
This is also where I like to say go big or go home. Even if you discover your appetite for color prefers a neutral or all white palette you still have the opportunity to "go big". I have witnessed some absolutely breathtaking all-white interior designs out there. The designer or homeowner simply committed to their love of white, or their love of neutrals and let that guide their interior decisions.
Either way, take some time to explore complementary colors and discover what really attracts you.
Experiment with Patterns
This is where the fun begins. Have you ever come across a room drenched in prints, that all seem to magically work so well together? Well it's not magic, but they are indeed wonderfully curated pieces of a larger puzzle. I think of prints as an equation. When the right patterns are combined, everything clicks and the logic just makes sense.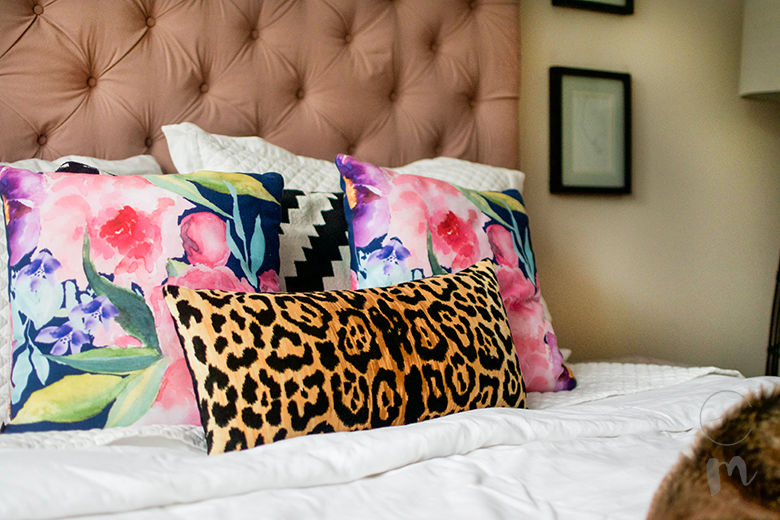 The best way to do this is to physically play with a large amount of print options. Take a walk in Target or another retailer with a large pillow aisle and go to town! Combine large and small prints, floral and stripes, polka dots and leopard. Try it all to see what makes sense. I like to combine patterns with a distinct contrast like soft floral with a bold geometric print. Prints within the same color family also work well.
Nurture Your Green Thumb
Updating your landscape with a new curb appealing garden is not necessary. However, the addition of indoor plants or even fresh flowers here and there add a touch of warmth to any space. There's also something very "adult" about plants.
Whether minimal or extensive, they require some level of care, and therefore exhibit an owner's ability to be responsible for something. I don't know about you, but that seems pretty adult to me, and translates to the interior design of a space. They are an easy, automatic interior style upgrade that require little effort.
If the possibility of sacrificing many plants while you nurture a green thumb seems unappealing, consider fresh flowers instead. They are inviting and thoughtful, and add a touch of sophistication to any room.
Consider Size and Function
We've all seen the oversized room with undersized furniture, or the small room with large crowded pieces. This normally happens when size and function was not considered. If you are anything like me, you like grand pieces, ranging from furniture to art. However, I've lived in many small spaces, which have taught me that a small space can become crowded very quickly, and therefore not function properly.
This didn't mean I had to give up my love of oversized decor, it just meant that I got to choose a "star of the show" for each room. A small room can still house a large piece, however it should not be combined with equally large pieces, or else you risk crowding the space or making one artistically compete with the other.
The large piece chosen should also be functional for that space. If your eat-in kitchen area is significantly small, a large table wouldn't make sense. Instead, choose a large piece of art for the wall. This way, you can still choose a show stopping piece that allows you to function properly in a high traffic area.
I hope none of the steps above scare you. Conducting your own interior style upgrade is all about experimenting with color, styles, and items that speak to you.  Allow yourself to explore and be drawn to new things. Sometimes our interior styling can get stuck in our own yesteryear because we never ventured out to discover our interior desires and the design possibilities. Get out there and start having fun.