Christmas is on its way and Christmas trees are popping up in homes everywhere. While I love the fanfare of a fully decked out tree, including the good times had in the process, sometimes a girl just needs a pint sized option. Because the holiday season can be such a busy time, a mini Christmas tree tour is definitely in order for those of us who crave the fanfare but lack the time.
I hate to admit it, but Christmas has become a season in which we can easily get wrapped up in the insignificant aspects. We then forget to enjoy the most meaningful moments. Presents, ribbon, ornaments, and color schemes are all things I love about the season. However, laughter with family, and memories created with new and old loved ones is the most important element of the season.
Last year I created a rustically glam tree that I still absolutely love. Which is why it will get more time to shine this season, with little revision. I am all for embracing a Christmas decor repeat, especially if encouraged by your schedule and/or budget.
This year I wanted to keep the party going by kicking it up a notch (or should I say down a notch?) with some tiny tree love. I must say, I don't know why I hadn't done this sooner. This mini Christmas tree gives me the small space pizzazz needed without the sweat of a "main event" tree.
Okay, I'll stop gabbing and let you take a look.
Though I originally wanted a mini Fraser Fir, after spotting this potted Cypress Carolina Sapphire at Home Depot I was sold. The Carolina Sapphire is not meant to live permanently indoors, therefore I can plant outside following the Christmas season. Not to mention, it is much more friendlier on your wallet than a temporary mini Fraser Fir. Clearly the pros of the Sapphire outweighed the cons of the Fraser Fir. The decision was easy.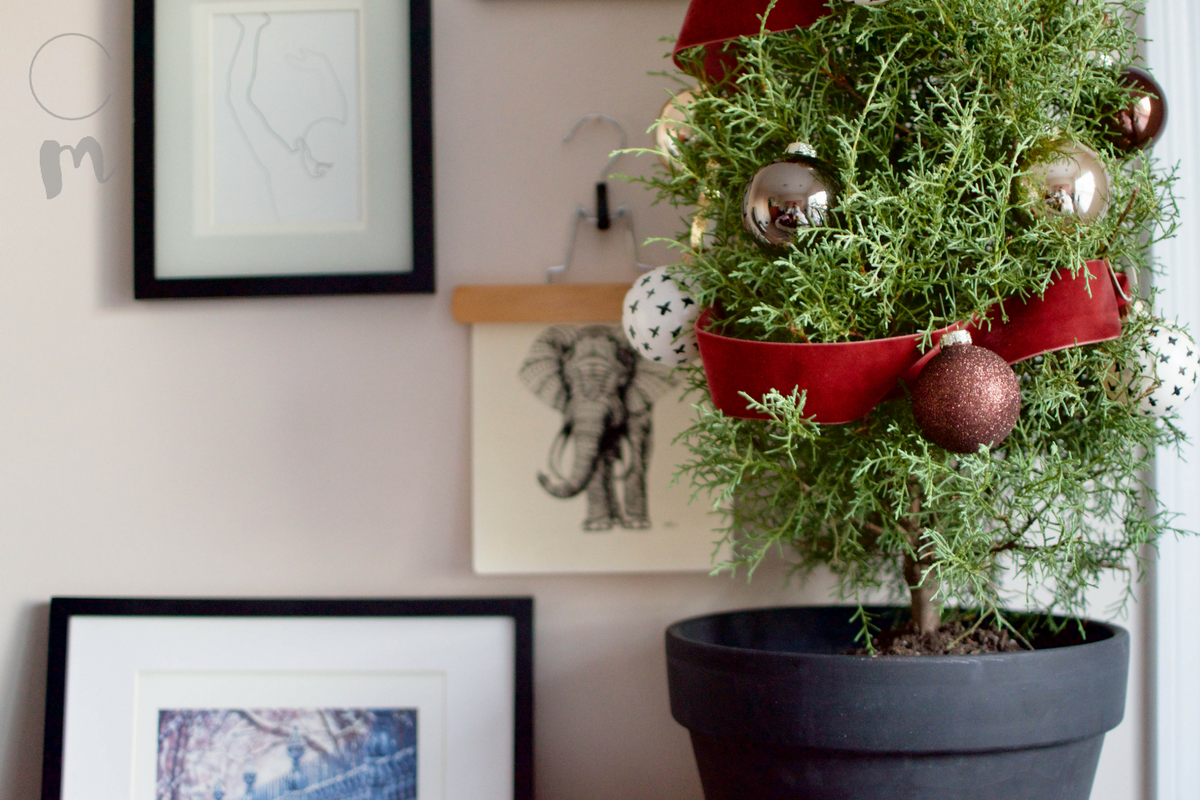 Naturally, I went with some non traditional colors, while still leaning towards the glam look. A bronzy vintage palette inspired the overall scheme. While a touch of black and white, which I'm consistently drawn to, give the tree an unexpected pop.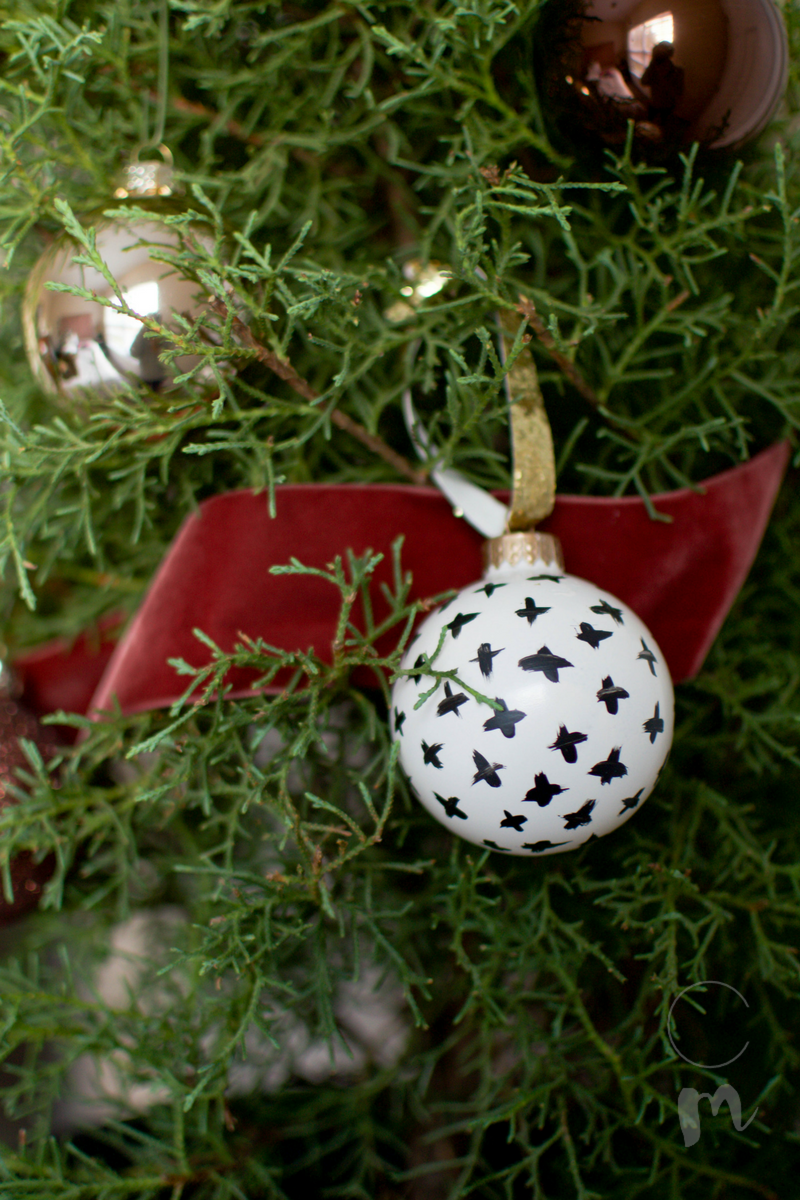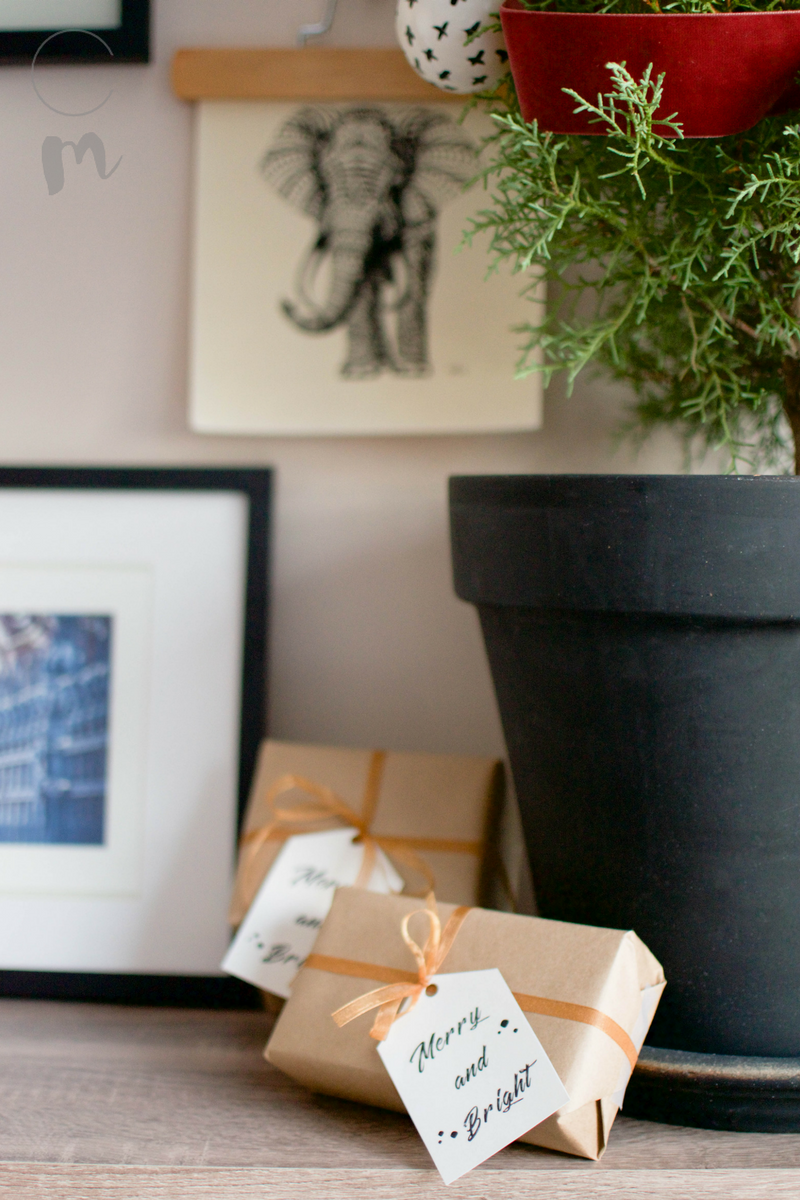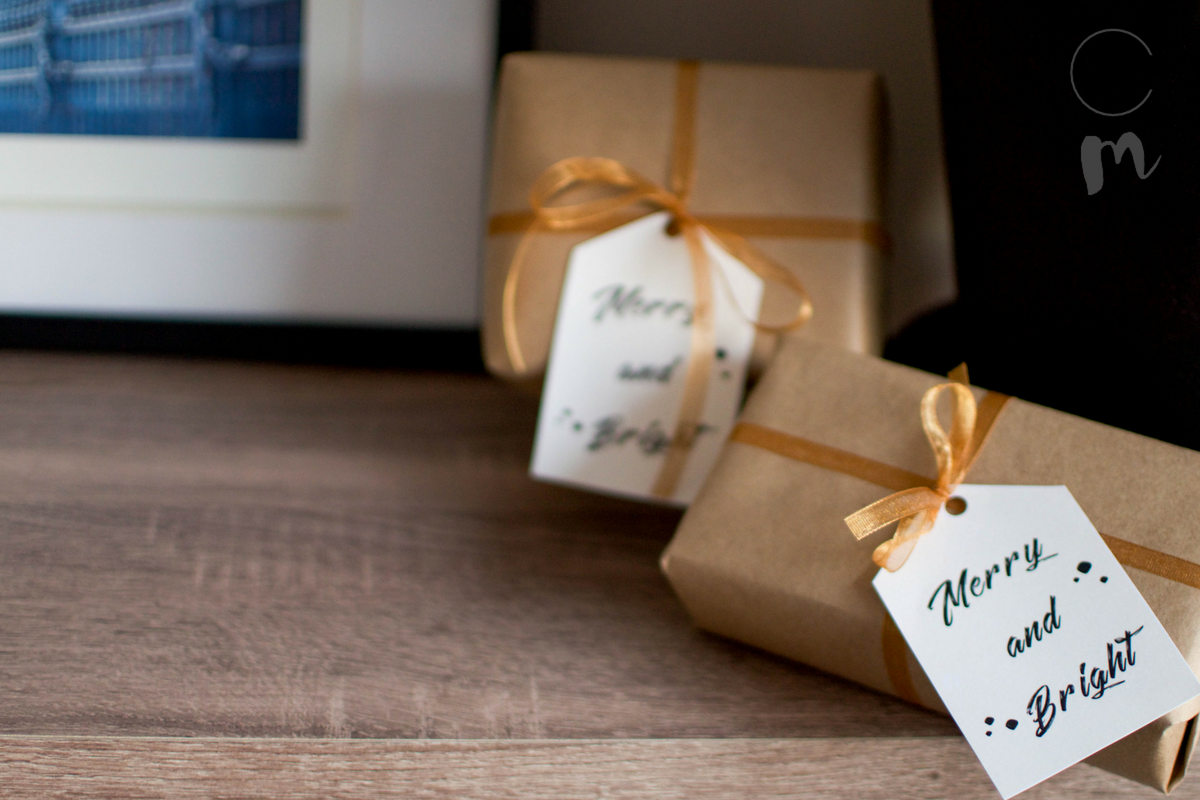 I'm also loving the simple yet classy gift tags that give an extra oomph to a basic wrapped present. I must say I am officially converted to a gift tag DIYer. It's super easy to do, friendly on the wallet, and one less thing I have to shop for this time of year. Can't beat that.
If you're loving these "Merry and Bright" gift tags too, guess what? I've made them into a printable just for you! Just print, cut, hole punch and attach with ribbon of your choice. They'll look great on just about any wrapping paper you choose to go with.
Click here to get your free Merry and Bright gift tag printable.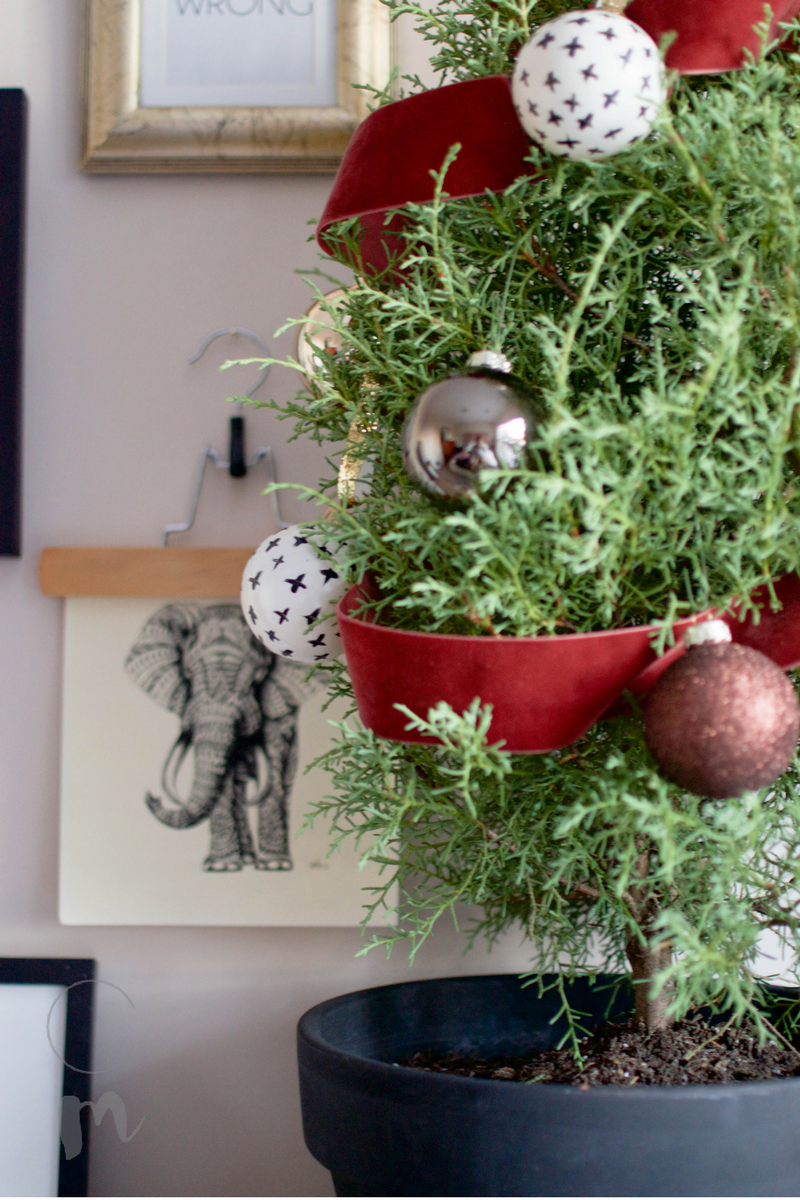 The beautiful ribbon was a Mood Fabrics purchase, during which I had to contain myself so as not to buy the entire collection of velvet ribbon. So many shades, but only one tree!
The bronze palette ornaments can be found here, while the black and white ornaments was one of the simplest DIY ornaments I've ever done! Just spray paint clear ornaments with Krylon spray paint, the ornament caps with metallic gold, and apply the "+" design all over with a  #2 round brush. I'm absolutely loving them.
And there you have it. I hope you enjoyed this brief little tour of my Mini Christmas Tree. If you love to go all out for Christmas, consider adding one of these to each room. You could then go wild with styling due to the many options at your fingertips. Just remember, each potted tree will need to be released into nature and planted at some point. Just think of it as another adventure to look forward to.