After deciding it was time to move out of my parent's house, who so graciously let me invade the nest once again in order to attend grad school, I realized I had very little in the budget to decorate and design my new digs. I was determined to make it work with what I had. Many DIY projects were on the horizon (wish I'd had this home design completion plan back then). Though how to paint and stain laminate was not one I considered.
My bedroom suite was currently white and wood laminate. Yes I said bedroom suite. Yes it was perfect for a 12 year old girl's bedroom. It was the furniture kept in my childhood bedroom since I was 12. See below (forgive the oil stained garage).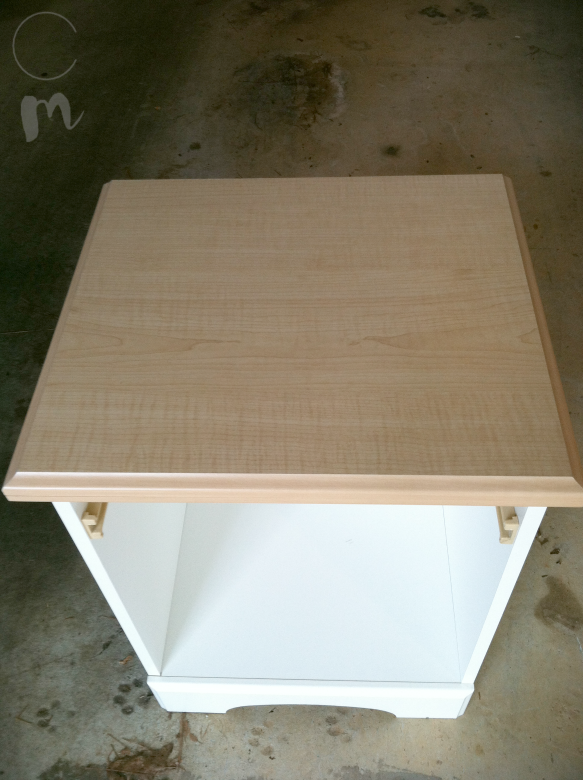 I needed to get really creative with this in order to make it work. I decided to keep and use the chest and nightstand. And embark on a much needed makeover. I would begin with the nightstand.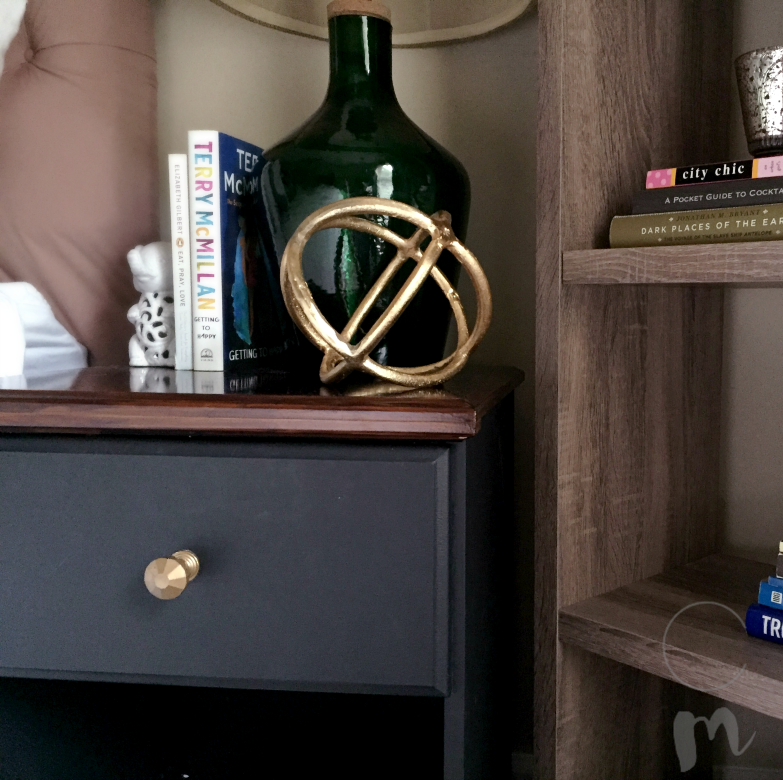 I wanted a completely different look. I'd been wanting to use matte black paint for some time. I loved the clean but edgy look. The question now, was how to finish the wood laminate, as I didn't know how to paint or stain laminate, and I'd heard it does not stain nearly as well as real wood. I still wanted it to look like wood, but didn't want to go to great lengths to make this happen. After all, the best diy is one that looks as if it involved blood sweat and tears, but actually didn't right? However, doing anything to laminate did not seem exciting, and actually intimidated me. Could I sand this? If not, how would I paint it? Would the paint peel off?
After doing some research, I discovered Minwax Polyshades allows you to stain laminate, giving it a wood stained look, though I must be careful in my application. The polyurethane combined with the stain makes for a thicker solution and must be applied with a steady hand. I also discovered Zinsser primer can be used on the body of this piece, no sanding needed. And I could skip right to painting! I then became excited about this project. No I am not affiliated with Minwax or Polyshades in any way, and this post is not influenced by either party. I simply like their product and naturally have included them in this diy post.
---
Here's what I used:
150 Sand Grit paper

Damp cloth
Minwax Polyshades in "Mission Oak" (satin)
Wooster Pro angled paint brush (nylon/polyester)
Zinsser Cover Stain Primer
Mini roller
Valspar "Raven Black" (interior matte)
Knob

Valspar metallic gold spray paint
---
Staining Preparation
I Covered the bottom of the nightstand with a trash bag, secured by painter's tape, in order to eliminate any stain drippings or wood dust.
I Sanded the top surface, in the direction of the wood. The point was to rough it up a little, and no, the laminate did not peel off. Not much area is covered in the sanding, so this can be done just as easily with sandpaper or a sand block.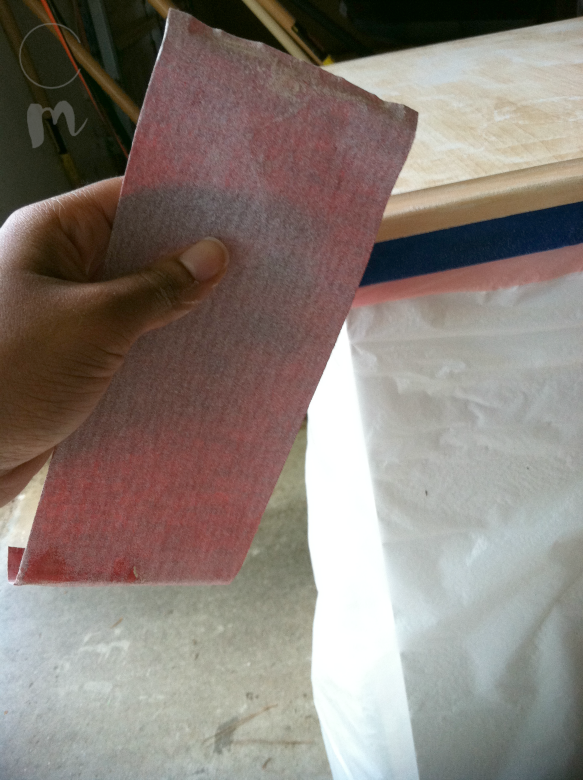 Wipe with a damp cloth
Stain Laminate
I applied one coat of Minwax Polyshades as directed on the canister.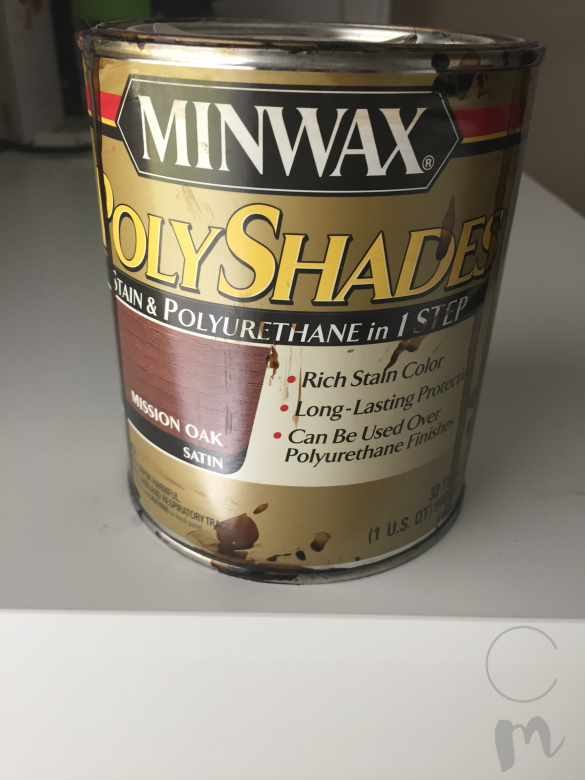 This is where I needed a steady hand. Due to the density, brush lines were apparent at this point. Not to worry! They disappeared as the second coat dried, but if applied unsteadily the lines would have continued to show even after the drying process was complete. I allowed it to dry completely. Here's how the first coat looked. I definitely needed one more coat.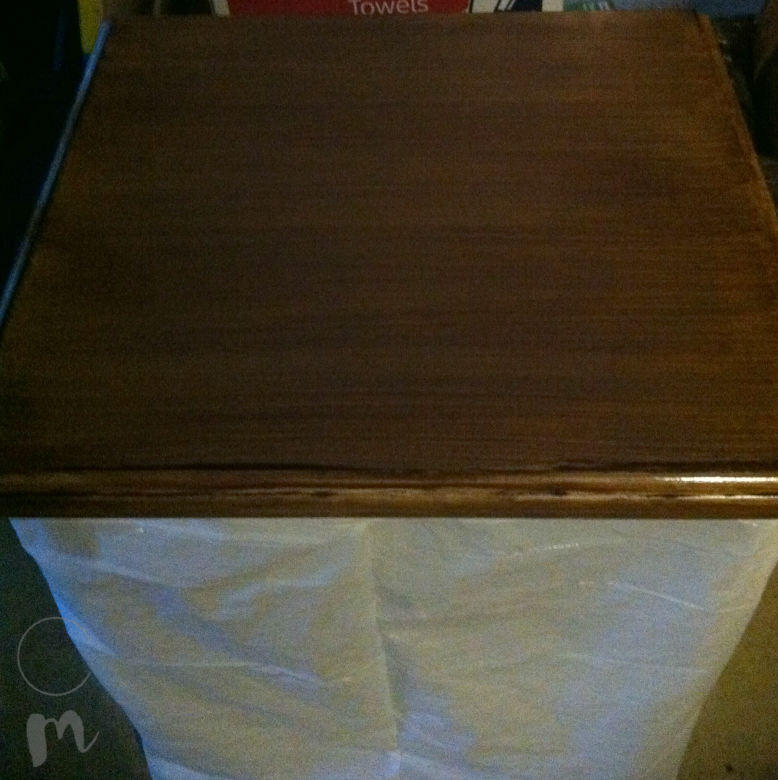 After the second coat.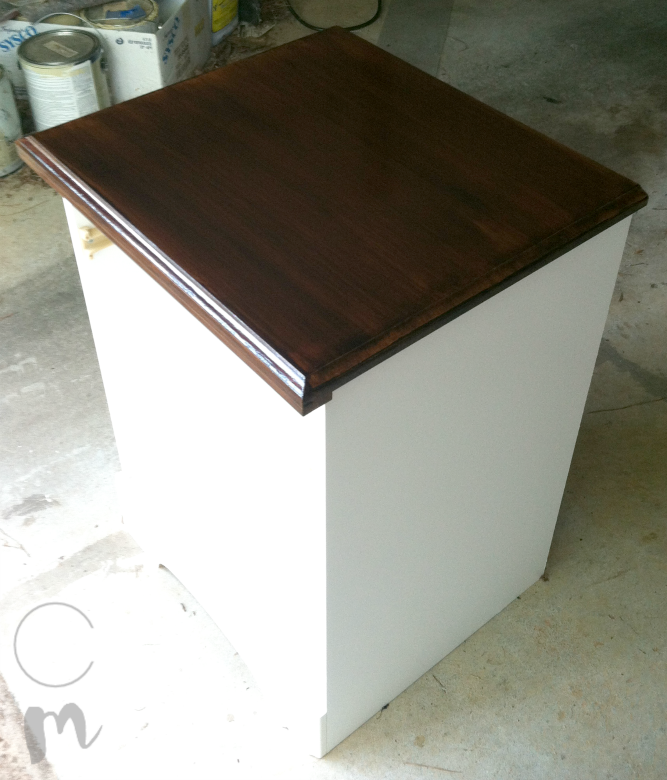 Tada!  
Paint Laminate
Now let's paint some laminate. I skipped right to priming. I love Zinsser!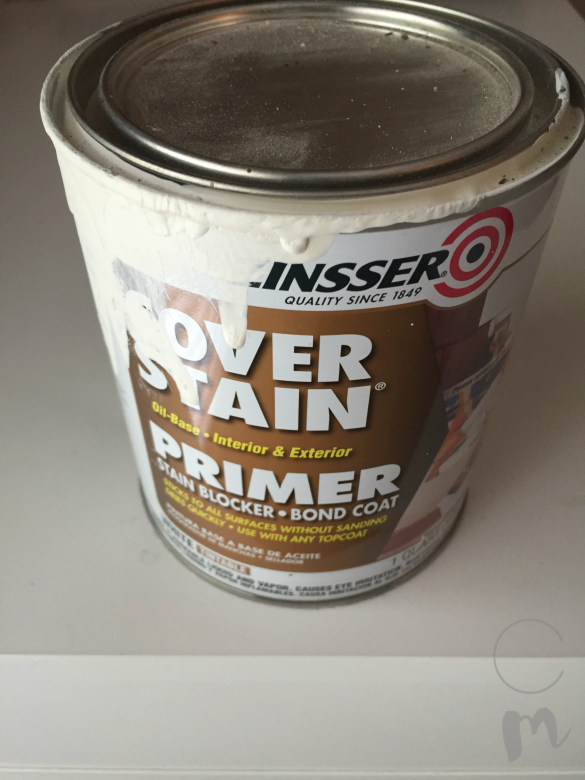 Once the primer was fully dry, I applied the paint. Two coats were needed.
Finishing Touches
While the paint dried, I spray painted the knob and let dry.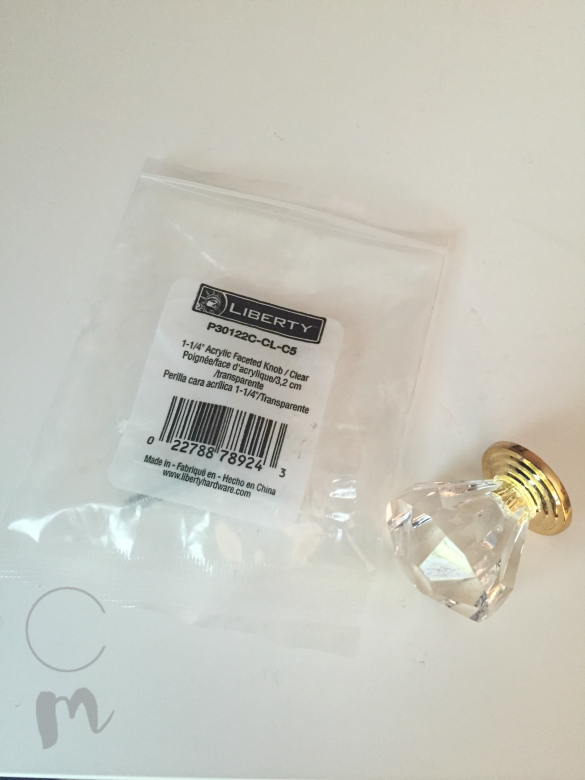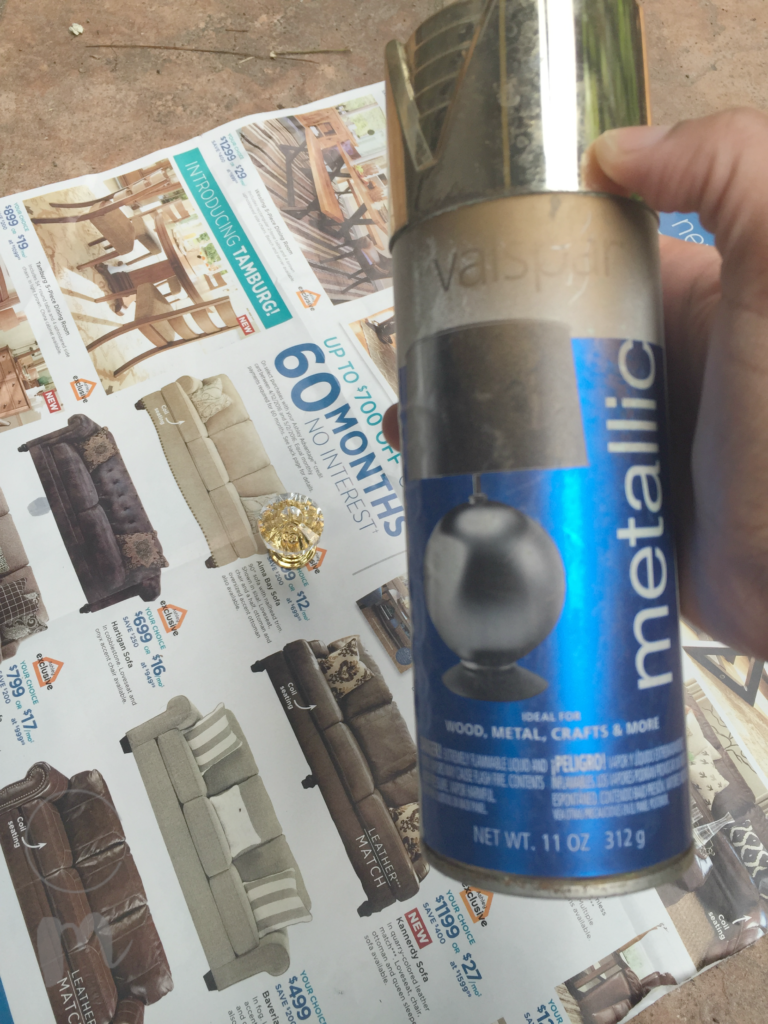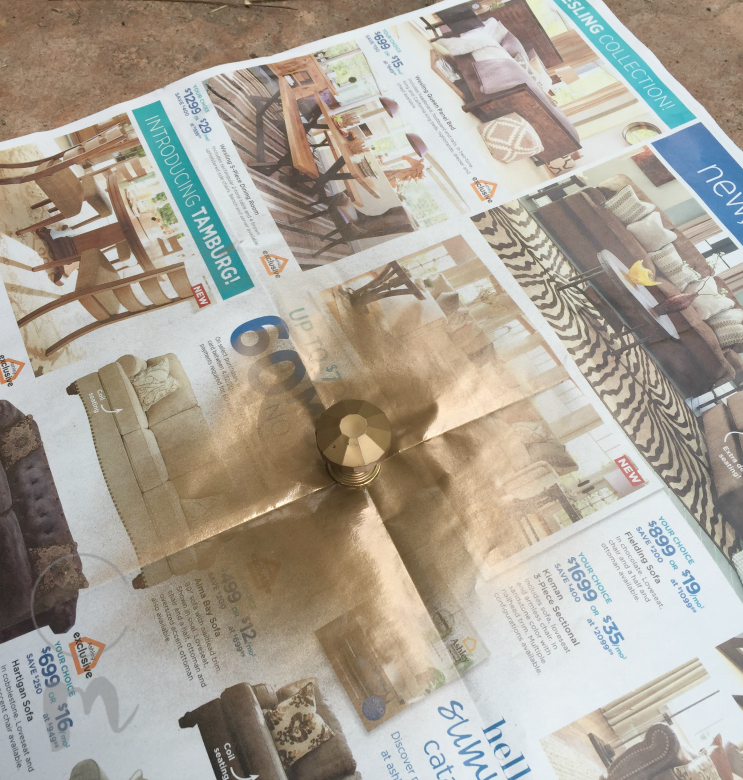 Once everything was dry, I replaced the knob and drawer.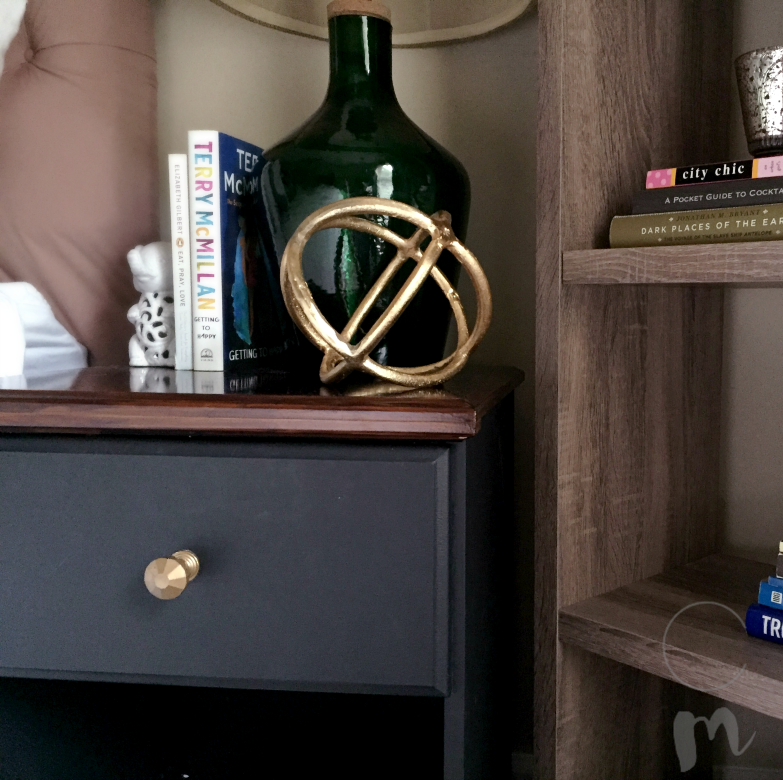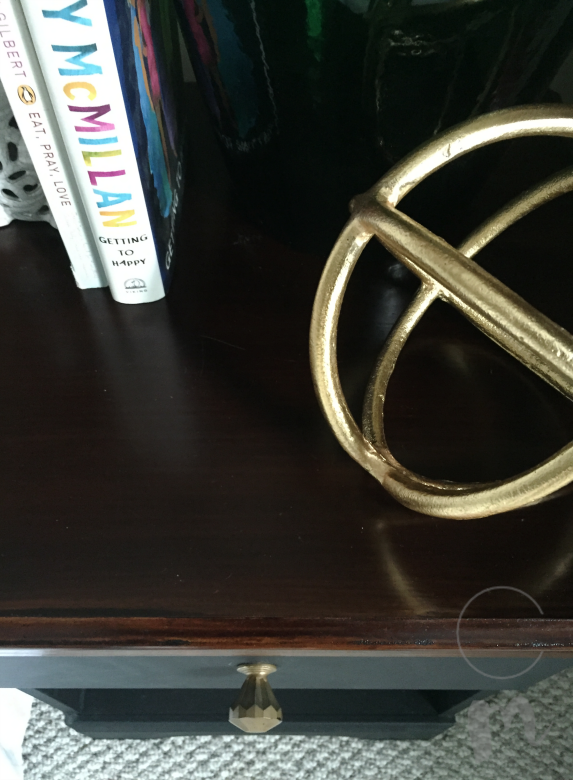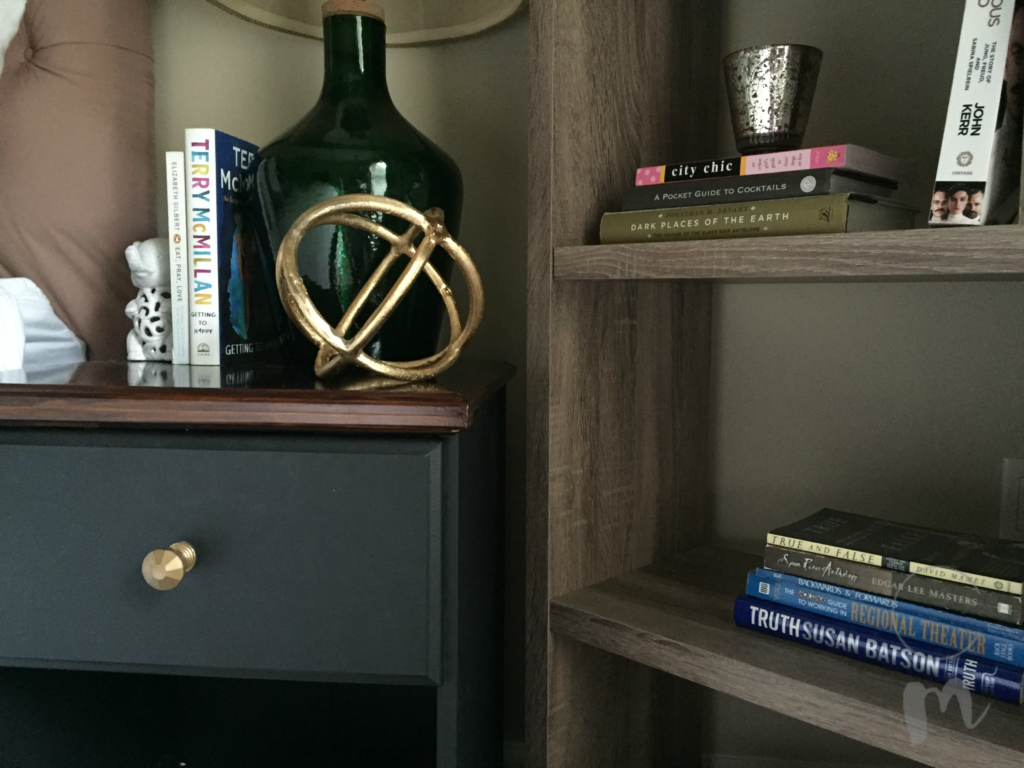 I love the results! I hope you do too.