I love being tasked with making something old new again, or putting my own spin on an "oldie." When it comes to furniture tassels, "oldie" is definitely a term that comes to mind. But this week, denim and fringe collide to make a "goodie" out of an old-fashioned ornament. This DIY furniture tassel is the perfect mix of antique and modern, and serves up a healthy dose of distressed elegance.
The history of tassels reach as far back as the biblical era, and its significance varies over time and across cultures. However fashionable the tassel became, until recently many still viewed its appearance as stuffy and traditional. Its use in classic decor such as curtain borders, sofa skirts, and pillow corners became a conventional style that didn't appeal to the offbeat, original, and modern individual.
Well today, tassels are embraced as an ornamental option in various areas of style, whether it be fashion or decor. Not only are they easy to make, they can be used virtually anywhere. Because I love both DIY and interior decor, naturally my wheels began turning on how a tassel could be incorporated into your own space.
In addition to this, I love the contrast between denim and classic elegance, therefore I began to ponder on how this might be of use in a tassel design. Lo and behold, a DIY revelation made itself known, and the DIY Furniture Tassel, denim edition, was born. And I must say, I absolutely love the results.
Let's take a look at how to make your own.
---
Here's what you need:
8×9 inch cut of denim
Scissors
Glue gun
4 inch chain or string
Old charm and matching hook
Needle
---
Prepare Denim Fabric
First, cut an 8 x 9 inch square of denim from an old pair of jeans jacket or skirt. Not only is used denim free from your closet, it's also easier to handle. I used the bottom of one leg from an old pair of jeans.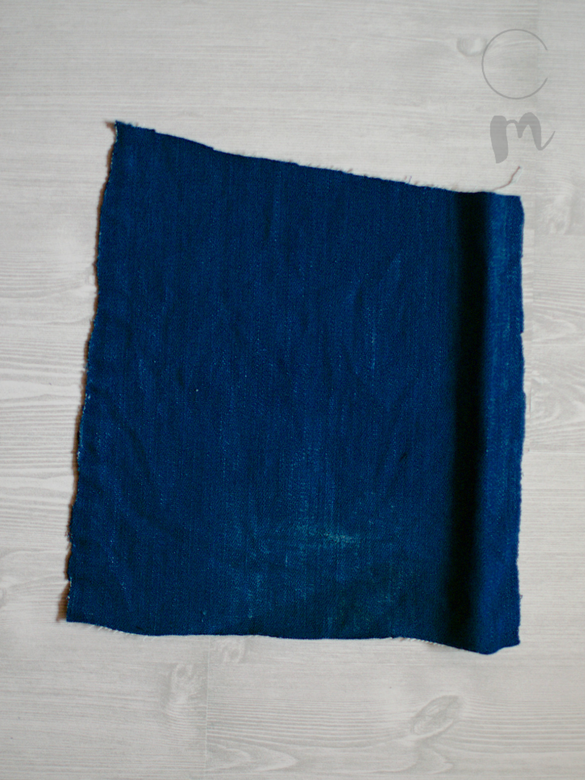 Next, begin stripping away the white thread from the denim weave. The thread along your pre-cut area will strip away easily, as it has nothing to hold on to.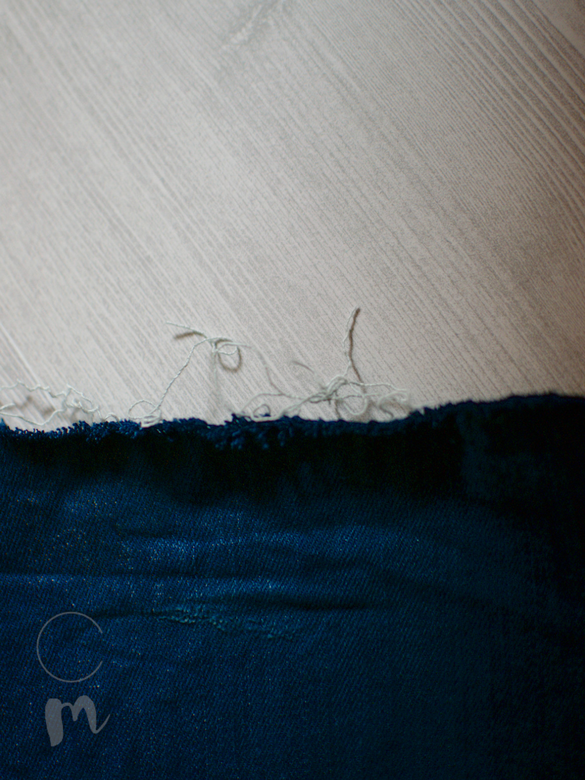 Then begin removing the white thread above that is more securely in place. Denim is a weaved pattern of white and blue thread in which the white fabric must be removed for this project. Pinch the exposed white thread along the vertical edge of your fabric. While holding the other side of your fabric with your other hand, tug on the white thread until it is released from the weave.
It is impossible to remove all white thread at once, therefore I recommend removing three pieces at a time. This will help the process move a bit more quickly. Use a needle to unravel any pieces of thread that may be difficult to grab a hold of along the vertical edge.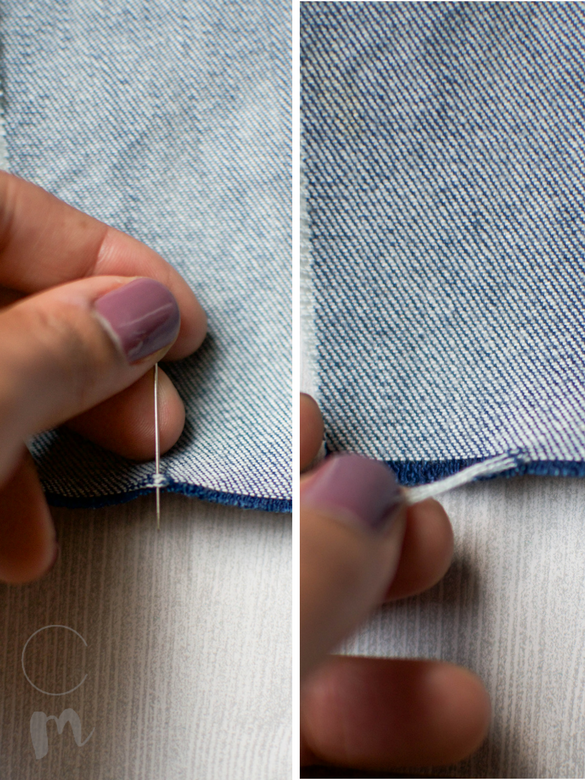 Repeat the steps above until 3 1/2 inches of fringe are exposed on one side.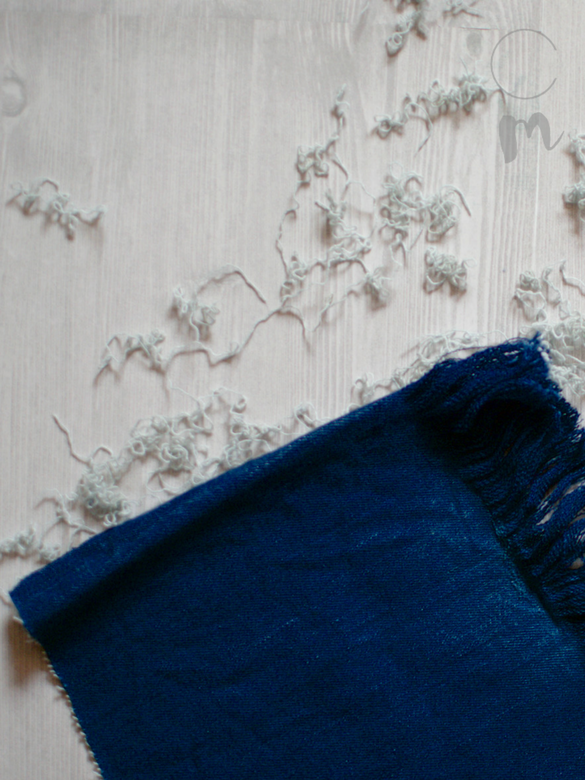 Repeat the above cycle of steps on the opposite side of fabric.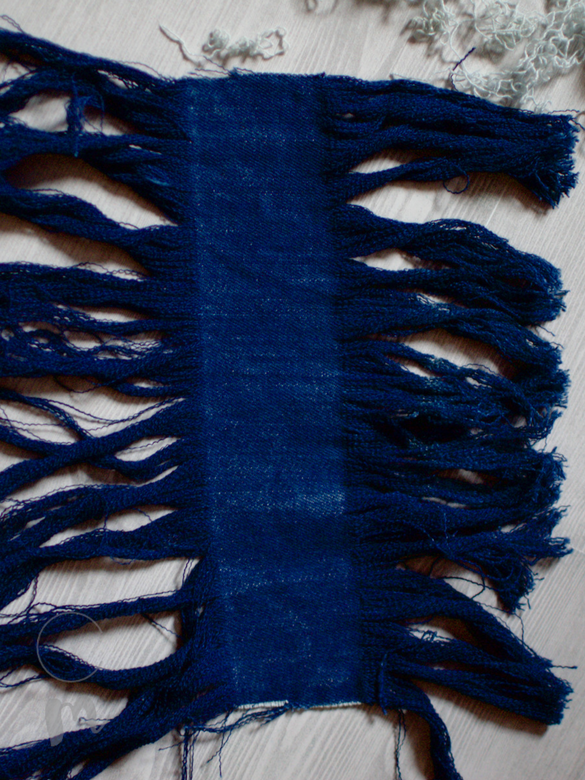 Next cut the fabric into three pieces equally, as seen below.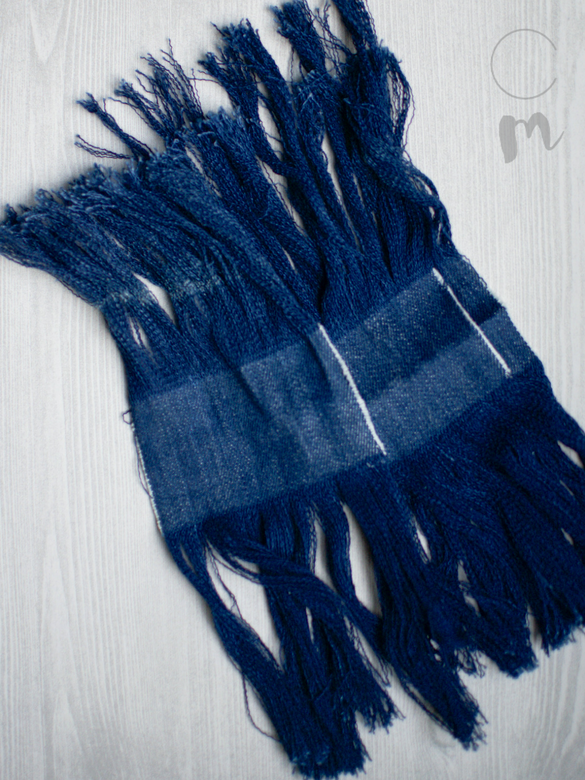 Assemble Tassel
Fold in half along the middle of the denim weave still intact.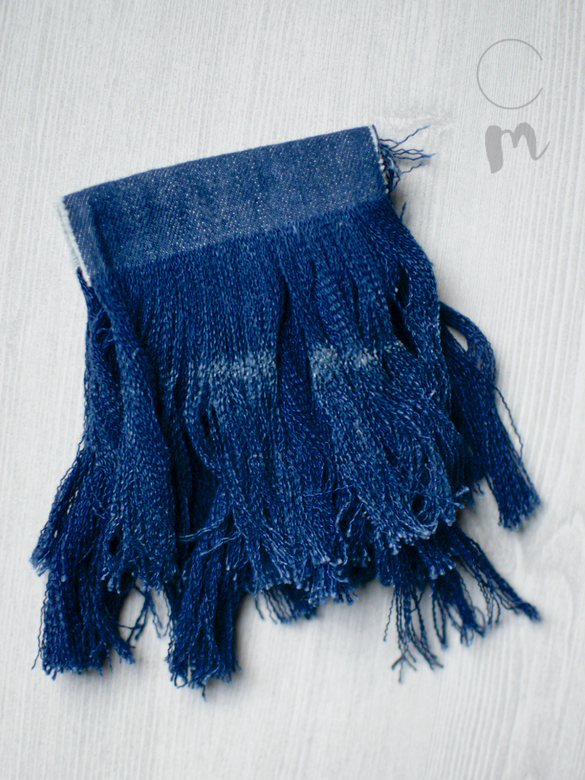 Next grab a few pieces of white thread previously stripped away and any blue scrap thread, and twist together to begin forming the hook for your tassel.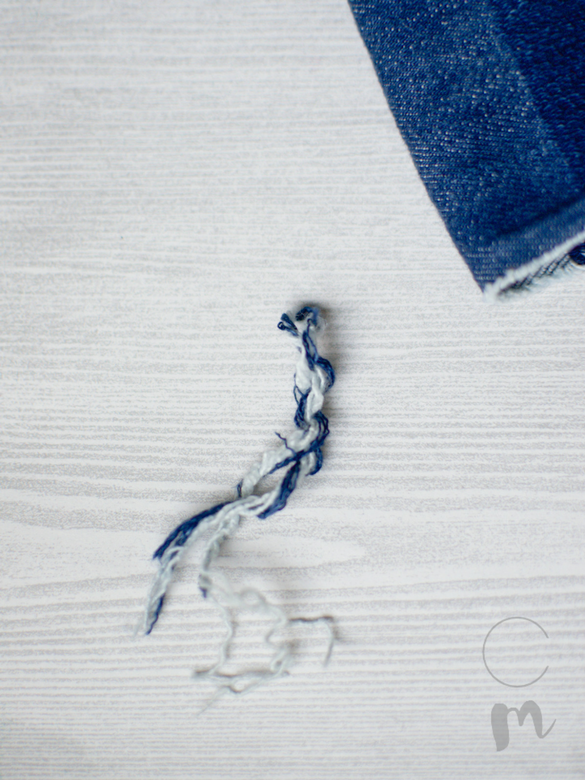 Fold in half. Using a hot glue gun, glue to the edge of your folded denim
Assemble the tassel by rolling into place as seen below. Apply a touch of hot glue along the way for extra hold.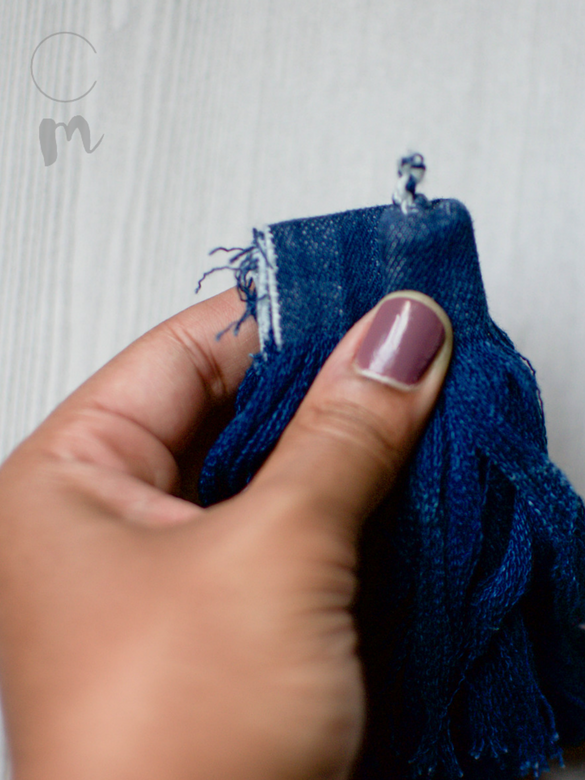 Next wrap any remaining blue thread around the tassel, where the denim weave ends and the fringe begins.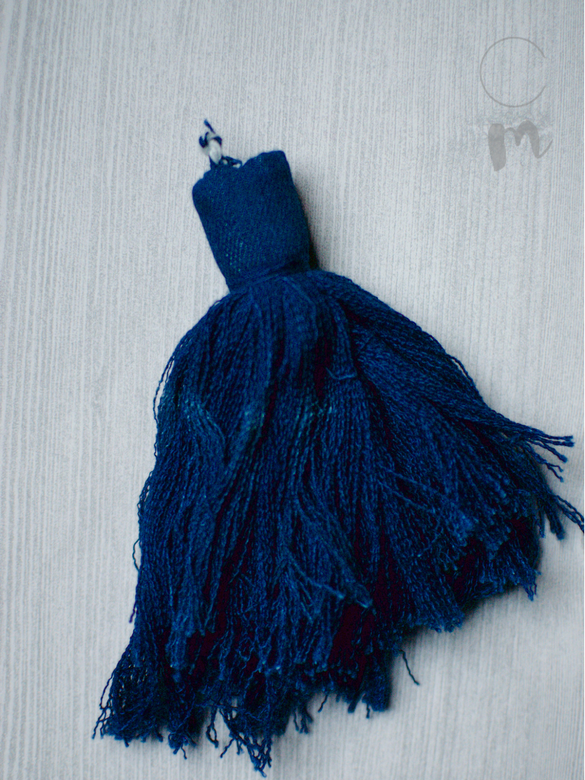 Trim your denim fringe if uneven. It's okay if not perfect. A rugged semi-distressed look is what you're going for.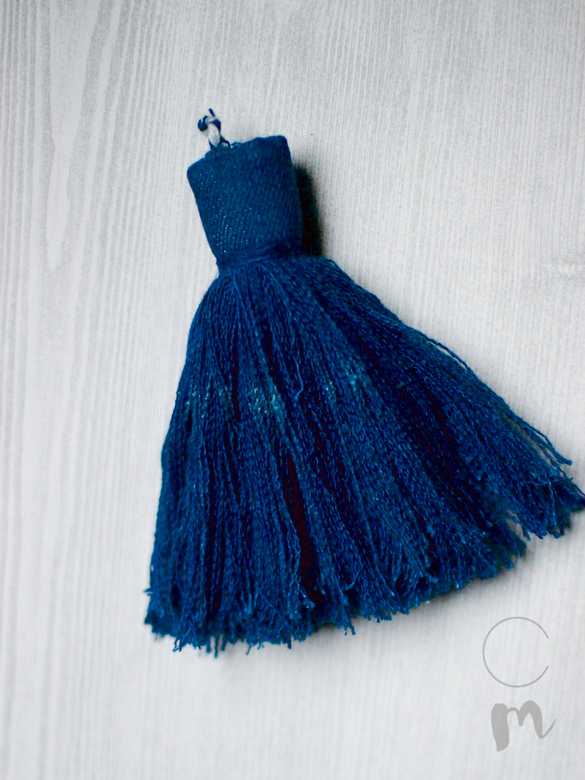 Now, feel free to use any string or chain that complements your overall tassel design. I chose an old chain, of which I could cut down to size, and a matching charm of the same finish.
Most charms are accompanied by a matching hook. Connect the charm to the tassel using its hook, and loop your chain through. Now, you have your very own handmade denim tassel! And guess what? You didn't spend a dime!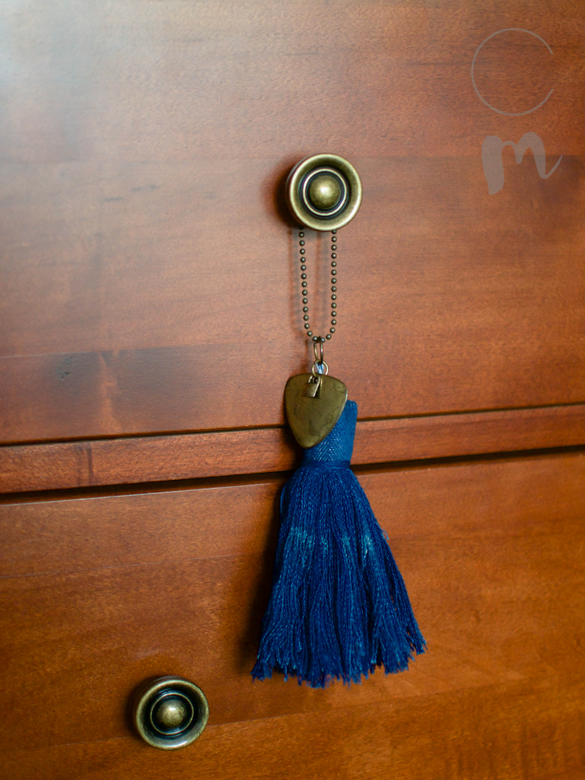 Tassels can be both a classic and stylish way to give your furniture an upgrade. The best part about this tassel is its denim design that virtually complements any piece you choose. If you'd really like to switch things up, throw it on your favorite purse handle for a little contrast in style. Either way, you can't go wrong with this piece. I hope you love it just as much as I do!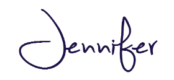 SaveSave
SaveSave
SaveSave
SaveSave
SaveSave
SaveSave
SaveSave
SaveSave