If you haven't noticed, Chic Misfits is all about letting your chic colors fly. Defying predetermined limitations, and being confident in your interior design decisions. Therefore, when I stumbled on this temporary dinner party tableware, prompting my double take in amazement, I knew I had to share it with you. Who knew there was a whole new world of modern table decor that has the glamour of real dinnerware, but eliminates the dreaded task of washing dishes?
Yes, these are disposable. Though you may not want to after being charmed by each of the sets below. However, you must. After all, most of it is paper.
If you're a renter, or small space enthusiast (see what I did there?), storage space for various tablescape options just isn't in the cards. You may have limited options, or no options at all. But that shouldn't stop you from throwing some mind blowing dinner parties for you and your closest girlfriends. Pop the champagne, and bring on the appetizers.
Don't get me wrong, I'm a huge fan of traditional dinnerware and all the items that create a breathtaking tablescape. There's something about the sound of clinking glasses and the ring of silverware hitting a plate that fills a room, adding to the party fanfare. Whether formal or informal, I love the fuss surrounding any gathering. That is until everyone goes home, and all that remains is the fuss of cleaning up.
Well, the dinner party tableware options below bring on all the fanfare, and leave behind the hassle. What more could a girl ask for? Take a look at the Chic Misfits Top Picks for Modern Temporary Dinner Party Tableware.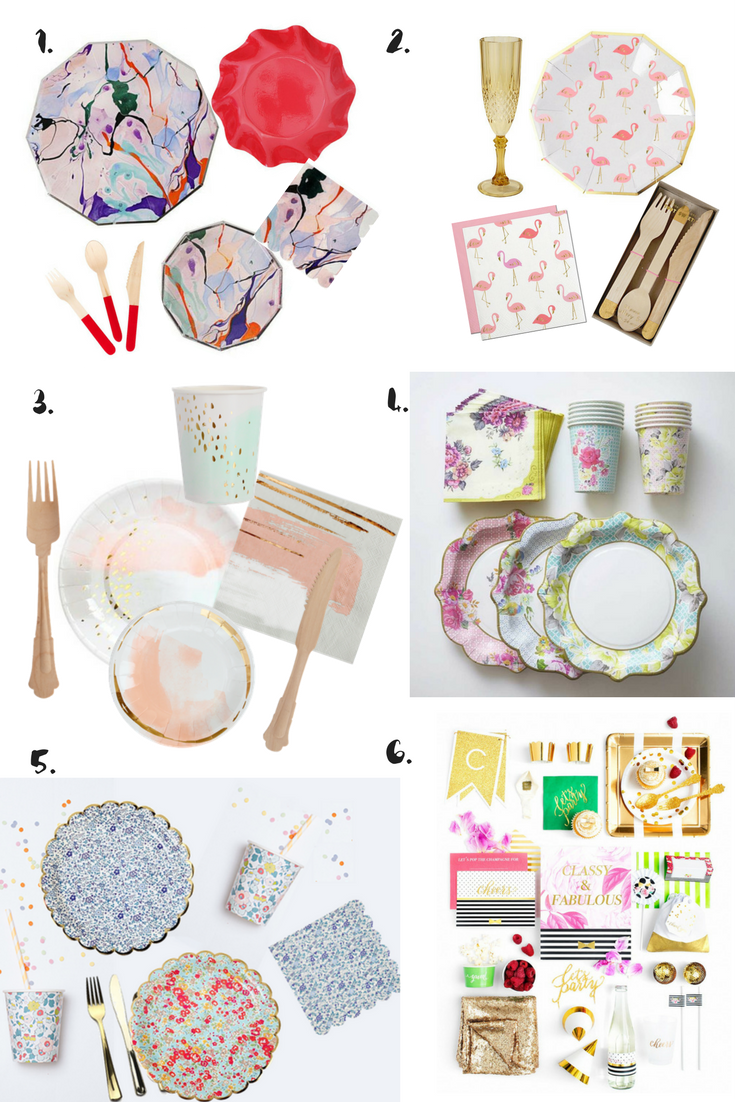 1. Oh Happy Day Marble Collection// 2. Bonjour Pink Flamingo and Gold// 3. Harlow and Grey Daydream// 4. The Cake Girls Vintage//5. Prim and Prairie Garden Tea Party// 6. Crate Classic Kate Party in A Box
Tableware Planning Tips
If you prefer a not so matchy look, consider mixing items from different collections. The key to an awesome tablescape is having fun with layers. So consider mixing a large printed plate with a small plate in a solid color, topped with a printed bowl. Or vise versa! It's all up to you and your creative whim.
If you'd like to free up your time for more food prep and less table planning, consider a full-on party kit. I'm sure by now you've feasted your eyes on the final option above. Every dinner party item you could possibly drum up is right at your fingertips in a kit such as this one. The cost is a bit more of course, but you will inevitably save a ton of effort.
If you are already dreaming up your next few party plans, I'm right there with ya. With this temporary dinner party tableware, you can switch up the look each time with no guilt. And did I mention no mess? Its temporary design is just the icing on the cake.
Now you have all the tools you need to go forth and decorate the best table for your gathering. Getting the look of real dinnerware with all of the charm has never been easier! Would you consider using temporary tableware for your next party? Let me know what you think below!