Plush, velvet, and oversized are three of the best features when it comes to seating options. In fact, oversized is the only requirement for a perfect reading chair in my book. Whether boasting traditional cotton fabric, velvet, or a fiber blend, oversized chairs invite immediate relaxation.
I've not once seen an oversized chair that I didn't instantly consider taking a nap in. Yes, I'm a sucker for a plush chair.
Because oversized chairs do their best work in a reading nook, they tend to be that item of furniture that requires much consideration. The comfort level must be "just right" before you commit to a furnishing that will be such an important part of your life. A little dramatic I know. But if you're anything like me, a reading chair will be your daily go to for online browsing, binge watching, dozing off, and reading of course.
Let's just say it will get a lot of action. Therefore you will kiss a lot of chair frogs before you find the right one. So in order to make your search a little shorter, I've compiled a roundup of some awesome contenders to fulfill your oversized chair dreams. Take a look below.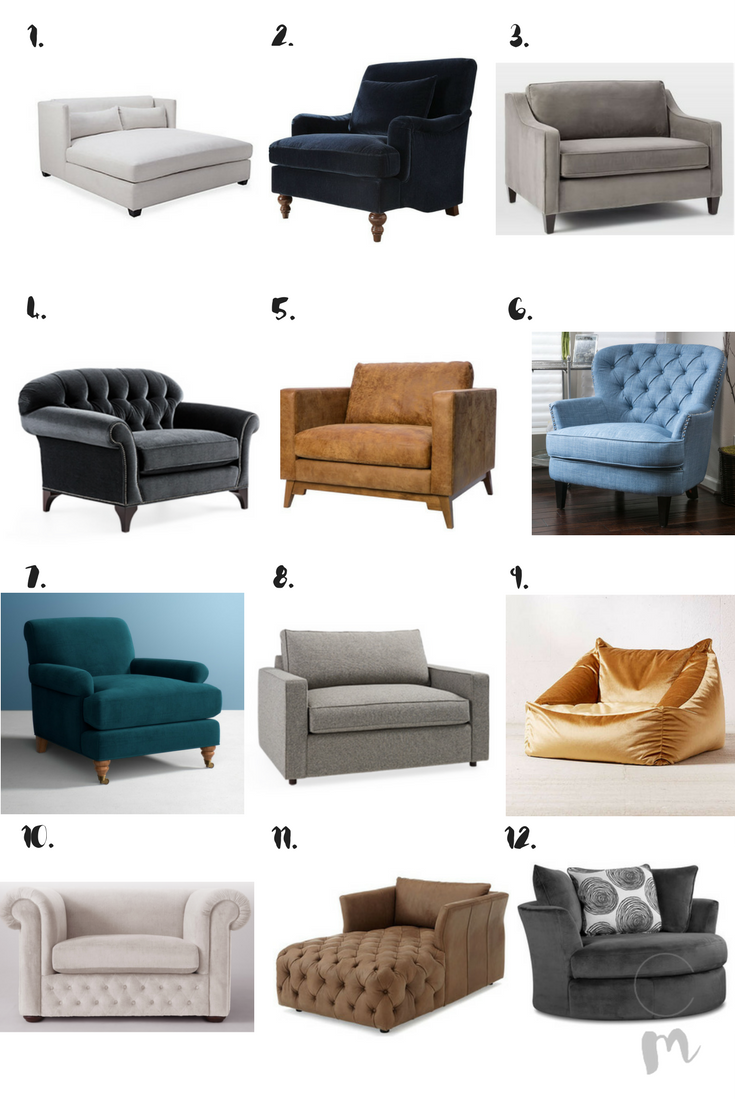 1. Pierce Double Chaise// 2. Donny Osmond Armchair// 3. Paige Chair and a Half// 4. Preston Upholstered Tufted Chair// 5. Filmore Leather Club Chair// 6. Tafton Fabric Club Chair// 7. Willoughby Chair// 8. Filmore Twin Sleeper// 9. Cooper Velvet Lounge Chiar// 10. Abel Chair// 11. Sandra Tufted Leather Chaise// 12. Leesburg Swivel Barrel
Oversized Chair Hunting Tips
I like to be up front about where investment will be needed and where you can let it slide. In this case, you will find a range of oversized chairs matching various budgets. However, size will definitely be reflected in the price. Therefore the larger, plush, fluffy and more nap inducing option will most likely come with a bigger price tag.
With that said, let's talk about size. If you prefer to shop online, you will need to check each chair's measurements. Specifically the seat's depth and width. Although a chair may appear to be large in the online photo, it very well may be a snug fit. Online photos of furniture have a tendency to appear stretched in width.
Nothing is worse than feeling deceived by a chair's photo, and learning the truth after the purchase is complete, and it shows up at your door. The seat of my current oversized chair is 27 inches deep and 26 inches wide. Overall the chair is about 47 inches wide. I'd say those measurements, give or take, are a great place to start for your own chair search.
Finally, if you are doing an online search, as a helpful and technical tip, expand your "oversized chair" search to include "double chaise" lounge chairs, "twin sleepers" and "chair and a half" options. This will give you a variety of options all fitting within the oversized chair guidelines.
I hope I've given you a healthy dose of options to consider for your dreamy reading nook, or your space just for getting things done! You will spend much time in this spot so choose wisely. And remember, always check the measurements. Happy chair hunting!