If you've been following us on IG you know we've been getting the Christmas fever over here at Chic Misfits, especially when it comes to DIY projects. There are so many benefits of doing it yourself around the holidays, such as providing family friendly activity opportunities, a personalized decor scheme, and not to mention areas to save on your budget. The Christmas season can quickly snowball into a budget eater with decorations, food, presents, and family accommodations. Therefore, any area in which we can save a buck or two by making our own decorations, presents, etc., we take advantage of. One of our favorite DIY holiday decor items is the DIY Christmas wreath.
I love a good wreath. Wreaths come in so many different styles, and can also be as grand or as simple as one likes. I must say, when I began tackling my own DIY Christmas wreath design, I had a unisex household in mind. When it comes to decorating for the holidays, the male species is often left out of the equation. Not to mention many Christmas decor options out there are full of bows, sparkle, shine, and glam. Don't get me wrong, I'm all about girl power, and I love a good dose of glam here and there, but it's not what I naturally lean towards. So in true misfit fashion, I created a wreath that could be loved by all, and I'm absolutely thrilled with the results. In addition, I get to show my love of buffalo check, which is perfectly fitting for the season.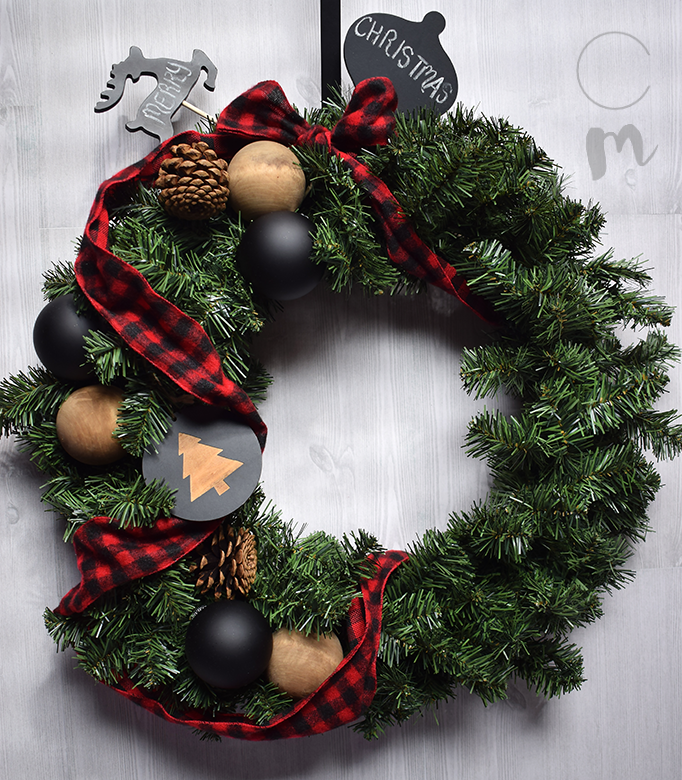 Let's get started.
---
Here's what you need:
18″ Artificial pine wreath
2.5 in. Buffalo Check ribbon
Three 2.64 in. x 2.64 in. matte black ornaments
Three 2.5 in. craft wood balls
Two pine cones (artificial or real)
Chalk and wooden ornament (of your choice)
Two chalk surface stick ornaments (in any Christmas design of your choice)
Florist wire
Minwax wood finish in Early American
Eye hooks
---
Who can roam Michael's all day long? This girl! After spending a significant time in my go-to craft store, I was able to find a bulk of the DIY wreath items. The chalk ornaments were my favorite find. The wood stain and  eye hooks were purchased elsewhere at Hobby Lobby and Home Depot.
Prepare Wreath Materials
First, prepare your wooden ornaments by screwing the eye hooks into place. In case you do not own a drill, or drill bit small enough to make holes customized for the eye hooks, each eye hook can be applied to a wooden ornament by first minimally nailing the tip of a small nail into the ornament. Take the nail out, and screw the eye hook into the prepared hole with pliers. This may take a little extra strength.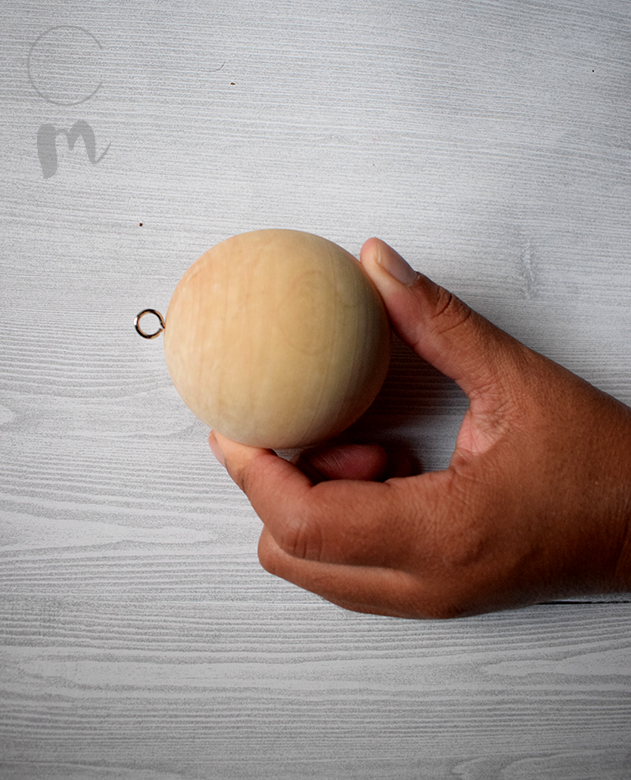 Next, give the wood ornament a light sanding, and clean with a damp cloth. Then apply one coat of the Minwax stain and let dry. Apply lightly, as the wooden ornaments soak up stain quite easily. For more detail on my staining process see my DIY floating cubby shelf. Below is an example of one ornament following the staining process. Feel free to apply more coats to your liking.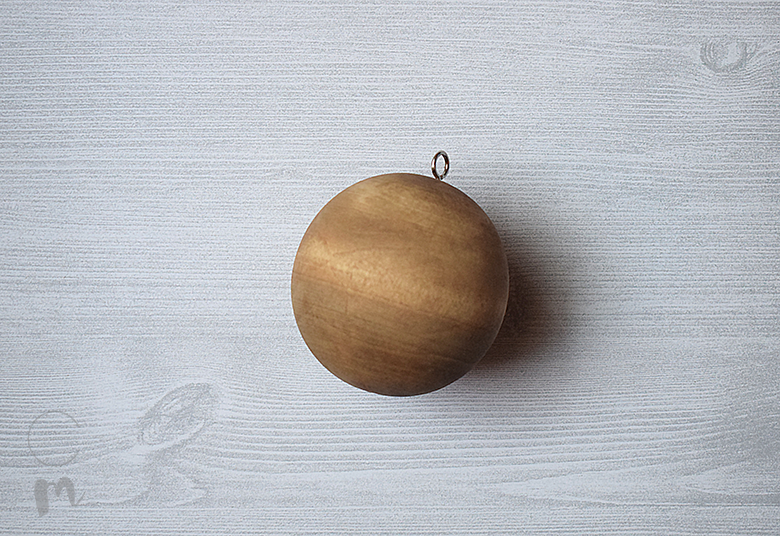 Next, give your wreath a good fluffing. If you haven't noticed, the wreath comes a bit flat. Here is my wreath after giving it a little life.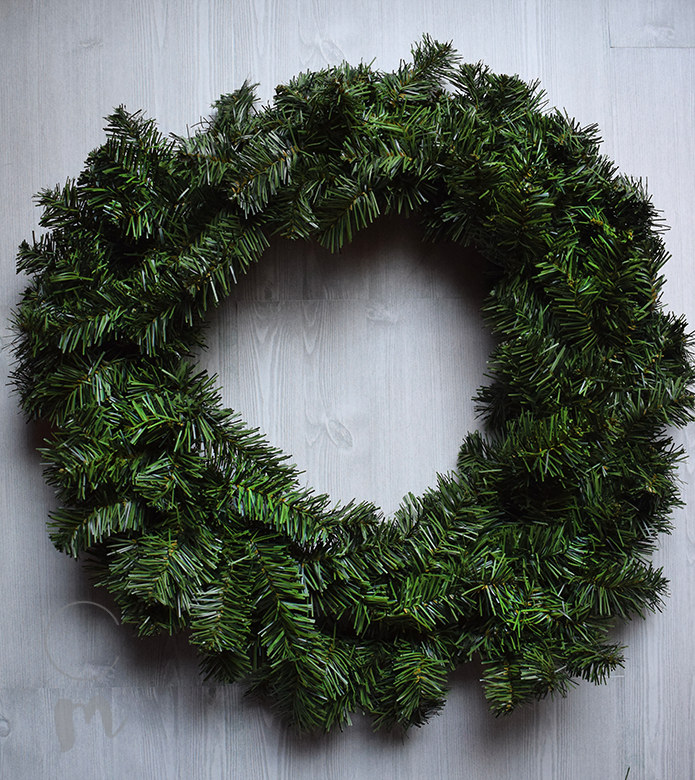 Assemble Wreath
Now, grab your ribbon and make a bow about 6 inches in width, leaving around 16 inches free on the right side, and 30 inches free on the left. We will allow the left side to cascade down the wreath, with a little guidance of course.
After your bow has been tied, cut off 4 inches of florist wire and secure one side of the bow to the wreath. As you can see below, I chose to secure by placing the wire underneath the left side of the bow.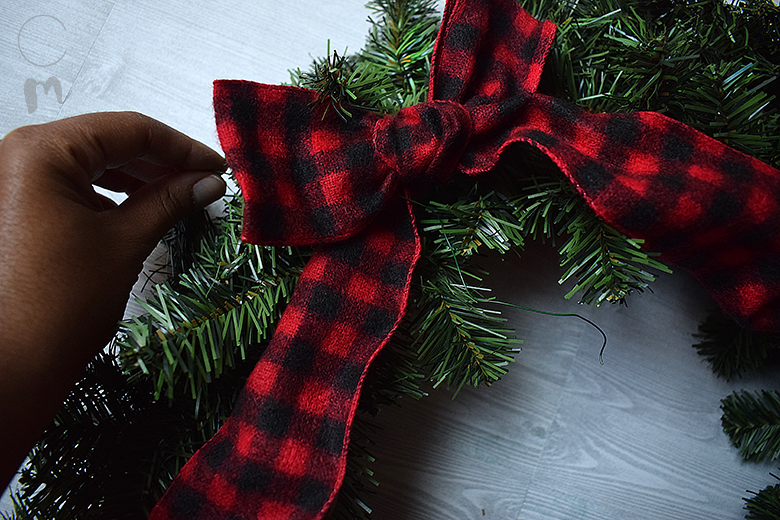 Once you find a good spot, fold the wire into a "v" shape, either securing the ribbon to a piece of pine or to the wreath wire itself. I chose to secure it to a piece of pine. You will see the two ends of wire poking through below. Twist both ends of the wire together and fold to secure.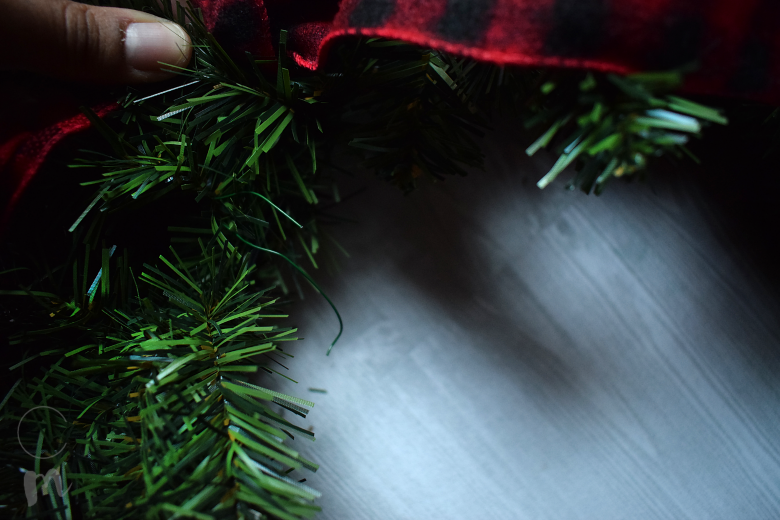 Next, using florist wire again, secure two ornaments to the top of the wreath. I like to secure the actual ornaments to the wire of the wreath to prevent unnecessary movement.
Next, add a pine cone to this area using florist wire once again. You may be inclined to screw an eye hook into your pine cone ornaments, but you may just as well skip that step and loop your wire through the crannies of  each pine cone just as I did below.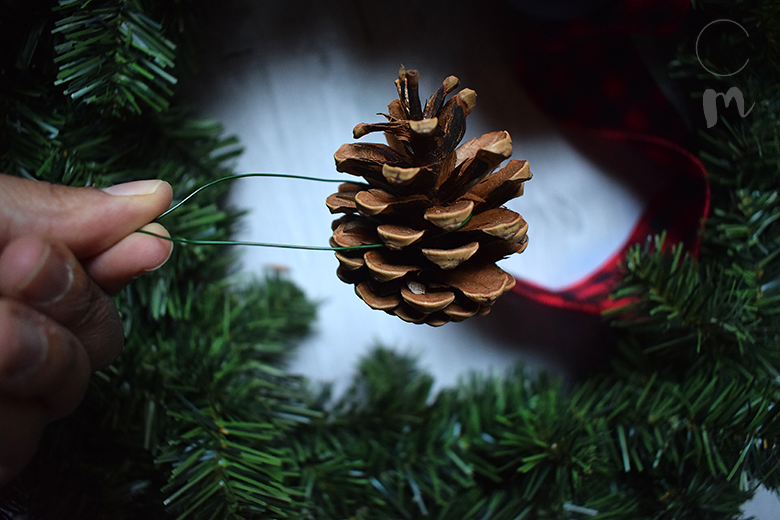 Apply the remaining ornaments while guiding your ribbon down the wreath, tucking where needed.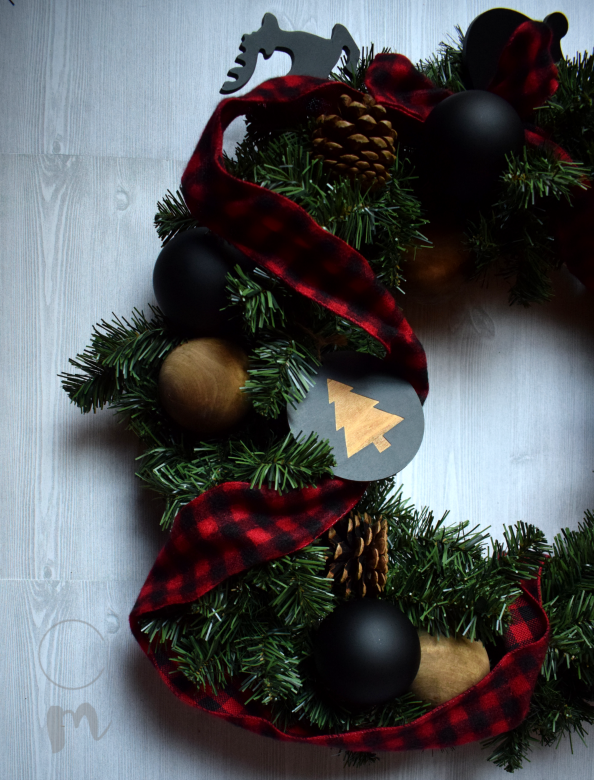 At each ribbon's end, gently tuck the remaining fabric behind the wreath in between the pine and wire. Finally, write your holiday greeting or message on your Christmas chalk centerpiece sticks, and stick in place. This makes for a more dramatic and clear focal point for your wreath. Now step back and enjoy your work!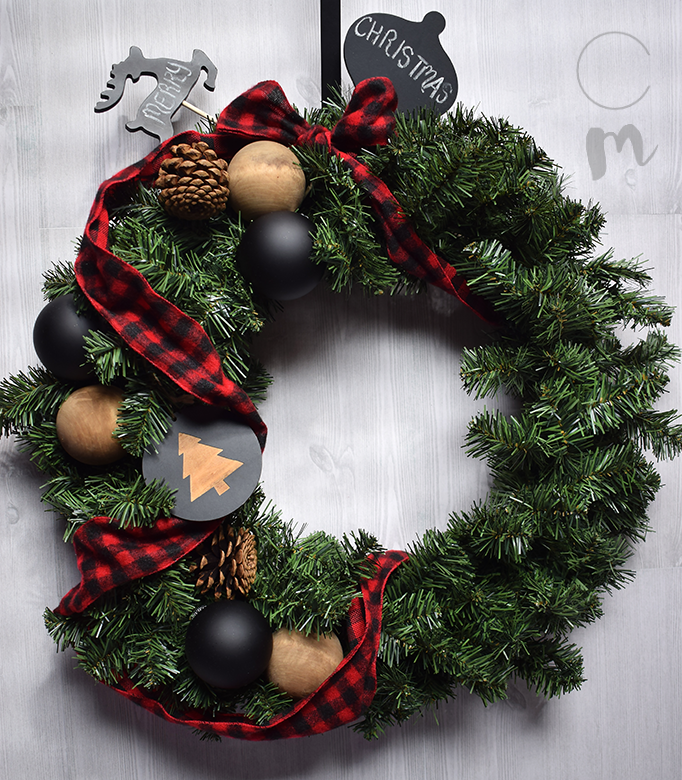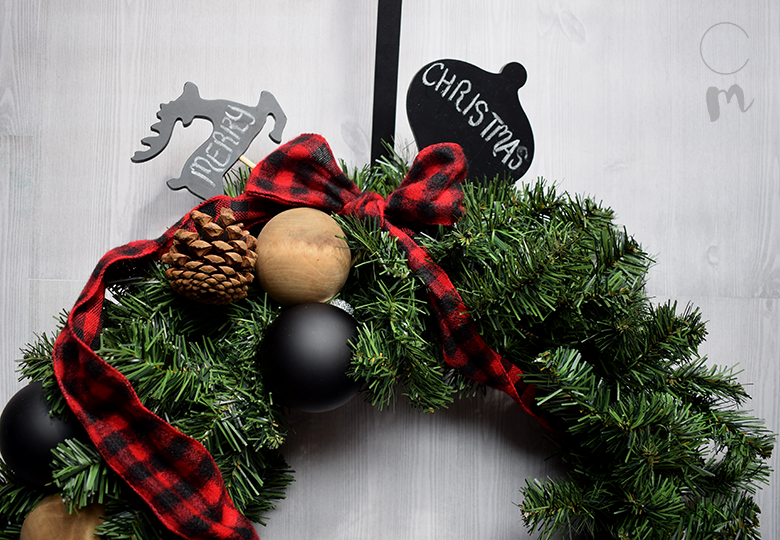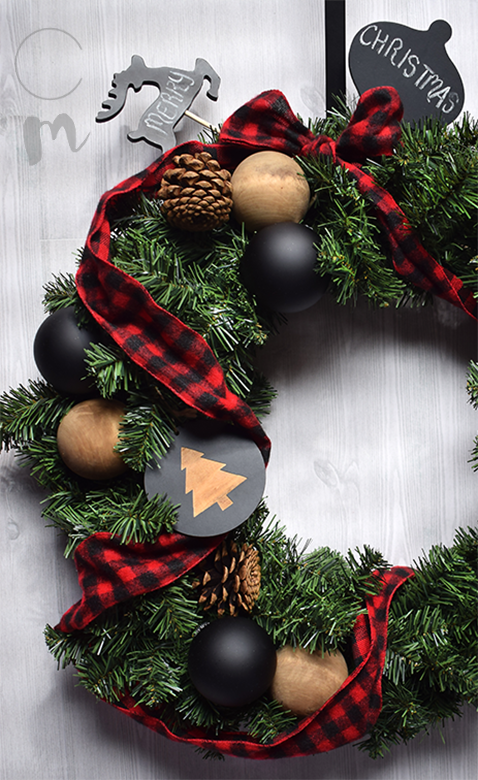 I hope you like! What other Christmas DIY projects do you have up your sleeve?