Hello and welcome to my first post ever! If you are anything like me, you have champagne taste, and a box-wine budget. Or, you you just don't feel like paying two or three car notes just to express your wonderful style. After all, you were born with this exquisite taste, you can't help it, why should your pocket have to suffer?
Therefore, of course my taste would not be satisfied with an elegant 2 foot beige linen headboard with nailhead trim, of which I can find a countless amount of on discount websites, at great prices might I add. This look is transferable through almost any room style and can therefore save so much money in years ahead. Instead, I wanted grand, colorful, and tufted. I fell in love with the tall headboards that tower over you as you sleep, and tufts that add an overwhelmingly amount of chic to any room. I just love their plush look and inviting aura. Anything tufted just makes me want to touch it. Ahhhh…
Pardon me as I drift into a tufted day dream.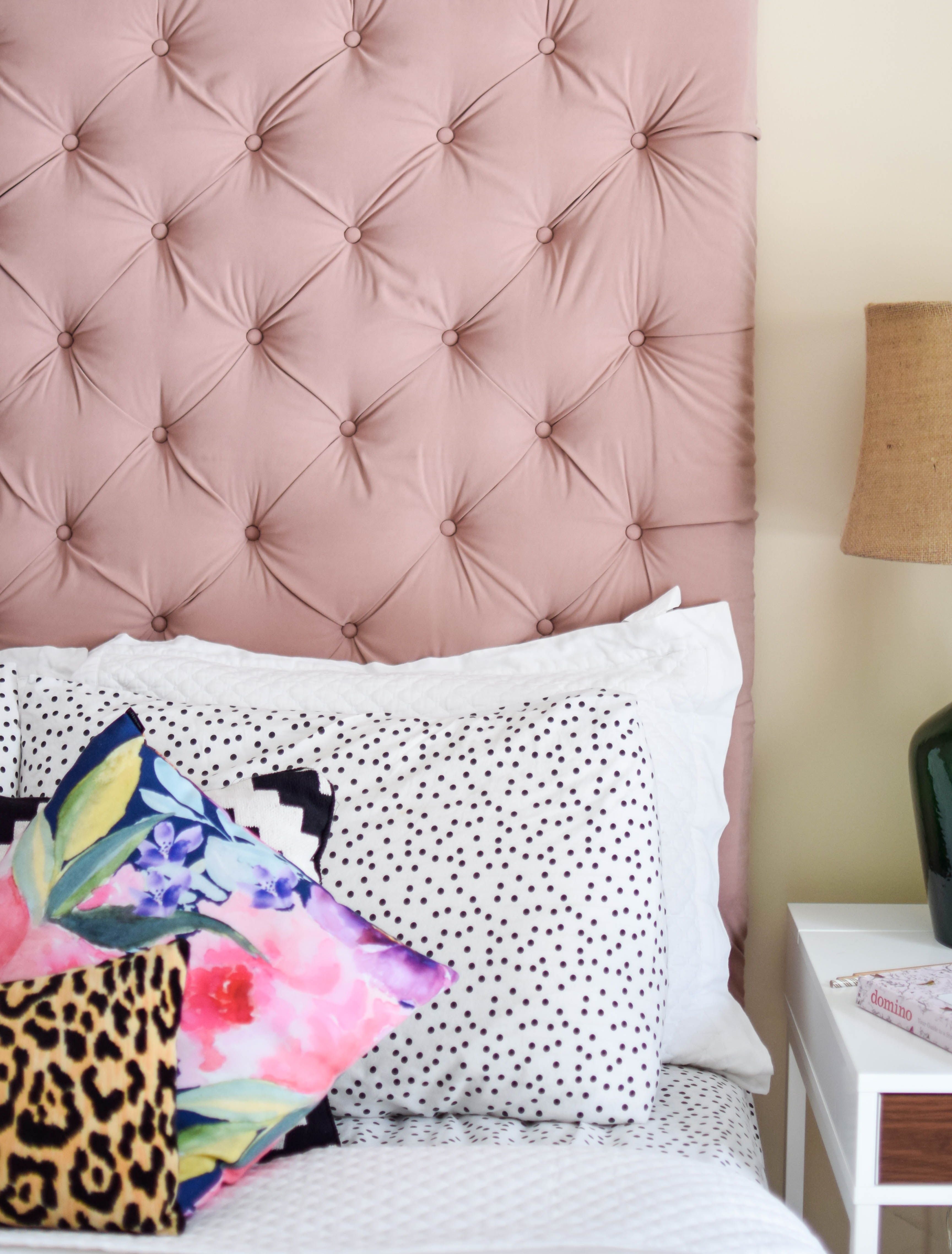 I bring to you my DIY tufted headboard: oversized edition. Because this was my first diy headboard, and first tufting project (silent scream), I made a few mistakes along the way. Including purchasing the wrong size fabric and attempting buttons with thick fabric. Throughout this tutorial, you will see "misfit tips" that will help guide you…and ultimately give you a clue on what my previous mistakes were. You will find that trial and error is my friend. However, it should not be yours. I've sweat, bled, and cried all so you don't have to. If I went back and began this project again knowing what I know, it would be a breeze. So in advance, YOU'RE WELCOME.
Let's get to it.
Here's what you need:
---
47×65 pegboard $18.98

Packing tape if needed

3 inch foam to cover board: $33.92

Full-size quilt batting: $12.03

Spray adhesive: $5.99

Long skinny knife

3 yards Fabric: $20
1inch screws (no pre-drill): $1.98
1 1/2 inch screws (no pre-drill) $1.98
Wood – 3 1×4's cut down to the following: Two 58," two 40.75," two 47.75," two 35″: $10.41
Drill
Stapler
Staples
10 5/8 button kits: $13.50 (Only one needed with actual assembly materials)
Upholstery thread: $1.53
Upholstery needle $3.49
Sharpie
Chalk
---
Total Spent: 123.81 (anything without a price next to it, I already owned. You may too!)
Headboard Material Purchase
I purchased my pegboard at HomeDepot, where the wonderful helpers were able to cut it down to three pieces. I drive a sedan so the full size would not fit in my car. If you own an SUV, truck, or know a friend with one that is willing to help, just skip the step of cutting the board into 3. Locate the 4 x 8 ft. white pegboard and have it cut down to 47x65in. This headboard is for a queen size bed, which is 60in wide. I wanted my headboard to be slightly larger than the base width of the bed so I added 2.5 inches to each side, ending up with a 65 width measurement. Feel free to adjust the height or width to your liking. Keep in mind that this will adjust many of your other measurements as well.
If you'll be chucking this into the backseat of your sedan or trunk, have 2 pieces of the large pegboard piece cut down to 47x22in. and 1 piece cut to 47×21. The smaller piece will be placed in the middle when taping the 3 pieces together.
Assemble Headboard Frame
First, lay your pegboard white side down on a flat surface. Remember, place the 21in. piece in the middle. Next, tape each piece together with packing tape. Make sure to extend the tape over the edge of the brown side to the white side by a couple of inches. For added security, turn the taped piece/s over and tape the pieces together on the front of the board, just as you did the back of the board.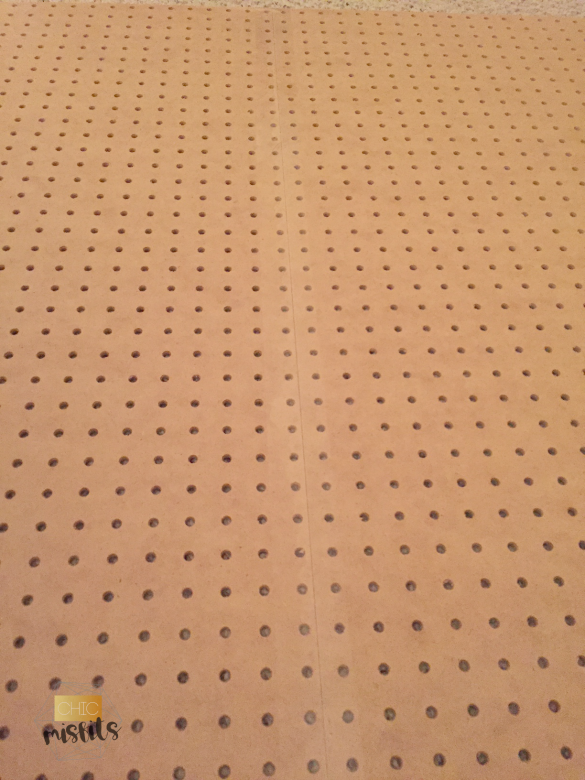 Prepare Headboard Foam
Next cut your foam padding down to size, 47x65in. I found it easier to just lay the pegboard on top and cut the un-needed edges off. In order to save money, I of course made things a little harder on myself by purchasing three different 1-1.5in mattress pads. While using a target gift card, I was able to purchase two 1.5in foam toppers here. After discovering it's inflation was only 1in, I purchased an additional 1.25in. topper from walmart.
Misfit tip: purchase 3in. foam from JoAnn's with their 50% off coupon. This will still save you money, and cutting the holes in one layer of foam is much easier, your time will be saved as well. If you have any extra egg crates laying around the house, feel free to use these as well! Overall, this option will save you major duckets. The most expensive part of making a headboard is without a doubt, the foam. Cut corners here where you can!
Headboard Tuft Preparation
Now that you have cut your foam down to size, lay your pegboard, white side down, evenly on top of the foam. Measure to locate the center of the pegboard. Find the peg hole nearest the center. With our measurements, the center will be around 23.5in from the top, and 32.5 from either edge. Once you locate this hole, count 4 holes up, and circle with chalk. From that hole, count 8 holes down and circle. Find the center hole again, and do the same left to right. You will have your first diamond.
On the top peg hole of your diamond, count eight holes away horizontally in both directions and circle. Continue this on both sides until you are only able to circle one more hole, but don't. Leave those eight pegholes of space open on each side. Repeat this sequence on the bottom peghole of your diamond.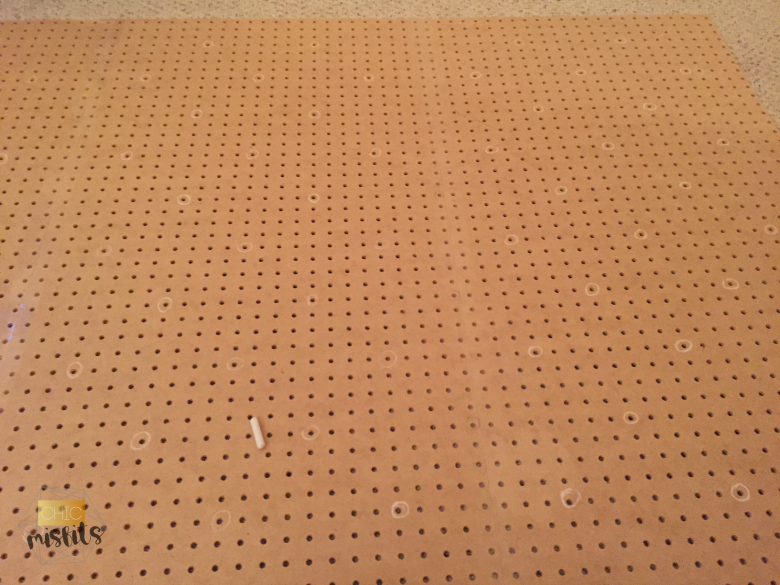 Now, on the left and right pegholes of your diamond, count eight holes away and circle. Continue this on both sides like you did the other holes, but leave 4 pegholes of space on the edges. Now you have what your staggered rows should look like. Continue the marking and counting as you did with the previous rows. until you have 9 prepared rows. Your final row should be around 10in away from the bottom of the headboard. This is where your bed will go.
Before you transfer these markings onto your foam, screw on the four edge 1×4's for more support. Using your 1-inch screws, screw on the 47.75" pieces on both sides, then the 58" pieces on the top and bottom of the headboard. Make sure you screw through the peg board first.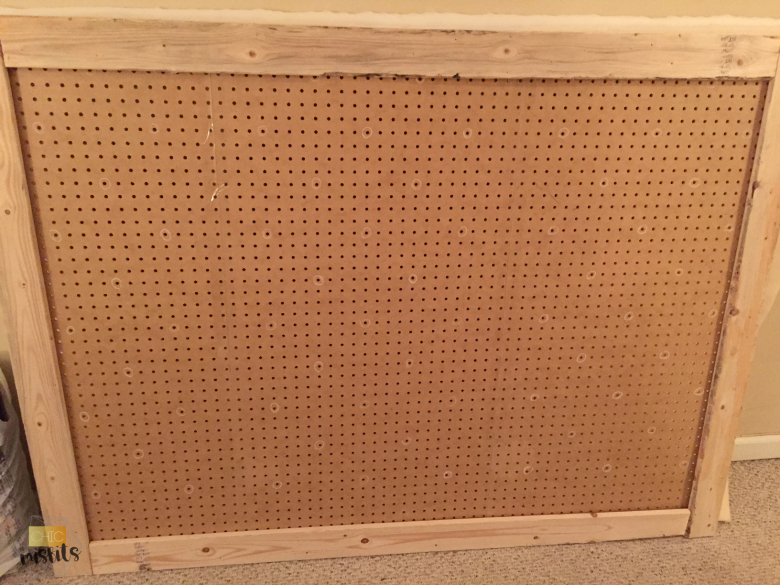 Misfit tip: when shopping for wood at HD, note, a 1×4 is not 1 inch x 4inches. Standard wood sizes are actually smaller than labeled due to the additional milling process that takes place before the lumber makes it to HD. Therefore, a 1×4 is actually ¾" x 3 ½". So keep this in mind if you're adjusting your measurements for a twin or king.
Now is time to transfer these markings onto your foam. With a black sharpie, place a dot on the foam through each peghole circled.
Remove the pegboard from the foam. Now, using a narrow boning knife, cut out the area surrounding your marking in a circular pattern. Do this for all of your markings. This will make for deeper tufts. This step can go fast or even faster depending on the amount of foam layers you choose to buy.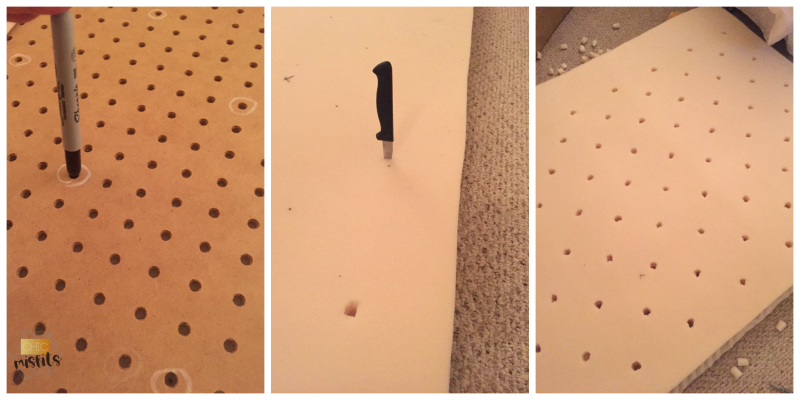 Once this is complete, spray your adhesive on the foam, and lay your board, white side down, on top of the foam, with the pegboard markings lined up correctly with the foam cut holes.
Now, secure batting over the foam and board, stapling the batting securely on the back. Cut off any un-needed excess.
Let's make some buttons.
You will notice cutting instructions on the back of your button kit. I found it best to cut fabric slightly larger than the kit recommends. In order to really push the back piece in with the blue nugget, use a hammer to firmly push (not beat) it in. You will feel a slight "click."
Misfit tip: When shopping for fabric, be aware of the fabric's thickness. The thicker the fabric, the harder it may be to prepare your buttons. Consider cutting swatches of all designs considered and testing at home before purchasing.
More money probably could have been saved on the fabric. I wanted something different in color, so I went with a mauve beauty I just couldn't walk away from at Hancock. Trust me, fabric hunting in Hancock was no easy task for an indecisive person like myself buried in a sea of options. However, I walked past this fabric, stopped, kept walking, turned around, stopped to look at it again, then walked away to search upholstery fabrics. Finally I gave up talking myself out of this decision and snatched the fabric in route to the cutter before I had a chance to steer myself in a different direction.
I've seen some fellow diyers save by using drapes, leftover fabric, and many other cost friendly options for their headboards. If you can save in this way, go for it! I still think I did pretty well. This fabric was 60% off, with an additional 40% taken off at the register, coming out to a little over $6.50/yd.
Misfit tip: Make sure you purchase fabric with a width of at least 65in! Standard upholstery fabrics are made 54in wide, but you can find fabrics 60-72in wide. Your headboard is pretty tall so you will need as much width as you can get. If you can't find 65in width, use 60in width fabric and reduce the foam length by 6-7in. By eliminating the foam in this area, the remaining fabric can be pulled just enough to reach the bottom of the headboard for stapling.  
Headboard Tufting
Get tufting!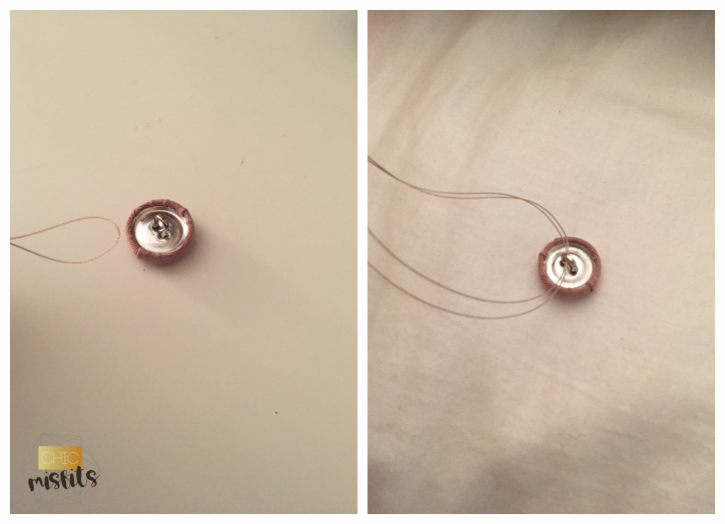 Cut around 2.5ft of upholstery thread, fold in half, loop through the back of the button, and knot three times. You should have four strings of thread hanging from the button. Now thread those four strings of thread through the end of the upholstery needle and knot twice.
Stand your headboard frame up. Lay your fabric across the headboard leaving enough room on top and bottom for stapling. Tufting takes up a lot of fabric so don't underestimate the amount you will need on the top and bottom for stapling. From the front of your headboard find the middle tufting hole on the top row. You should be able to feel it with your finger. Push the upholstery needle through this hole, all the way through the peg hole. Make sure you've pushed through the right peg hole. If you can't feel the hole from the front of the pegboard due to a thicker fabric, push the needle through the peg hole on the back of the headboard first, making a hole in the fabric on the front of the headboard to guide you.
I learned the following technique from a Jenny over at The Green Notebook, and it's definitely one I would recommend. My tufts are still securely in place. Pull the needle down as hard as possible and make a staple. Next pull the thread in a completely different direction and staple. Repeat until all thread is stapled.
Some of the staples may not be as flat against the board as intended. In this case, use a hammer to force flat.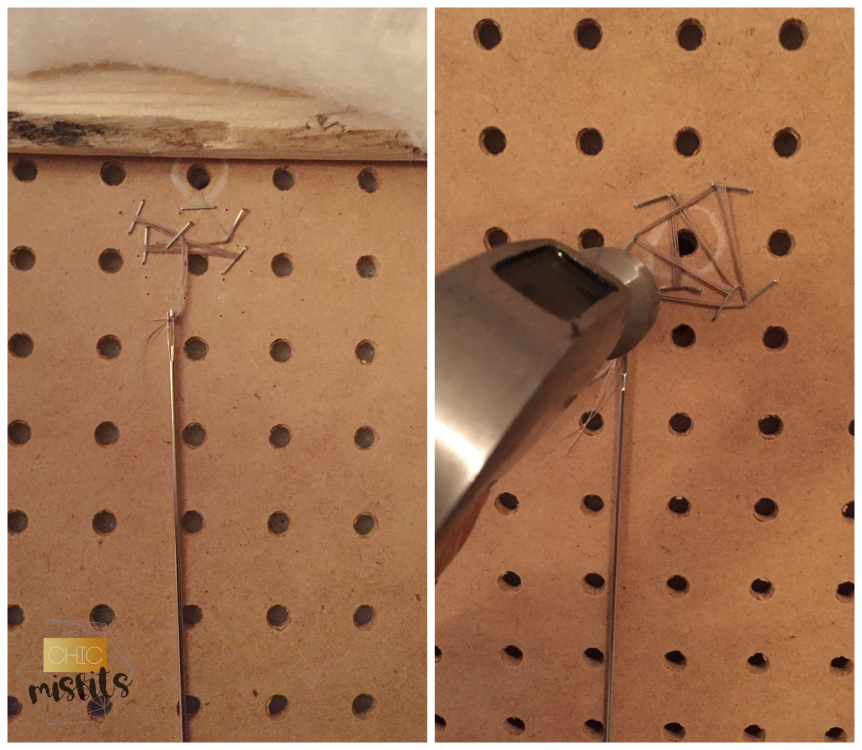 Misfit tip: Secure a helper! Two people makes this step go so much faster.
Continue this tufting process for each hole. Beginning with the middle of each row. Let the edge fabric hang until tufting is complete.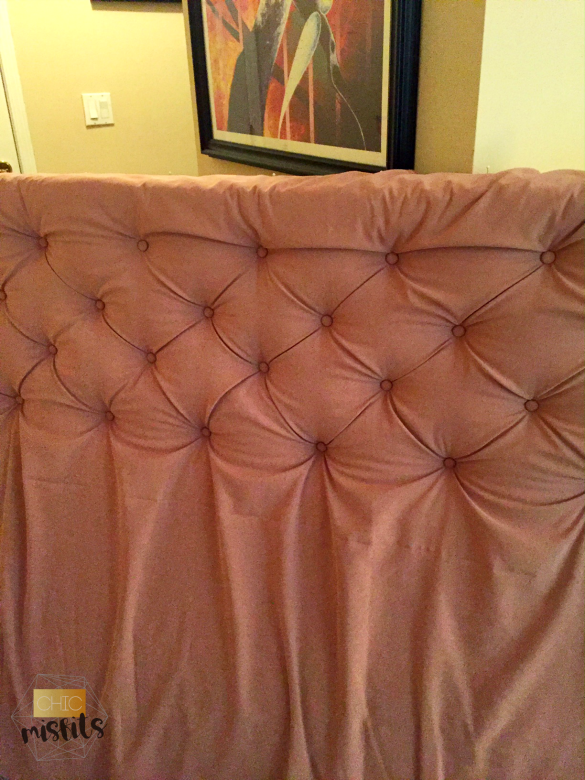 Now skim over each tuft, guiding the folds of each diamond where needed.
At each edge tuft, make a slight fold and staple, repeating all the way across. Do this for all sides.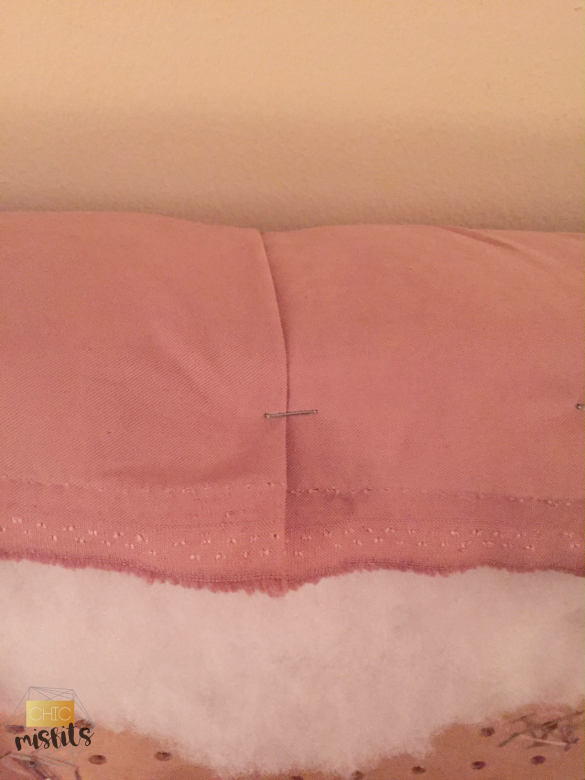 Headboard Frame Security
Screw on the final two security 1×4's over the taped areas of the headboard, or wherever you will be placing your headboard's legs. Using your 1 ½ inch screws, screw on your legs over the previous two 1×4's, leaving around 21.5" exposed at the end of the headboard.
Now just place against the wall, and push the bed directly against it. The bed should fit just underneath the last row of tufts.
Voila! An oversized DIY tufted headboard that would normally cost you hundreds of dollars, you've just created for under $125 and a few hours of time!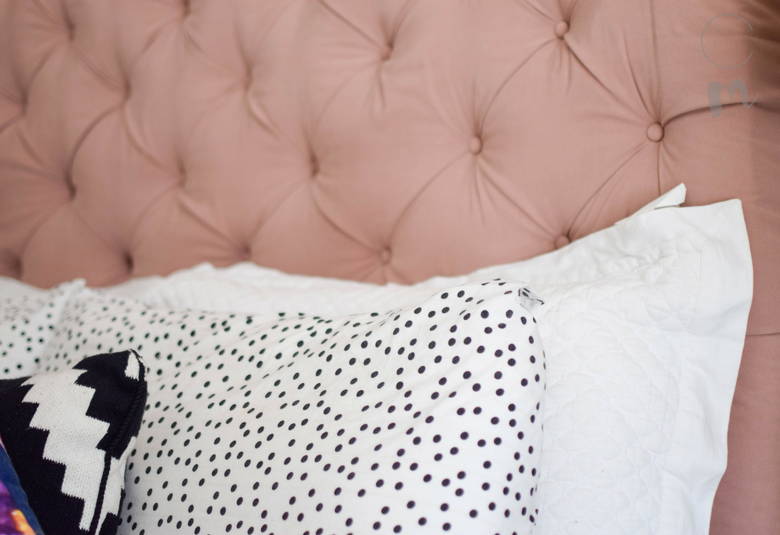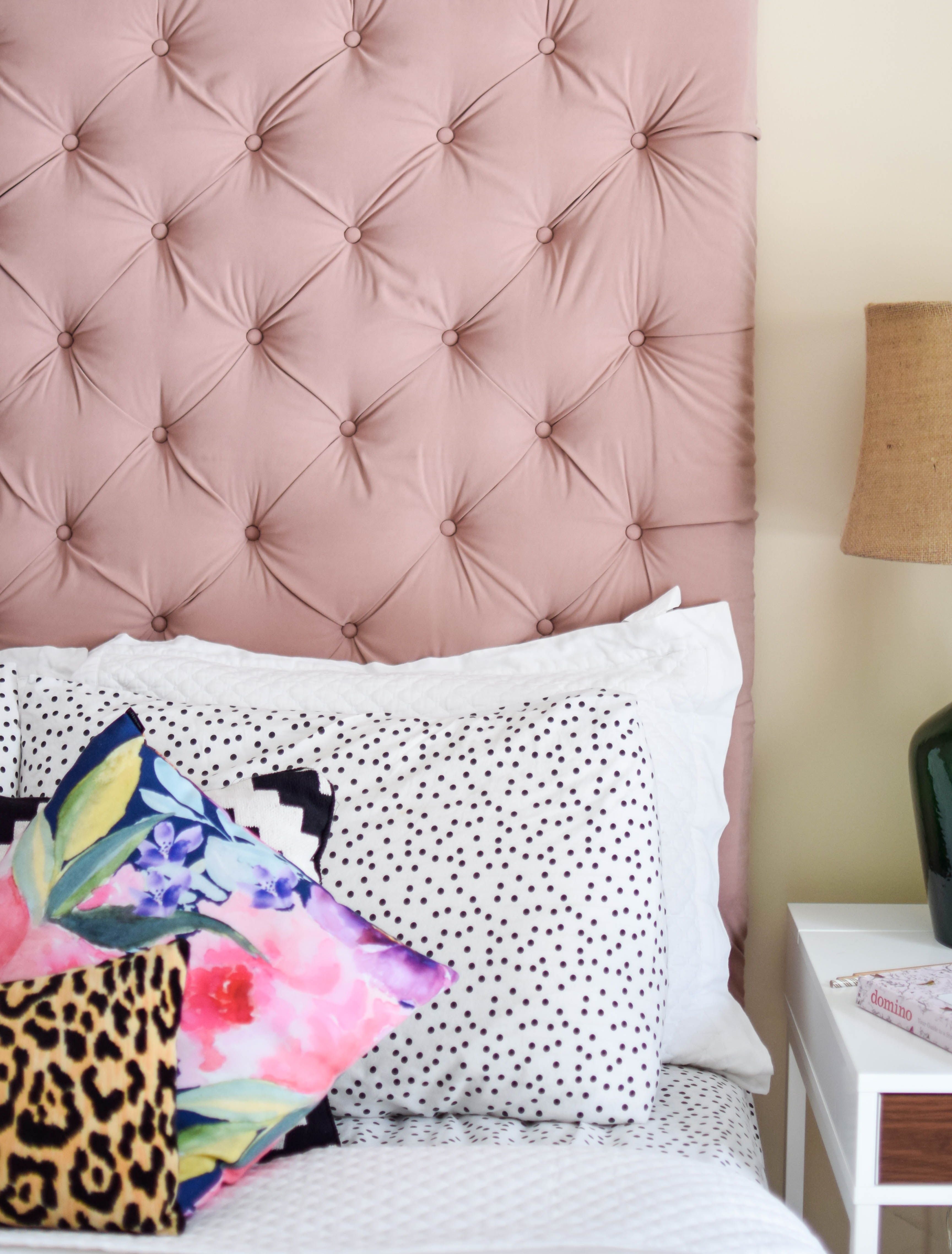 I think I've done a pretty good job (if I do say so myself;-). I also love the layer of prints throughout the bedding, complementing my tufted beauty. Swing on over to my next post to learn how to break some of those old boring design rules by layering prints.