Thanksgiving has passed, and we're officially in the clear for a little Christmas decor inspiration. Whew! Why not start off with the showstopper? The decor of all Christmas decor. The Douglas Fir of your choice, and installment in this month's style files:  A glam Christmas tree with a little bit of edge.
Because this season only rolls around once a year, this installment is especially exciting. For Christmas decor however, I'm always torn between traditional and original or unique. Traditional tree designs can be nostalgic. Personally they remind me of home and the excitement of celebrating the season as a child.
Though over the years the thrill of putting my own stamp on this seasonal staple has pulled me in the way of nontraditional. Therefore I've given up trying to decide on one or the other, and have taken joy in embracing both. Experimenting with the combination of both styles, and how each can work together is actually quite fun.
Once you determine how all the pieces in your holiday decor puzzle fit together you will be gratified and have an original, showstopping tree to brag about to your friends. This month's installment in the style files plays with both traditional and modern styling, rolling eclectic, classic and modern up into one edgy glam Christmas tree. Take a look below for details and tips on how to tweak the design.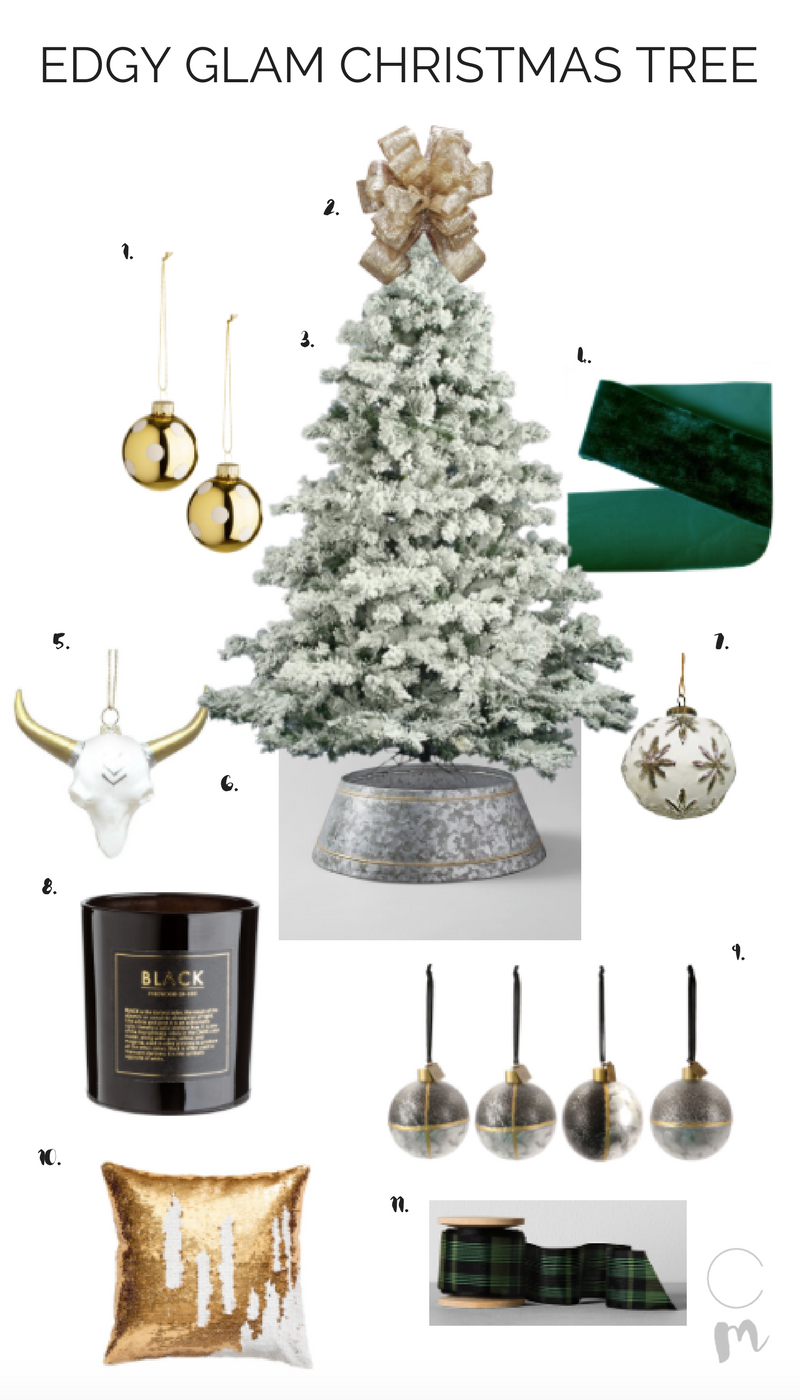 1. Gold Polka Ornament// 2. Glitter Waves Tree Topper// 3. Flocked Alaskan Tree// 4. Midnight Green Velvet Ribbon// 5. Ox Skull Christmas Ornament// 6. Metal Tree Collar// 7. Glass Rustic Ornament// 8. Glass Jar Scented Candle// 9. Magnolia Galvanized Ornament// 10. Sequined Cushion Cover// 11. Grosgrain Plaid Ribbon
Tips to Tweak
The investment piece in this design is pretty obvious. A Christmas tree naturally claims a solid space in the budget. But as usual it does not have to. Feel free to purchase a real tree for a fraction of the price of a fake tree.  However, one could make a strong case for a quality faux tree, and the benefits received on the budget in years ahead.
You might also prefer the look, smell and feel of a real tree, and therefore believe a true Douglas Fir is the only way to go. No judgement here. Whatever suits your fancy. If the real thing really speaks to your soul, a DIY flocking session is in order. In order to get that flocked look, apply artificial snow flock powder such as the following:
Want to turn up the glam just a notch? Consider swapping out the green accents for silver. Brushed and shiny silver ornaments and cobalt velvet ribbon would keep the edge, and when paired with gold details, serve up an over luxe design.
No matter the direction you head in for this design, you are sure to create a look that screams glamour and class. From velvet and sequins, to plaid and gold polka dots, your holiday decor will boast the perfect mix of traditional and modern. I hope you love it just as much as I do!